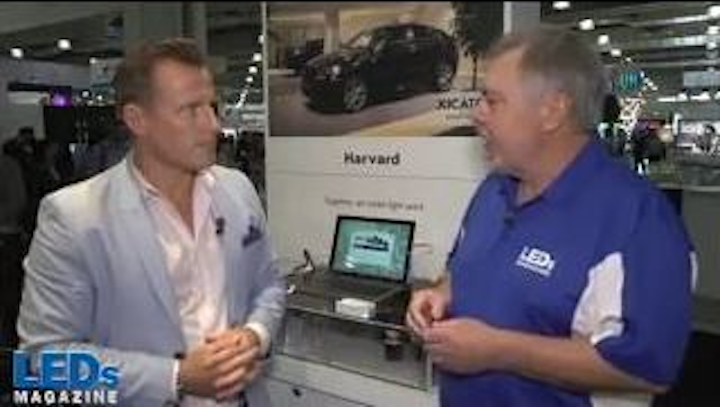 LEDs Magazine editor Maury Wright and Antony Corrie, vice president of the Americas at Harvard Engineering, discuss SSL controls and LED driver architecture.
LED luminaire development continues to escalate in complexity with the need to support networks and solid-state lighting (SSL) controls while also delivering outstanding photometric performance. Companies that offer building block technologies such as Harvard Engineering help lighting manufacturers overcome issues such as network and driver implementation, freeing the lighting specialist to focus on photometric performance. Maury Wright and Antony Corrie, vice president of the Americas at Harvard Engineering, discuss the indoor and outdoor network technologies supported by Harvard and the company's latest driver architectures.
Corrie positioned Harvard Engineering as a provider of everything that goes into an SSL luminaire. In the driver area, Wright asked Corrie about how a third party can enable a luminaire maker to minimize the subsystem-level products in stock while still allowing the lighting manufacturer to fulfill luminaire commitments. Corrie described LED drivers that have a wide range of output current capability as one way Harvard simplifies the stock-keeping and supply chain for lighting manufacturers.
The discussion also turned to controls with Harvard having moved beyond its driver roots to supply network technology for indoor and outdoor projects. In the outdoor area, Corrie discussed the new enhanced connector being implemented in street and area fixtures that allows companies such as Harvard to add more features such as metering into wireless nodes that are affixed to a fixture.
In the indoor area, Wright and Corrie discussed Harvard's network technology called EyeNut that can link as many as 500 lighting nodes in a single network. The discussion includes an examination of how luminaire makers can add EyeNut support and how such products can interact with controls from other manufacturers that are based on the ZigBee wireless network.