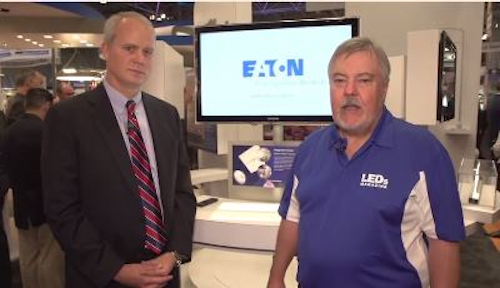 LEDs Magazine editor Maury Wright and Cooper Lighting's Kraig Kasler cover scalable sensor-based lighting controls.
As we've mentioned, lighting controls really took hold on the show floor at LightFair International (LFI) 2015. LEDs Magazine chief editor Maury Wright called on Kraig Kasler, vice president and general manager of indoor business at Cooper Lighting by Eaton, to explain the opportunities the company is seizing in the lighting controls space.
Kasler touched on the uptake of LED-based lighting beginning to ramp into the revolution the industry is seeing now in the lighting controls side. He noted that Cooper Lighting, as part of the larger electrical management company Eaton, is well positioned to develop and integrate sensor-based lighting controls into fixtures and build them up into larger nodes that capture data to provide analytics beginning from room level to floor level to building level, and scaling up to campus-wide enterprise systems.
Cooper provides light fixtures with integrated occupancy and/or daylight sensors that are pre-programmed for occupancy sensing, daylight sensing, and daylight harvesting, with additional management optional via room-based controllers that will soon offer networking.
Said Kasler, "There's no question, lighting has a unique position within a building" that can enable users to take advantage of dense sensor-node network across these individual building and enterprise settings, and to mine the data gathered for information that will improve energy usage, provide monitoring, and allow for additional system functions such as asset tracking, people tracking, and other sensor-based operations.