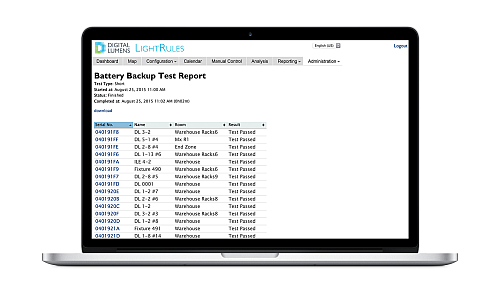 Battery backup for luminaires will combine with new capabilities in the LightRules software management platform, allowing companies to install a single lighting system in industrial and warehouse settings with requisite emergency-lighting support.
Digital Lumens has announced emergency-lighting capabilities for its LED-based high-bay fixtures and the LightRules lighting- and energy-management software platform. The battery-power and software elements of the emergency offering means that companies will not have to install dedicated emergency lighting systems to meet NFPA (National Fire Protection Association) requirements.
Interested in more articles & announcements on networks & LED lighting controls?

Digital Lumens is best known for its solid-state lighting (SSL) products that feature integral wireless network support and that target applications in high-bay installation in factories and warehouses. The company entered the lighting market as a startup in 2010 promising 90% energy savings based on efficient LED sources and sensor-based LED lighting controls that can dim lights when no workers are present — a regular occurrence in warehouse and other industrial businesses. The company has since installed its products in businesses across the US and even opened its platform slightly, enabling luminaires from other manufacturers to work with its network.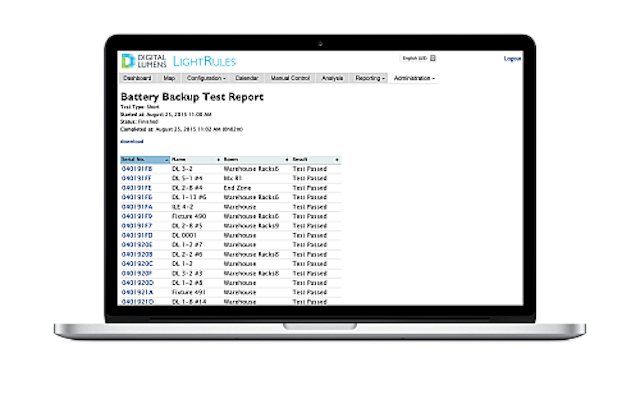 Digital Lumens adds emergency lighting to LED luminaires and control suite
Until now, however, businesses installing the Digital Lumens fixtures, and most mainstream industrial fixtures from other manufacturers as well, have had to separately install emergency lighting systems to meet NFPA-101. That regulation mandates both light levels that must be maintained with interruption of power and the testing and management capabilities that building owners must regularly follow to ensure that the emergency lighting is ready for operation if required.
Digital Lumens is addressing both needs. The LightRules Emergency Management addition to the company's software-based LED lighting controls enables simplified testing and reporting from those tests. Moreover, it works with the existing Digital Lumens fixtures that can set emergency lighting to the prescribed levels. The company will apparently first supply the battery-backup modules for the DLE family of luminaires. A nearby photo shows the battery in place. The company has not released full specs on the battery at this time, but declared that it will enable the fixtures to meet the NFPA requirements in light level and duration of emergency operation. The company said emergency lighting will be powered for 90 minutes.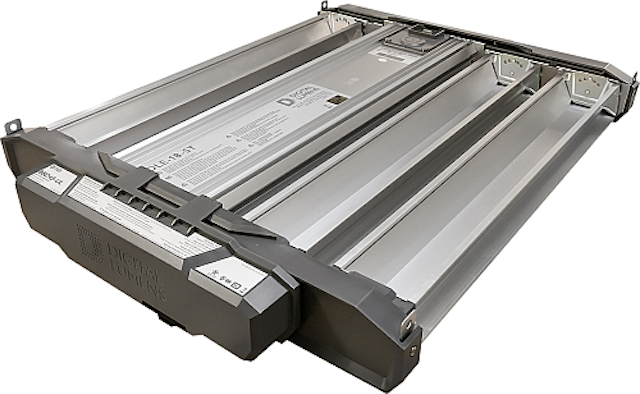 Simplification of the recurring test procedures will perhaps be the biggest selling point for the new technology. "Automated emergency lighting testing is a total game changer for us, completely eliminating a time-consuming monthly chore," said Frank Tavares, global process engineer for Atlas Box and Crating Company. "I know that my team is safe in the unlikely case of an emergency. Plus we have a single, integrated system that lets us manage all aspects of our lighting system — from performance to efficiency to code compliance."
Indeed, the LightRules add-on streamlines the testing process and stores an audit record of the recurring tests. "Our customers depend on LightRules to manage all aspects of their lighting system behavior, and automated safety testing and reporting is tremendously valuable to them," said Kaynam Hedayat, vice president of product management at Digital Lumens. "The beauty of a software-based lighting system is that it gets more powerful with every release — similar to the way your cell phone is more useful with every application download."