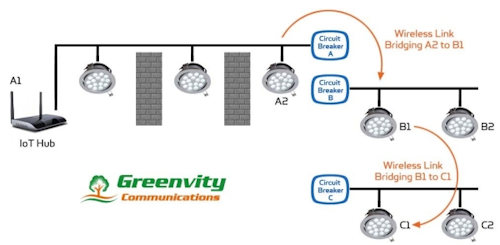 A single IC that supports IEEE 802.15.4 mesh wireless networks and powerline communications promises to simplify LED-based lighting networks and the Internet of Things vision.
Greenvity Communications has announced the HybridMesh networking technology that the company has realized in a single IC and that supports both RF wireless and powerline communication (PLC) networks media. Indeed, the company asserts that the hybrid unified network will enable seamless communications between a mix of nodes connected via IEEE 802.15.4 RF mesh links and/or connected by PLC links. The PLC capability can bridge wireless networks where range or obstacles such as concrete walls limit reception and in some cases will simply prove the most cost-effective network to connect devices.
Interested in more articles & announcements on lighting networks?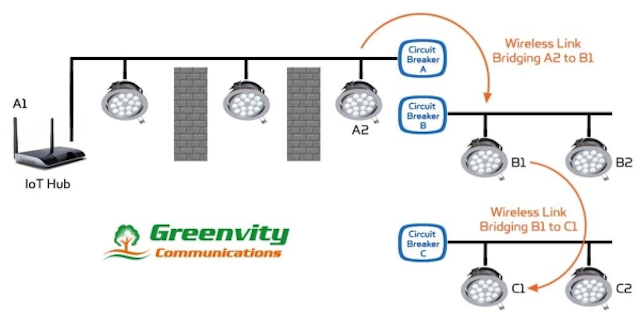 Greenvity develops hybrid powerline and wireless lighting network
Greenvity specializes in selling enabling technology into the networked devices space and has been focused on the evolving Internet of Things (IoT) vision. Moreover, the company has long targeted its technology at solid-state lighting (SSL)-centric networks. The company had previously supported 802.15.4-based wireless networks such as ZigBee and PLC networks based on the HomePlug standard with separate ICs and modules. The new technology will further simplify the development of controllers for LED-based products that implement both types of lighting networks.
The company believes that the hybrid technology will enable the reliable always-on communications required in mission-critical commercial systems such as lighting and security. "Lighting and security applications require a higher level of link reliability than other IoT products and the communication between these devices needs to be virtually always-connected," said Hung Nguyen, CEO of Greenvity. "Greenvity is bringing innovation to the market with our products based on Hybrid Mesh technology, which is the most practical, cost-effective communication method to ensure a highly reliable link between IoT devices for commercial and industrial buildings."
Greenvity will offer the technology to developers though modular controllers in printed-circuit board (PCB) form that can be integrated into SSL products. The GV7011-MOD product can serve as the base of a lighting network hub device while the GV-LED-11 is intended for integration into LED-based luminaires or other IoT nodes. Both utilize the new GV7011 IC that implements the HybridMesh network.
Without question, Greenvity has developed a number of enabling modules and ICs that could be utilized in networked SSL products. But we are still waiting to see a notable end-product family or SSL installation that is based on the company's technology platform. Early this year, Greenvity allied itself with much larger Japanese company Mitsumi, which will presumably provide manufacturing muscle. But we have yet to see fruition of that promise.