Investors meet technologists in Chicago
SSL met $$£ at a recent investment summit in Chicago, bringing together LED technology providers, SSL fixture manufacturers, venture financing specialists and others, writes Brian Owen.
Aug 12th, 2009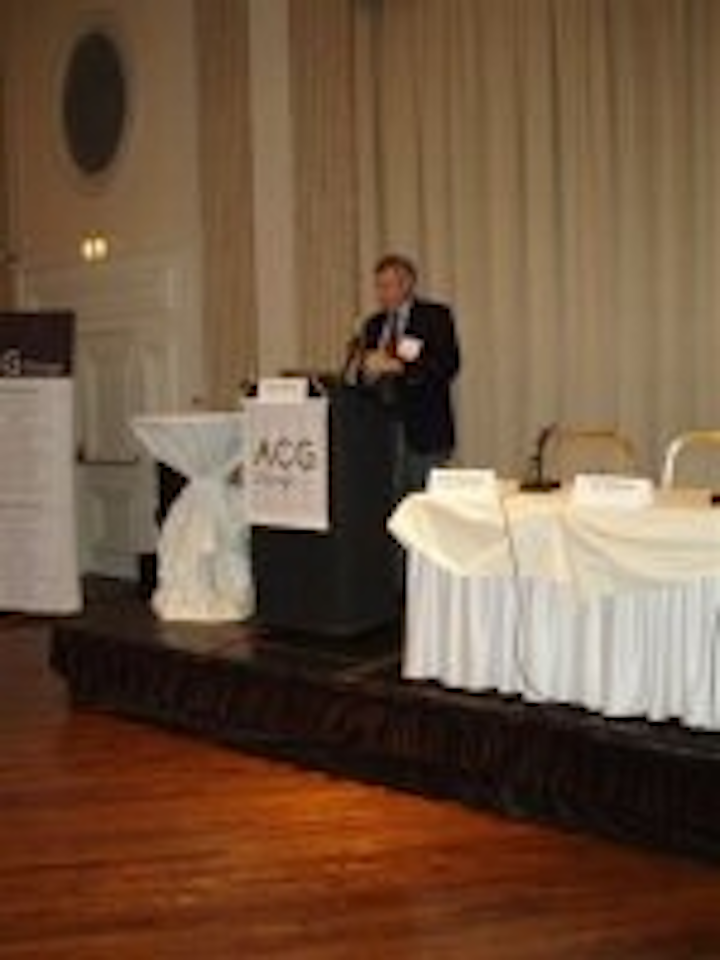 The SSL industry supply chain and the investment community came together in Chicago on July 29 at the Solid State Lighting Investment Summit, run by the Association for Corporate Growth (ACG) Chicago.
Steve Weiland, Vice President of Greentech Investment Banking at ThinkEquity LLC, who was involved in organizing the Summit, described it as a "very successful event, with ~130 attendees representing a mix of investors, executives, and people in and out of the lighting industry from big and small companies alike across the country."
Presentations included technology reviews, and a market overview from Bob Steele of Strategies Unlimited. The day also featured three panel sessions, comprising upstream LED technology providers, downstream SSL fixture manufacturers, and venture financing specialists.
Craig Miller, CEO of ACG Chicago and chair of the Summit, said, "We believe the relationships and financing contacts built at think-tanks like these are deep and powerful in building such rapidly evolving market niches. We hope this program has the same continuing success we've seen with the lithium-ion battery summit from 2008."
According to Steve Weiland, one key takeaway from the event was that SSL is really at a critical inflection point. "The technology, from chips to components to integrated luminaries, has now advanced both in performance and cost, to the point enabling larger adoption in existing markets and even opening new markets that traditional lighting products could not serve," he said.
Technology presentations
Bruce Pelton of the California Lighting Technology Center (CLTC) at UC Davis opened the day's key presentations. "Pelton highlighted the need, using California as a prime example, for energy-efficient technologies, such as LED, to play a strong part in reducing demand on the grid and helping our country and world with its environmental imperatives," said Steve Weiland.
Pelton detailed some of the industry-focused educational work at CLTC, such as the training of installers in cooperation with the International Brotherhood of Electrical Workers (IBEW), noting a proposal for utility rebates for quality product installed by "quality" installers. Pelton also noted the move toward the measurement and value of scotopic lighting, the human factor and current physiological experimentation. He also touched on intelligent control systems integrated with efficient lighting to further improve energy efficiency.
Next up was Chuck Berghoff, president & CEO of OptoElectronix. "He emphasized the critical issue of the 'gap' between the SSL community and the luminaire companies and end users, in terms of engineering, technology, culture and history; a gap that needs to be bridged for adoption to accelerate," said Weiland.
Upstream, downstream
The "Downstream LED Opportunities and Challenges" panel, comprising representatives of fixture makers, provided an overview of the many technologies and products using SSL to address specific lighting markets in the $100 billion lighting industry. Mike Bauer, president & CEO of Nexxus Lighting, stressed the quality of light and the importance of determining the right application. Sean Callahan, president & CEO of iLight Technologies, stressed execution of IP and operational excellence, factors which make a company more valuable.
Daniel Chevalier, president of Canadian company Dellux Technologies, presented intelligent control of a luminaire as a solution to lifetime and also agreed that IP was strategically important. Jeff Quinlan, Director of Innovation at Acuity Brands Limited (ABL) discussed lighting controls; Acuity has recently acquired 2 other companies involved in control technology. Quinlan also gave an overview of the ABL LED Roadmap.
On the upstream side, Weiland noted that the "Advances in LED Technology" panel highlighted technologies that are supporting the advancement of the industry, critical to reducing cost per delivered lumen of SSL in order to drive broader adoption.
Mark Swoboda, CEO of Bridgelux, stressed the quality of light, while explaining how Bridgelux will be vertically integrated in its delivery of lighting solutions. After talking about "plug & play" solutions and "Hot Lumen Replacements," Swoboda predicted a $10 LED light bulb by 2010.
A number of presenters referred to Haitz Law, which maps and predicts trends in technological advancement in LEDs. The Law observes that cost drops ten fold and performance increases twenty fold every decade. Throughout the day, attendees heard that the industry was striving to achieve less than 2-year payback with respect to the capital cost of LED fixtures and luminaires.
Venture funding
A panel presentation entitled "Investment and Consolidation in Advanced Lighting" brought together a number of "Cleantech" investment firms who are continuing to invest in SSL. It was noted that the lighting industry is experiencing a revolutionary period of investment and consolidation, largely driven by LED and other efficient lighting technologies.
According to Cleantech.com, efficient lighting has received $420 million (LED receiving $354 million) of venture investment since 2007, accounting for 26% of all energy-efficiency venture investment.
In addition, rapid innovation has driven acquisition activity, often at premium valuation multiples, as large traditional lighting companies race to either deliver LED products, or face the risk of obsolescence.
According to Steve Weiland, this panel offered great insight into the importance that capital provides to industry advancement of new technologies such as LED. "It also gave a perspective into what key issues investors think impact the industry, as well as expected consolidation activity in the market, which will be important to industry growth, as the large incumbents will be able quickly accelerate acquired technology and products through their powerful channels," he said.
Moderator Shez Bandukwala of ThinkEquity commented on the convoluted, complicated distribution channels in the industry. When referring to public companies, panelist Marc van den Berg of VantagePoint Venture Partners commented, "It is fortunate to go public and unfortunate to be public." Panelists noted that IP is strategically important, and that there is a need for strong IP.
In terms of valuation, van den Berg highlighted market size, margins and profile, while Robert Walker of Sierra Ventures stressed capital required and percentage of ownership. Exit routes via acquisitions were discussed. Standards were also discussed, along with the effect on innovation. It was generally commented that there was still a lot for investors to learn.
Educating investors
Forums such as this offer an opportunity for the SSL technology and investment communities to meet, engage and learn more as to each other's expectations. SSL manufacturers are eager to seek initial or additional investment, and the Cleantech investors explain their mandates and what they can offer while meeting and vetting potential opportunities.
I have been pleased to be a part of other similar -- but smaller and more niche/regional -- SSL investment forums, hosted by such firms as American Technology Research and Canaccord Adams, where the investment and technology constituents were brought together and where education for those in the financial industry was a key element. Educating this sector helps to further accelerate the industry and its technology, by allowing those responsible for investment and funding to make informed decisions.
Government regulations, industry standards and technological criteria play an important role in the development of the technology and the industry. CLTC's Pelton noted the ongoing Energy Star controversy with two different sets of criteria, one from the US DOE and the other from the US EPA, stating that cohesion and common direction is necessary to avoid confusion. The situation remains unresolved, even though the US Congress has stated that it regards the DOE as the "agency of record" for SSL.
In the July/August 2008 issue of LEDs Magazine, Editor Tim Whitaker noted "confusion can cause disturbance and disruption to an already disruptive technology. This can create an apprehension to invest in what may be perceived to be a chaotic environment, causing the investment community to sit on the sidelines and wait it out. The consequence could be a slow-down in R&D investment, instead of accelerated growth."
The education of the investment community has been discussed with Jim Brodrick, who runs the DOE's SSL program, as being one of the key and targeted constituencies that warrant a Roundtable series of discussions. The DOE has hosted a number of Roundtables for specific groups, such as lighting designers and testing labs, all in the effort towards accelerating industry growth.
Concluding remarks
Craig Miller said that Chicago is one of the premier North American Green cities, right there with Toronto (greenTbiz facilitates the Toronto LED City program). "Bringing this knowledge base to our Midwestern leaders allows us to capture these substantial opportunities and maximize the benefits of LED lighting advances," he said.
Miller also noted that ACG Chicago will be posting much of the printed summit information on their website. "We will also further educate and encourage involvement in the LED industry by the 13,000 ACG members globally through posting videotapes of the event within the ACG Essential Network." ACG Chicago presents a number "deep dives" into the cleantech market providing a valuable resource for education and both the investment and green technology communities.
With respect to the attendees, Weiland commented "Events such as these are critical to advancing the industry, as they highlight technology and provide exposure beyond the LED / lighting industry itself. Specifically, this event provided a forum to bring together investors and LED executives, who may not otherwise have an opportunity to interact. In addition, the conference provided a great venue for Midwest investors and companies to interact with advanced LED companies and venture capitalists largely concentrated in California."
Miller and Weiland, as well as the ACG Chicago, are all to be congratulated for hosting a successful, productive and informative event, and for their efforts directed to the continuum of accelerating the industry.
Founded in 1954, the ACG is the premier global association for professionals involved in corporate growth, corporate development, and mergers and acquisitions. Further information can be obtained by contacting Craig Miller), CEO or by calling 1.877.ACG-NETWORK (1.877.224.6389).