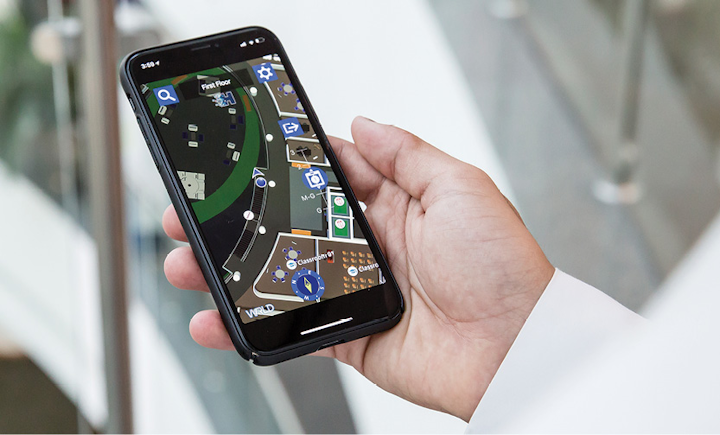 Hiking around the massive Frankfurt Fair for most of a week, MAURY WRIGHT found the IoT and light quality trends expected at L+B, but also notes there were strategy changes apparent in the exhibits and innovation in enabling components to luminaires. Here we will cover the top ten themes and demonstrations.
Light+Building (L+B) is unlike any other LED or solid-state lighting (SSL) industry event. It's on a scale all its own. Where else do you take the subway to get halfway out through the depth of the exhibition grounds? The 2018 event did not disappoint for the quarter-million attendees. The industry witnessed changes or extensions of corporate strategy, new forces in market sectors, and some radical new ideas during the week. As expected, light quality and the Internet of Things (IoT) were major trends.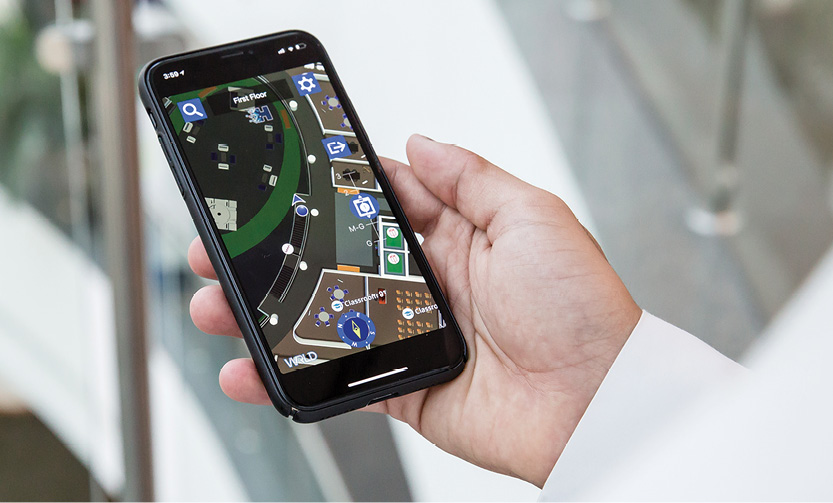 FIG. 1. Students at Dubai's Hamdan Bin Mohammed Smart University can use wayfinding on their phones to locate classrooms, labs, and more thanks to the Philips Lighting Interact Office IoT platform.
Still, as much as we're impressed by the scale of L+B, we also wonder about the effectiveness or efficiency of the event as a business driver — especially for smaller companies. Many companies save a sizable percentage of their marketing dollars for two years to attend the biennial event. And many get lost in sparsely-attended locations. We spent considerable time on the three levels of Hall 4 where many of the enabling technologies for SSL were featured. Traffic was very heavy, although there were some auxiliary areas that you had to search out and those exhibitors suffered. The three levels of Hall 6 were also moderately busy and featured the LED manufacturers, among many other things. In contrast, the two levels of Hall 5 had some very compelling demonstrations of lighting products, but you could walk those aisles without impediment from other attendees.
Still, companies feel like they need a presence at L+B. And that feeling is not just one of fearing that their absence would be conspicuous. As one enabling component manufacturer said, the ability to do business with other exhibitors is critical. Companies can see dozens of potential customers without traversing the globe. Indeed, that's why some exhibitors like the Sunday start with sparse crowds outside the staffs in the exhibits. Let's discuss the ten most compelling themes, trends, and demonstrations we found at the massive Frankfurt Fair.
Smart lighting and the IoT
You did not need to take the S-Bahn out into the middle of the Fair to find some of the biggest IoT stories. Osram occupied its traditional space near the main entrance in Hall 2 or the Festhalle and featured its new IoT platform called Lightelligence in the large space. And Philips Lighting (soon to be Signify; http://bit.ly/2HzAIEu) occupied the entire Forum building next door with the new Interact IoT platform as a key theme. There was never a sparsity of traffic in those halls.
We covered the Philips Interact announcement in an earlier news story (http://bit.ly/2HwSqs4). Having had a chance to digest all that happened at L+B, here are some additional thoughts. Interact is certainly a brand that Philips will use to consolidate what is a fairly fragmented and broad set of IoT offerings. What has been the Philips CityTouch platform focused on street lights is now Interact City. There is also Interact Landmark for famous outdoor monuments, bridges, and more; Interact Office for commercial buildings, Interact Retail for retail and food stores; and Interact Sports for stadiums and venues. The company said it would launch Interact Industry later this year for factories and warehouses.
Still, Interact represents a more focused IoT effort for Philips Lighting. The company said it has already installed 29 million connected light points globally. That essentially represents the second act in a play where the first was the transition to LED lighting, or what has been called "LEDification." The third act is leveraging data from those connected lights to create new services. Interact represents the Philips data-centric activities and the company said every LED product that it produces will be connectable by 2020.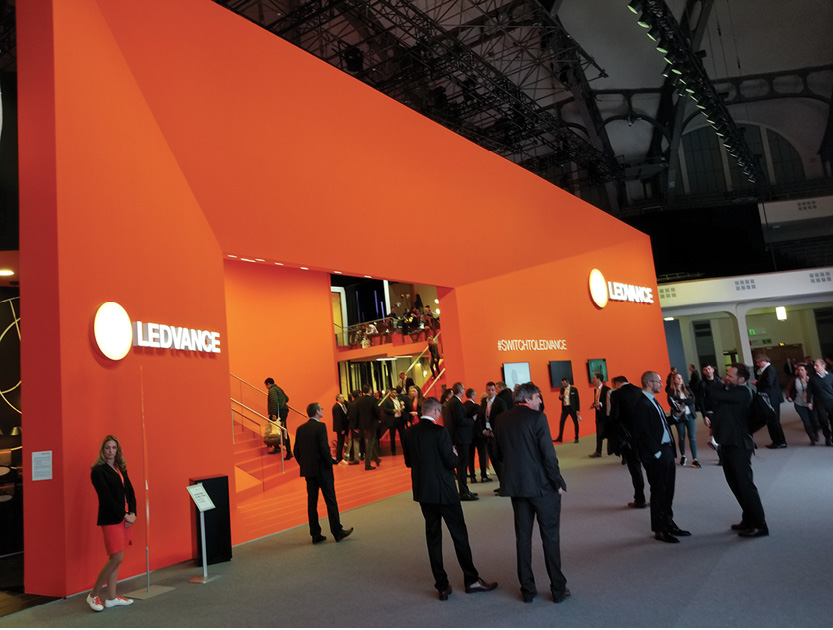 FIG. 2. LEDvance presented an 800-m2 exhibit at L+B and 80% of the space was dedicated to luminaires as opposed to lamps.
Already, Philips said the first installation of Interact Office has taken place. We coved that project at Dubai's Hamdan Bin Mohammed Smart University (http://bit.ly/2Hz
8RUQ). The Interact technology eliminates switches and includes indoor wayfinding capabilities for students (Fig. 1).
It's tough to compare and contrast Interact with the Osram Lightelligence platform, although both are overarching IoT brands. But Osram has defined the layers that comprise Lightelligence as we covered in an article on the announcement (http://bit.ly/2Hx
HiLz). The Osram strategy is centered on enabling itself and customers to quickly build new IoT applications. We will discuss that more a bit later because it's an example of the strategy changes we mentioned.
Networks and connectivity
Moving to the actual technology that connects sensors and smart lighting products, we wish that we could report some clarity in terms of network choice that L+B offered. But it didn't. Bluetooth Mesh remains the wireless technology that is getting the most attention at the moment. But that spotlight seems to be more about it being new than anything else.
Bluetooth Mesh support is emerging from many angles. Feilo Sylvania showed some of its early Bluetooth work based on its engagement with Silvair (http://bit.ly/2HwTjRq). Xicato is best known for LED light engines with precise color rendering but also has used Bluetooth as a commissioning tool for its modules. At L+B, the company announced Bluetooth Mesh support in its modules for IoT applications.
LED driver manufacturer Fulham is also a Silvair partner. At L+B, Fulham demonstrated a dedicated Bluetooth module that can control a 0–10V-compatible driver, and also a new 40W LED driver that can optionally integrate a Bluetooth module. LED manufacturer Bridgelux also showed some Bluetooth technology — more on that a bit later.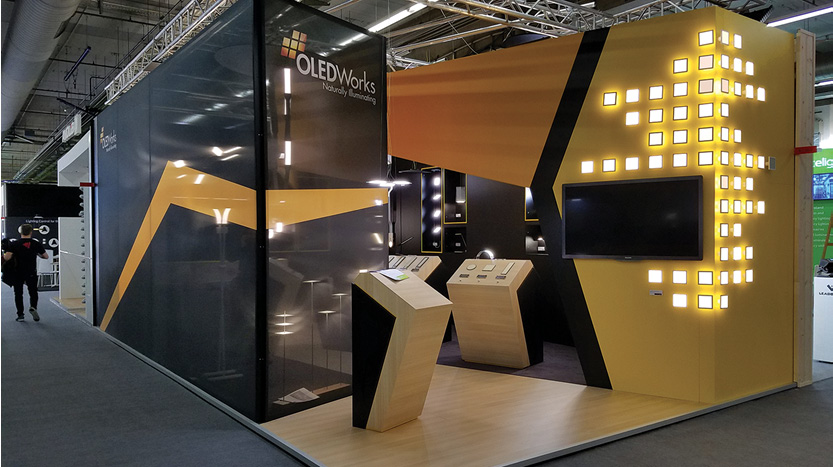 FIG. 3. OLEDWorks featured OLED-based luminaires from more than 30 of its customers in its L+B exhibit.
Still, the Bluetooth buzz at L+B — and for that matter, at LEDucation the prior week — was about limitations of the technology. Theoretically, Bluetooth Mesh could support upwards of 65,000 nodes on a single network. Some prominent lighting designers presented two early Bluetooth Mesh projects at LEDucation that had revealed an effective limit of about 200 nodes. And we heard similar stories at L+B.
We're not clear at this point as to what might limit the number of nodes so severely. Now we could not envision a practical network with 65,000 nodes, but would expect a much larger number than 200. In actual installations, Bluetooth networks will be segmented by floors and other building elements into subnetworks, so the question of number of nodes may yet turn out to be a non-issue. Moreover, it's possible that software stacks just aren't optimized yet.
Still, Chess Wise CEO Han Bak said the limitation is real. He revealed that Chess Wise uses Bluetooth radio chips but had to develop a proprietary protocol to get the robust performance required in large-scale applications. Chess Wise was a finalist in our 2018 Sapphire Awards (http://bit.ly/2HzZcgK) for its wireless connected lighting project at the Chemelot Chemical Plant in the Netherlands (http://bit.ly/2HANulO).
General lighting companies
Now let's discuss some European lighting stalwarts, strategy changes, and recent corporate performance. We'll start with this question: Which company based in Munich will be a major lighting manufacturer in five years or maybe even two years? You might answer Osram, but that isn't likely to be correct assuming we stick to the specific definition of lighting manufacturer. LEDvance is the likely correct response. And the former stablemates were located just steps apart in the Festhalle at L+B.

FIG. 4. Bridgelux demonstrated its two-channel COB LEDs and modular light engines at L+B that enable tunable luminaire designs.
In the Osram L+B exhibit, it was hard to find luminaires on display except as part of application scenarios, and the press releases issued did not feature a single fixture except for the horticultural variety. Without really announcing such intentions, Osram seems to be transitioning out of the lighting business, at least as a supplier of luminaires.
Now, clearly multiple parts of Osram have always been focused on supplying enabling technology to other lighting manufacturers. Osram Opto Semiconductors is a top LED supplier. Osram Digital Systems has long offered leading-edge LED drivers and added BAG Electronics through an acquisition the week of L+B. And the aforementioned Lightelligence platform is ultimately focused on enabling other lighting manufacturers, Osram customers, to get IoT offerings to market.
LEDvance, meanwhile, was born as the lamps business carved out of Osram less than two years back (http://bit.ly/2Hwy6a8). As we covered in an L+B news story, a tiny slice of the 2016 LEDvance L+B space featured luminaires whereas 80% of 800 m2 (Fig. 2) was luminaire-focused this year (http://bit.ly/2Hwysxu).
Certainly, LEDvance has already made substantial progress toward its stated goal to become a broad, global lighting manufacturer — a goal assigned to new CEO Jacob Tarn at the start of the year. At L+B, Tarn said LEDvance will have 3000 SKUs (stock keeping units) in its luminaire portfolio by the end of the year. Moreover, the former lamps manufacturer had IoT, tunable lighting for health, and other advanced applications on display at L+B. And it still has a robust lamps line. What you have to wonder looking back is why Osram did not carve out its entire lighting business back in 2016.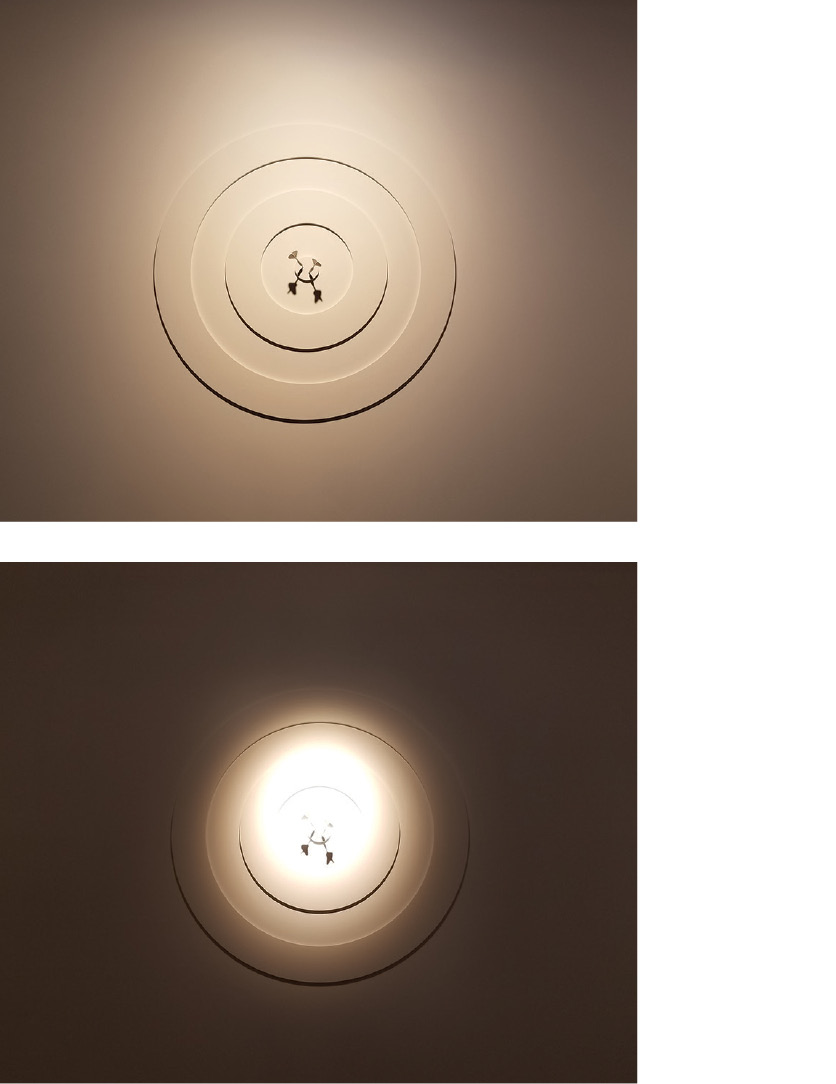 FIG. 5. Targetti showed a track luminaire equipped with a LensVector liquid-crystal lens that can be electronically controlled to produce anything from a flood (top) to a narrow spot beam (bottom).
Zumtobel was the other major presence in the Festhalle. That company has not fared well of late and recently underwent an upheaval in top management (http://bit.ly/2HyUPmd). It's hard to know how the recent business downturn impacted the company's L+B presence. But the minimalistic and dimly-lit exhibit area was unlike its bold presence at past events. The exhibit area did have some advanced lighting application vignettes. And the focus seemed to be on the services business unit rather than the lighting brands.
OLED lighting
As one might expect at this time, a majority of the lighting products on display at L+B were based on LED sources. There were sporadic instances of fluorescent and high-intensity discharge (HID) sources. And OLED technology is still trying to break through as a viable SSL option, at least in some specialty applications. The OLED activity was easiest to find aggregated in exhibits from the two major OLED panel manufacturers — OLEDWorks and LG Display.
At our Strategies in Light conference in February, Giana Phelan, director of business development at OLEDWorks, said the company's L+B exhibit would feature products from 30 of its customers. We didn't count the products, but as Fig. 3 depicts, there were a lot on display. LG Display had a larger but less dense exhibit outside in the Agora courtyard.
OLED remains a delightful light source that's uniform and pleasant on the eyes. But it remains far behind LED in efficacy, cost, lifetime, and more. Plus, luminaire makers are doing great things with edge-lit LED panels that offer many of the traditional OLED benefits.
So it was no surprise that bendable OLED panels were the major story at L+B since that's hard to accomplish with LEDs. The panel makers ship the products flat, and the luminaire manufacturer creates the shape in the manufacturing process. The products from OLEDWorks can only be bent in one dimension. LG Display products can be bent in both dimensions and that was evident in a demo called the Ribbon.
Still, the panels from OLEDWorks are more pleasing to behold. The LG Display manufacturing scheme uses a layer with a conductive matrix to spread current evenly in the panel. You have to be relatively close to the panel to be able to see the grid, but once you know it's present, it's hard to forget that it's there.
Packaged LEDs
Meanwhile, in the LED space at L+B, there were few surprises. Bridgelux was demonstrating a number of its two-channel LEDs and light engines (Fig. 4) that support tunable applications including the Vesta chip-on-board (COB) LEDs that won one of our 2018 Sapphire Awards (http://bit.ly/2GWAcyV). Still, with Bridgelux, it's clear that a strategy change is afoot. The company clearly wants to expand how large a share of the luminaire bill of materials it controls.
Simply offering LEDs in a Level 2 or modular form factor is one way for Bridgelux to increases its revenue share. And the two-channel products further target relatively more-expensive tunable products. At L+B, Bridgelux introduced two-channel drivers designed to work with its COB LEDs and light engines. Those drivers include a sensor interface for smart lighting applications. The company further demonstrated a Bluetooth Mesh module that can control the driver operation, setting output level and CCT.
We covered several LED announcements leading into L+B and that technology was on display. For example, Osram Opto Semiconductors had the new Pure chip-scale package (CSP) LEDs in its Hall 6 exhibit separate from the main Osram exhibit (http://bit.ly/2Hwy
Qfq). And Lumileds had the Luxeon CZ color LED portfolio in its exhibit (http://bit.ly/2Hwzvxq).
We also came away impressed with the breadth of the LEDs demonstrated in the Everlight Electronics exhibit. The company showed a number of LEDs targeted at horticultural lighting applications including a blue LED with red phosphor that emits purple light. There were plenty of LEDs for general lighting in various form factors. And marketing manager Jimmy Weng even showed us an LED with a spectrum tuned to attract fish and designed for usage on a fishing boat.
LEDs and lighting for health
Seoul Semiconductor, meanwhile, had three major themes in its exhibit — the SunLike series of LEDs that have a uniform spectral power distribution (SPD) across the human visual range, the CSP LED portfolio that Seoul calls WICOP, and a new implementation of the Acrich AC LED technology. The new Acrich module integrates Acrich MJT 5630 LEDs and a new version of what Seoul has called a NanoDriver (http://bit.ly/2Hx3CEX). The 80-CRI, 5000K-CCT module demonstrated at L+B delivers efficacy of 150 lm/W including the driver.
Still, SunLike remains a bigger story for Seoul. Just before L+B, the company announced that Yeelight had used the LEDs in its LED Desklamp Pro. The design can be controlled and monitored by a smart device to make sure usage levels are healthy, especially for children. And the SunLike SPD is said to relieve eye fatigue.
Seoul is also investing in the lighting for health and wellbeing or human-centric lighting movement. During L+B, Seoul held the "Human centric light & health symposium" that featured three noted speakers — Professor Russell Foster and Dr. Manuel Spitschan from the University of Oxford, and Dr. Octavio Perez from New York's Mount Sinai Hospital.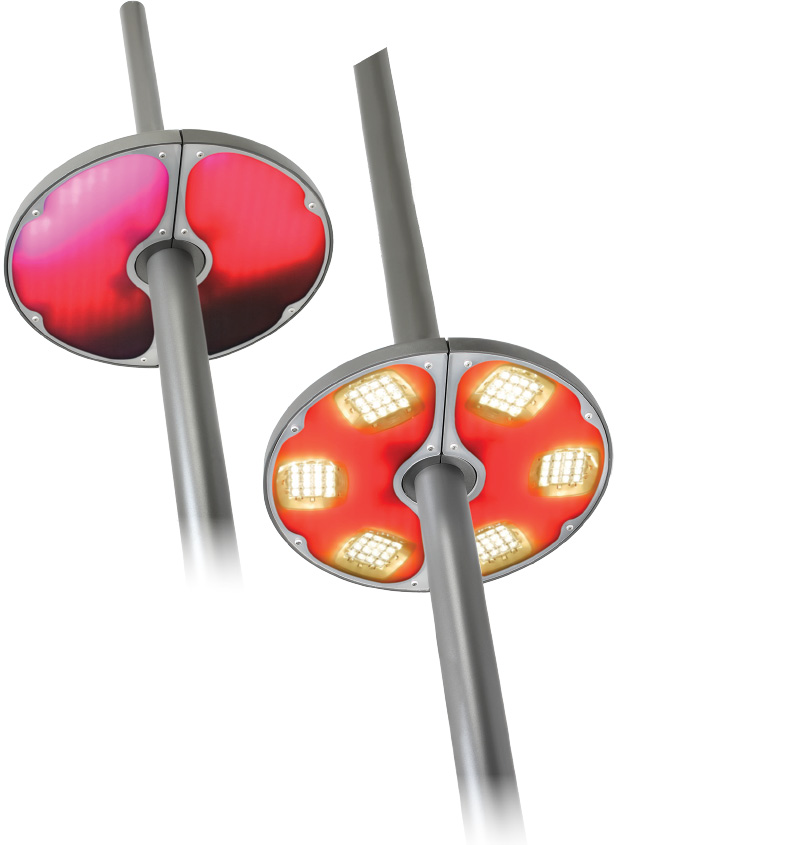 FIG. 6. Rohl International demonstrated outdoor area lighting with dynamic color capabilities both to grab attention (left) and to project light onto a ground-level surface (right).
Our colleagues at Lux covered much of Foster's message including his insistence that researchers don't yet know enough to truly develop and deploy human-centric lighting (http://bit.ly/2HwA1vm). Yet Foster did not say the industry should stop working toward a human-centric lighting future. And he explained that most light levels to which humans are exposed today are far too low to trigger a response from the non-visual receptors in the eye (http://bit.ly/2HzYSP1).
Perez was more bullish on the state of human-centric lighting. He said, "We have to know what we don't know. But we have to know that we know a little bit." And he encouraged the industry to move forward. Perez has been involved in the WELL Building Certification program that's evolving in the US (http://bit.ly/2HA2DnN). He noted that the metrics defined in WELL are difficult to apply for lighting designers and specifiers. But he said the lighting industry can make progress without doing harm. And he said products such as SunLike can have an impact on the non-visual system at lower levels than can LEDs with a less-uniform SPD.
Optics for SSL
Beyond the LED sources, optics provide perhaps the second greatest influence on light quality in luminaires. And as you might expect, there were some exciting products at L+B. We first covered an emerging liquid-crystal lens technology from a company called LensVector a year ago after a demo at LEDucation. More recently, the technology won one of our Sapphire Awards and CEO Brent York made a compelling presentation at the Strategies in Light Investor Forum, indicating that the lenses were ready for commercialization.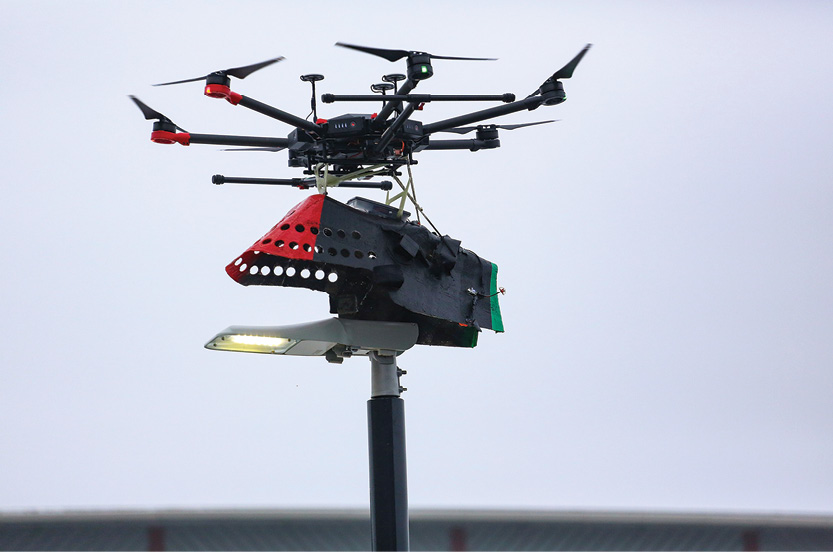 FIG. 7. Strihl caught eyes with its drone prototype that can eliminate the need for a bucket truck in street light repairs or retrofits.
It appears products are on the verge of such deployment. At L+B, Targetti showed a new version of its Zeno downlight equipped with such a lens (Fig. 5). The technology enables electronic adjustment of the beam from flood to narrow spot. The L+B demo used a dartboard-like structure with five concentric circles in neutral color but with adjacent circles raised or lowered relative to the those beside it. Our photos don't do the demonstration justice but generally illustrate the point. The Zeno luminaire was aimed at the center with the beam slowly cycling through its full range. The demonstration nailed the value proposition of being able to adjust a beam at will. The LensVector technology was also in products at Wila Hall, Feilo Sylvania, SLD Laser, Eulum Design, and Forma exhibits.
We also saw the LEDiL RZ optics technology in person for the first time. The optic enables color mixing without a mixing chamber. The company had a webcast covering the technology back in November that will be available on demand for one more month (http://bit.ly/2HwuB3z). The L+B demo used the optics to project changing colors on a surface.
We also visited with the company that has been called Dow Corning and is now called Dow Performance Silicones, which has launched a new brand — DOWSIL. The company showed some silicone lenses arrayed with a plastic holder structure for a street light that improves uniformity and reduces glare. Moreover, the company has been able to combine hard plastics and silicone optics into single components that greatly simplify luminaire design.
Color outdoor area lighting
To close out our top-ten L+B coverage, we will finish with three whimsical yet compelling demonstrations. These may not be ideas whose time has come, but at the end of the day they are neat and provide novel uses for LED sources.
The first comes courtesy of Rohl International and its Cigo family of outdoor area lighting. The portfolio includes two types of products designed for area-lighting applications. There are products such as the one on the left side of Fig. 6 that are purely intended to attract attention. The pole-based luminaires are available in various colors and mixes and can be dynamically controlled.

FIG 8. Philips' Luminous Flooring was on display at L+B, showing how embedded messaging could be used, similar to this photo from the company's EuroShop release.
Then we have the product shown on the right side of Fig. 6. Those products still feature color capability, including dynamic color changing. But they do use arrays of LEDs intended to generate usable light at ground level. Still, the lighting is more like what might be projected on an architectural surface outdoors as opposed to the white light typically projected on a ground surface. The company said it was installing its first projects in Europe.
Drones and street lighting
A drone that might retrofit or repair street lights also caught our eye. We always hear about the truck roll being the most expensive element of street light retrofits and repairs. Sweden-based Strihl believes that municipalities might work on their street lights in the future without a bucket truck.
We'll admit it. What stopped us at the stand was the ruggedized drone sitting perched on the street light in the Strihl exhibit (Fig. 7). But after discussing the idea with Strihl executives, LumenAIR seems fairly plausible. The basis for the idea is a quick-connect or -disconnect electrical and mechanical mounting scheme that used what the company called a knife-like electrical contact scheme. That simplified mounting scheme might make sense to streamline installation with or without a drone in the picture. Strihl says it is already deploying products using the mounting scheme now, and is talking with other lighting manufacturers about adopting the technology.
The drone, Strihl says, is due by the fourth quarter of 2018. And the value proposition is ultimately the need to upgrade street lighting on a more regular basis than is possible with expensive truck rolls. For example, the company points out that typical luminaires more than doubled in efficacy in the past five years and municipalities will inevitably want to leverage more efficient products. Moreover, the smart-city movement will mean that wireless schemes and other connectivity options will require upgrades. The drone could make such upgrades more affordable.
Floor messaging
Our very last demonstration that we will highlight comes courtesy of where we started at Philips Lighting. The company has been promoting the concept of luminous textiles for some time. We covered the Luminous Patterns products that are a mixture of art and illumination (http://bit.ly/2HzAVXY). But Philips has also embedded LEDs in textiles including carpets. The LEDs can deliver messages to people passing through a space.
At L+B, we saw the Philips Luminous Flooring installed with vinyl tiles for the very first time. The tiles are available in a variety of looks from wood simulations to what would appear to be ceramic surfaces. But LED arrays lurk underneath. And a local LC Grid Controller determines what is displayed through the tiles.
The system can turn on static messages such as directions to a parking garage. Or the system can generate simple animations whether informative or entertaining in nature (Fig. 8). The limit is really the cost a project architect is willing to bear in installing the LC Grid LED floor panels under the tile flooring.
Post-L+B, nursing sore feet, we're not in a big hurry to return to the Frankfurt Fair. If you haven't been there, you probably can't envision the actual scale of the event. But as you can understand, there was amazing technology on display. And ten years ago, who knew we would mix the words "technology" and "lighting" so often in an article.