LEDs Magazine Review - December 2005 issue
The December 2005 issue of LEDs Magazine Review is now available.
Dec 19th, 2005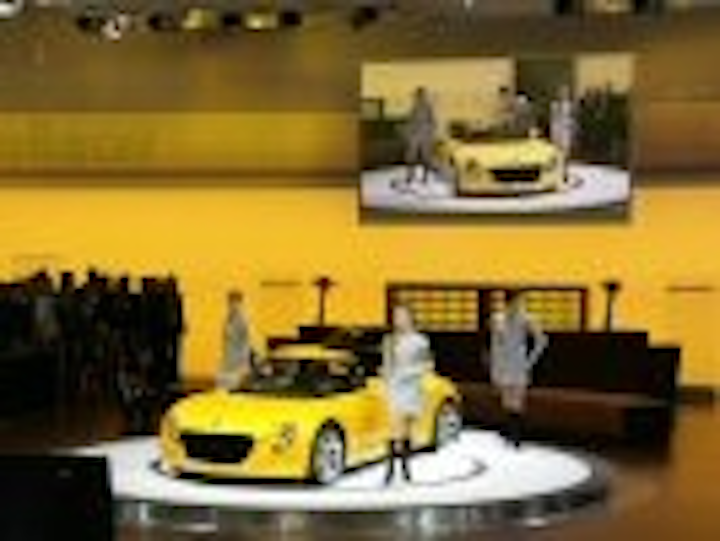 NEWS & ANALYSIS
LED joint venture Lexedis launched in Paris
Osram unveils enhanced thin-film chip technology
Handset LEDs: camera phones offer bright spot in tumultuous cellular handset market
plus...Agilent becomes Avago, Philips completes Lumileds acquisition
CONFERENCES
Delegates highlight required improvements in LED lighting
The annual LEDs event organized by Intertech took place in San Diego in October, with a diverse range of subjects ranging from standards and infrastructure for the solid-state lighting industry to plant growth using LEDs. Tim Whitaker looks at some of the highlights.
Sections include: Infrastructure and standards – Markets – Nichia's new Kirameki devices – Toyoda Gosei's phosphor technology - Camera flash and torches – Optics – Projection applications - Solar-powered lighting - Drivers and AC-LEDs - Silicones for packaging - LED displays in integrated networks.
HIGH-POWER LEDs
3D packages from Lednium provide wide-angle sources
An Australian company, Lednium, has developed a packaging technology to produce a wide-angle distribution for solid-state lighting, and has teamed with Optek to market its products.
SOLAR POWERED LIGHTING
White-light LED home lighting systems provide great benefits for India's remote tribal villages
White LED lighting fixtures powered by solar panels are having a huge impact on very poor villagers in the remote regions of Andhra Pradesh, India.
LIGHTING
The 5mm package versus the power LED: not a light choice for the luminaire designer
Although lighting fixture designs tend to emphasize the role of the power LED in current and future luminaires, there is a strong case for continuing to rely on the good old 5 mm package, writes Jeff Bisberg of AlbEO Technologies Inc.
LUMINAIRES
ConceptLED: concentrated dispersion of the light source
LED technology allows luminaire manufacturers to break free of the restraints of working with conventional lamps, according to Moisés Domingo and Julián San Miguel of Indal group.
VEHICLES
Valeo introduces novel automotive lighting concepts with LEDs
Hybrid xenon-LED headlamps and light-guides for rear lighting are among the technologies developed by French automotive supplier Valeo.
PACKAGING
LED lighting modules – taking the heat out of the situation
Thermal management using appropriate packaging materials is essential for high-power LED applications, explains James Stratford of Universal Science.
DISPLAYS
Motor Shows make a stand with LED technology
Automotive manufacturers pull out all the stops when it comes to attracting visitors to their stands at the major Motor Shows around the world.
VEHICLES
LEDs and concept cars at Frankfurt Motor Show
The annual automotive technology showcase in Frankfurt included many examples of manufacturers experimenting with the use of LED lighting concepts for interior and exterior lighting.