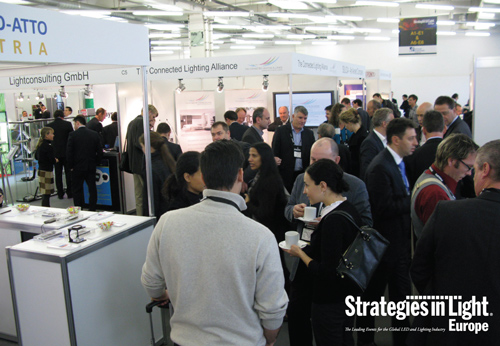 The three-day Strategies in Light Europe conference covered LED advancements to the government regulatory environment, reports MAURY WRIGHT, but SSL control technology was the most prominent theme and that worked nicely with a secondary focus on health and lighting.
"The future of lighting is intelligent. The future is here today," said Tom Pincince, president and CEO of Digital Lumens, at the Strategies in Light Europe (SILE) Conference held in Munich, Germany, November 19–21, 2013. Many of the other speakers at SILE agreed that the next wave of adoption of LED-based lighting will be driven by adaptive controls and intelligent lighting, but there was little agreement on how such capability will be implemented. The initial focus on controls is targeted at increasing energy efficiency, but quickly a secondary focus is emerging on adaptive solid-state lighting (SSL) systems that can boost productivity and increase our wellbeing.
Pincince, of course, can proclaim control technology is here and available because Digital Lumens offers an end-to-end system including a wireless network, light-and occupancy-sensing technology, networked SSL luminaires, and control software. But the Digital Lumens system is proprietary. We discussed that issue with Pincince leading up to SILE. Digital Lumens has built its system on standards-based building blocks, but the application-layer interface is proprietary.
At Strategies in Light Europe, attendees found presentations and exhibits focusing on adaptive controls and intelligent lighting, as well as human-centric solid-state lighting (SSL) systems that can boost productivity and wellbeing.
The broader SSL community must wade through a number of issues to enable wide usage of controls, according to speakers at SILE. There are technical problems such as the choice of network technology and protocol stacks. There is little agreement as to whether the lighting industry would benefit from open interoperable networks such as the one used in the information technology (IT) sector, or whether some proprietary layers might be appropriate. And there are issues regarding how to price and sell the technology.
Osram and Philips keynotes
Before we get to hurdling obstacles, however, let's discuss the need for controls and even creating the need in cases. Both Peter Laier, CTO of Osram Licht, and Jeffrey Cassis, senior vice president and general manager of global lighting systems at Philips Lighting, presented keynote speeches during the Plenary Session and both focused on controls.
Laier presented a visionary view of a lighting future with control enabled in smartphone apps and adoption driven by consumers. He described the emerging class of what he calls digital natives that want to control their environment with digital devices. And he said any app-capable device draws hundreds or thousands of apps from the virtual engineering community. Laier said that by 2020, middle-class people will have ten connected devices.
But the audience questioned Laier, with one person asking, "What is the driving factor for smart lighting?" Laier responded about the business sector, saying, "Office is going in the direction of energy consumption, driven by total cost of ownership." But he added that the lighting industry and commercial customers need to also consider technologies such as tunable lighting that can increase worker productivity and wellbeing.
Still, Laier quickly returned to the market potential for lighting manufacturers. For consumers he said, "The first thing is that you create new [interest] among consumers" with controls. And for both consumer and residential markets, Laier said the lighting industry needs to offer compelling controllable products that lead buyers to replace installed lamps and luminaires prior to end of life, just as the smartphone audience is on a constant upgrade cycle.
Smart city applications
Philips' Cassis focused more specifically on energy savings and even the environment, and implied that controls are a virtual necessity, especially in outdoor lighting. Cassis said there are more than 500 million outdoor luminaires installed globally and that most use very old and inefficient technology. He noted that LEDs can deliver 40–60% energy savings but the world needs better efficiency. He said, "Don't just think about 'ledification' but digitalization."
The need for controls isn't just based on energy consumption today but to where the world population is headed. Cassis said there will be a doubling of population and tripling of area of land use in the next 20 years. He added that by 2025, 60% of the growth will happen in 600 cities, driving the demand for the title of his presentation — "Connected city lighting."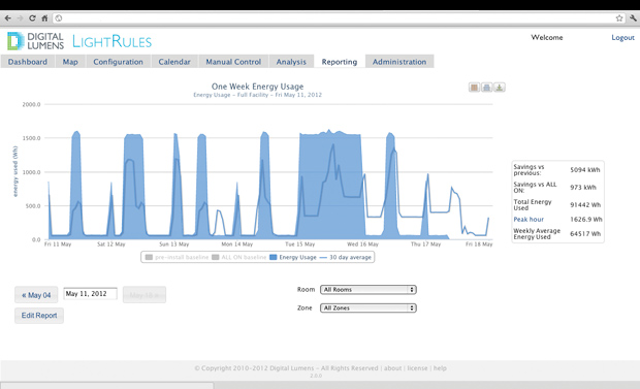 Digital Lumens' LightRules software allows a facility to monitor the energy used by the company's intelligent luminaires.
Today, less than 1% of the installed roadway or street lights are connected. The reason for the slow uptake has been the complexity and cost of controls, driven in part by proprietary technology, according to Cassis. But he said, "With LEDs we can connect much easier than before."
Cassis emphasized that we need lights that both offer control and are interactive, and that deliver a livable and pleasing environment for residents. As an example, he mentioned the Philips LumiMotion technology designed for pedestrian- and bicycle-dominant environments with vehicle speeds below 30 kph. The technology is based on sensors with a 20m radius that can be mounted on light poles. The sensors can bring lights to full level as a moving bicycle approaches and communication between the poles is a key for sensors. Cassis referred to the technology as human-activity-based dimming.
There are reasons beyond energy savings to install controls. We all know about the projected longevity of LED luminaires, but streetlights face a rugged environment and there will be failures. Cassis suggested that remote monitoring and asset management over a two-way network will also save money for maintenance operations. Other benefits will ultimately include accurate energy metering in the luminaire. And Cassis concluded with noting that once a city lighting network is in place that you can connect other lighting such as in municipal buildings and parks.
Value proposition and pricing
The keynotes provided a good basis for much of the discussion that was to come, including getting to the financial discussion. Let's consider the cost of controls and what price premium lighting specifiers, building owners, and facility managers will pay for the potential energy savings attributable to dimming or extinguishing lights autonomously when they aren't needed.
Mark Fryer, group finance director of UK-based Dialight, attacked the issue head on. Fryer said controls are currently being supplied with about 10–20% of Dialight's products, but he added that it is definitely "the way of the future." Fryer said that adding controls results in 10% incremental costs for Dialight in manufacturing the luminaire.
Fryer, however, also said, "We price to pay back and we are looking to give [the customer] a two-year payback." Based on the two-year return on investment (ROI), Fryer said Dialight could price the products at a 33% premium. But he clarified that the company would probably split the difference with the customer.
Robust system design
While no one at SILE spoke against the concept of controls, several speakers cautioned that controls were only one element of a robust SSL offering. For example, Menko de Roos, CEO of LED modular light engine manufacturer Xicato, addressed controls and did so relative to what he calls Lighting 2.0 — stressing that he wasn't discussing LED 2.0 or the second wave of SSL. The point that de Roos tried to make is that the industry needs to address the specific lighting needs of businesses and residences while also delivering energy savings.
Xicato has worked since inception to deliver light engines with good color rendering and excellent color uniformity when installed and over time. At the start of his talk, de Roos quipped, "I'm not going to be as boring as the product we launched five years ago; it has not changed." He said that in terms of color quality, Xicato products get to end of life within a 3-step MacAdam ellipse, a level of color uniformity where he asserts most competitors start.
De Roos said Lighting 2.0 for the industry must include better color uniformity, better reliability, and integrated controls. He noted that Xicato will announce a module at the upcoming Light+Building tradeshow with integrated controls. And he emphasized that the product will remain in the same modular form factors that Xicato has utilized all along.
Present-day success
Annetta Kelso, senior marketing manager for the OEM channel in Europe for Philips Lighting, warned that lighting manufacturers are still struggling to deal with the transition to LED lighting and must prioritize that task over adding controls. She said the lighting industry is still learning to deal with the peaks and troughs of the semiconductor industry. Before, she said, ballasts had been impacted to a degree, but now light sources and drivers will be heavily impacted by semiconductor cycles.
Kelso said the lighting industry must learn to deal with end of life for SSL products. Poor lighting product design in the past may have resulted in frequent lamp changes, but now it could result in ceiling lighting failure on a massive scale.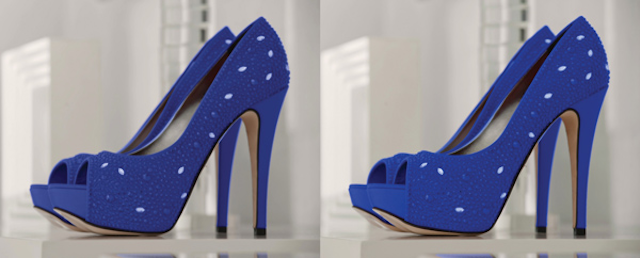 Xicato's Vibrant light engines render colors better (right) than traditional light sources (left) for applications such as retail.
What Kelso advocates is continuous advancements. She referred to reliable SSL design, and continuously improving the robustness of products as dealing with the here and now. Development teams must also be working simultaneously on controls in what she calls phase 3 of the SSL transition.
Networking options
In addition to LED product design, the topic of networks for lighting was a recurring theme at SILE. There were interesting ideas presented and some experiences shared both about technology and business practices.
Darko Crha, managing director of Croatia-based Data Link d. o. o., lobbied for a simple approach to lighting networks. Crha said lighting networks should not require an IP network address, expensive network administration, or temperature and power sensors embedded in luminaires. He argues that such features add cost, which will prevent broad deployment of networks and controls.
Crha is working on a one-way communication scheme that he calls PL*Com and sends data on the mains power lines connecting to the luminaire. In particular, he is focusing on outdoor applications such as streetlights. Crha believes such a simple system could be added to luminaires at a cost between €1 and €10 ($1.30 to $14).
The bulk of the speakers, however, expressed support for more robust networks. Yariv Oren, CEO of Israel-based Virtual Extension, for example, said his company's experience would indicate that two-way networks are needed. He emphasized, "Customers demand it."
Open or proprietary
Virtual Extension specializes in wireless mesh networks and has worked with both proprietary and open technologies and has installed its technology in more than 170,000 lighting nodes. Oren recommends the use of standards for municipal or government projects or for any project that may need future interoperability. But he said proprietary systems can offer a lower cost, and the China region is looking for proprietary networks for lighting.
Proprietary systems have also been utilized in Japan. François Seguineau, vice president of lighting systems from Toshiba Europe, focused his presentation on smart lighting for health and productivity but was specifically asked about the network technology that Toshiba would support. He said that while the company was using a proprietary network in Japan, it would not bring that technology to Europe and the US. Indeed, he said the company is really waiting to see which network technology wins while using multiple technologies today.
Back to Virtual Extension, based on his experience with installations in Europe, Asia, and the US, Oren offered an interesting observation. He said even when a network enables a streetlight owner to handle a problem remotely, the owner still bills customers as if the problem required a field repair call.
Controlling tech and people
There were also interesting observations made on who controls the actions of the people that use networked lighting and also on who controls the network technology. As did other speakers at SILE, Xicato's de Roos discussed lighting networks as becoming part of the so-called Internet of things. But he warned, "The challenge that we have is not to give it away to the IT industry." De Roos didn't fully explain his point, but the implication was that lighting manufacturers must control the network, even if it's based on open standards, to ensure that the lighting industry capitalizes financially on the controls trend.
Others worry about building technologies other than those handled by the IT department. Speaking on behalf of the EU.ESCO (European Association of Energy Services Companies) organization, Siemens executive Tobias Huber pointed out that there are multiple systems like HVAC and security in buildings and multiple networks such as BACnet, LONworks, and KNX. He said, "Lighting integration in building automation and control systems needs to be planned as early as possible."
Huber said that LED lighting has the potential to be the biggest energy saver amongst the various building systems and deliver a much faster 5.86-year payback than efficiency initiatives in other systems. But he warned that the impact of controls on energy savings can be overestimated. Huber said you can't control the actions of employees using a space.
The other concern with controls remains the complexity of integrating the networks and even working with a lighting-centric network. Eoin Billings, founding director of Billings Jackson Design, weighed in on the complexity issue. He rhetorically asked, "Have you ever used a KNX system?" Answering his own question, he said, "It's a nightmare."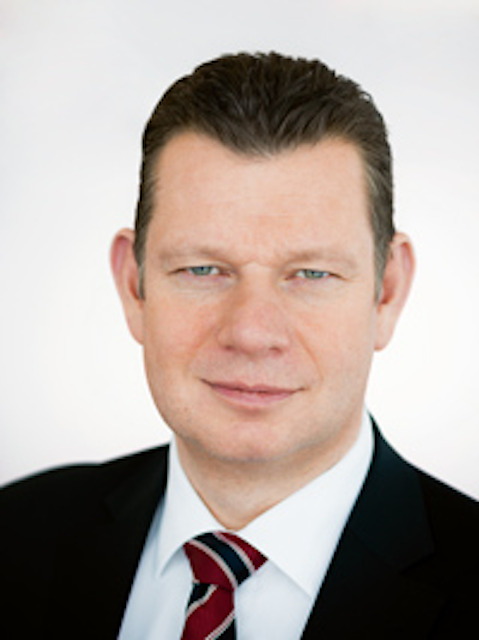 Osram Licht CTO Peter Laier focused on an SSL future dominated by controls in a Strategies in Light Europe keynote.
Human-centric lighting
Throughout SILE, most every speaker that addressed controls also hinted about human-centric lighting or health-in-lighting topics. We have since also published an interesting preview interview about the US flagship Strategies in Light event that discusses the issue in detail. The fact is that many people are seeing potential opportunities to make money in the area. Designer Billings said, "Lighting has become digital, and [that transition] will enable a transition to human-centric lighting."
The standout speaker on the topic of human health was Martha Merrow, chair of the Institute for Medical Psychology at Ludwig Maximilians University in Munich, who presented "Lighting for life." Merrow calls herself a chronobiologist. She discussed the familiar ground of blue spectral energy suppressing melatonin — applied correctly boosting alertness, or incorrectly preventing sleep. But she also introduced the concept that individuals have different chronotypes or how they react to light.
Early or late chronotypes equate to individuals that go to bed early and get up early and vice versa. The critical point, however, is that an individual needs consistent rhythms. Young adults that fit the early chronotype during the business week and then shift to late night hours on the weekend suffer from what Merrow calls social jetlag. Moreover, she said an individual who gets only five hours of sleep on two consecutive days suffers equally to an individual who stays awake one full night. The consequences at a minimum are lost productivity but can also lead to chronic conditions.
Merrow is really focused on the human study, but her work is intended to answer the question of how we can bring social and biological clocks together. Tunable LED light could be the answer. Dieter Lang, corporate technology researcher at Osram, followed Merrow and discussed many elements of tunable lighting but brought the discussion back to controls. He said such applications will require controls and automation because individuals could not manually apply the required light settings even if they were inclined to do so.