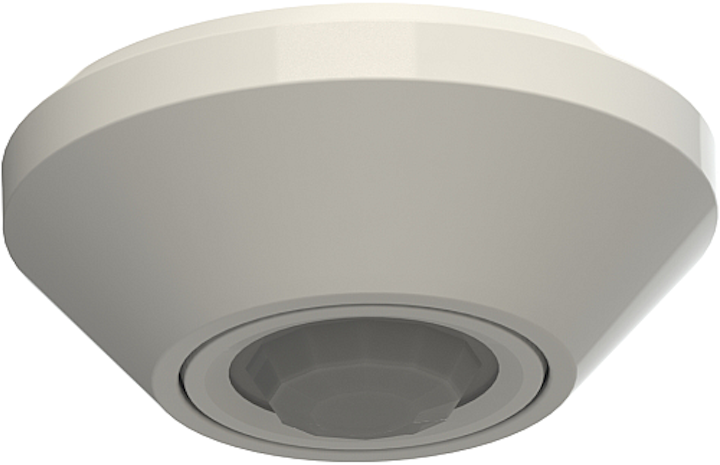 Leading into Lightfair International, Digital Lumens has made a trio of announcements expanding the scope of its intelligent LED lighting platform and luminaire portfolio. The company has now formally defined the Digital Light Agent (DLA) family of modular products that other manufacturers can apply with their luminaires to add support for the Digital Lumens network and light-management platform. Moreover, the company expanded the functionality of the LightRules management software and added new linear fixtures for use in place of typical one- and two-lamp fluorescent fixtures.
Digital Lumens expands smart LED platform with agents, software, and fixtures
Digital Lumens was launched in 2010 with the mission of proliferating light networks and adaptive control technologies. The company boldly proclaimed at launch that its technology could reduce lighting energy usage by 90% in some commercial applications such as warehouses. Subsequently, Digital Lumens has expanded its fixture portfolio and announced numerous case studies of its lighting technology installations.
Most of the Digital Lumens projects and successes have been based on its own fixtures, although it announced a year ago that it would supply technology that other luminaire makers could embed in their own products to allow those products to function within a Digital Lumens network, and to be managed by the company's LightRules software. Now the company has announced specific DLA modular products for integration by other manufacturers.
Integration options
The new DLA products can enable manufacturers to simply add network and dimming support to existing fixtures. "The widespread adoption of Digital Lumens' intelligent lighting networks has created an appetite for managing any lighting as part of the system," said Brian Chemel, CTO and co-founder of Digital Lumens. "By distilling our powerful, patented distributed intelligence technologies into a small, easily deployed form factor, we are able to bring the benefits of intelligent lighting to any environment."
The new DLA products include the DLA-I module meant to be integrated directly into a fixture. The module includes Digital Lumens wireless network support and can control the third-party fixture via techniques such as 0-10V control. Moreover, the module adds light and occupancy sensing for both autonomous and programmatic fixture control.
The DLA-S module is an external implementation of the technology meant for surface mounting on a wall or ceiling. The module can in turn control one or more nearby fixtures similarly to how the DLA-I module operates. The DLA-R module also works similarly but is designed for recessed mounting in a wall or ceiling.
The combination of the three modules means that lighting designers/specifiers can add support for the Digital Lumens platform even with existing fixtures when installing retrofit projects where the new fixtures are network enabled from Digital Lumens or third parties that use the DLA-I modules. And either third-party manufacturers or lighting specifiers can add the DLA-I to a fixture in some cases.
New linear fixture and LightRules
Meanwhile, Digital Lumens expanded its fixture portfolio with the LLE family of products. The new luminaires can deliver 3000-6000 lm in 4000K and 5000K CCT models. The fixtures can be mounted individually, or cascaded end-to-end much like you see suspended fluorescent fixtures installed in industrial settings. The products are meant as alternatives to one- and two-lamp T5/T8/T12 fluorescent fixtures.
Digital Lumens used the DLA-I technology in the new LLE product family. Indeed, you can spot the module at the end of the linear fixture in the nearby photo.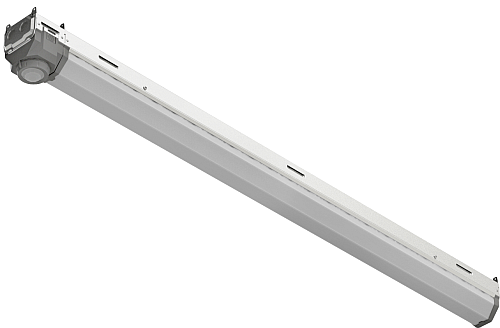 Digital Lumens also expanded the way customers can implement and use its LightRules lighting management platform. LightRules has been primarily implemented on computers housed at a customer facility, while using a web-like user interface for simplicity of network management. The new LightRules Insight platform expands the functionality using Internet cloud technology. Moving to the cloud and distributed control allows for management of multiple facilities from a central location or even remote management of a single facility.
"The system-driven architecture we pioneered, with LightRules and our distributed intelligence in every fixture, has proven enormously successful in helping customers drive down energy costs and manage lighting as a valuable resource in their operations," said Joe Adiletta, Digital Lumens' director of strategic products. "Today's LightRules Insight introduction makes it possible to reap the benefits of efficiency and control in an individual building, or across multiple facilities in a real estate portfolio."