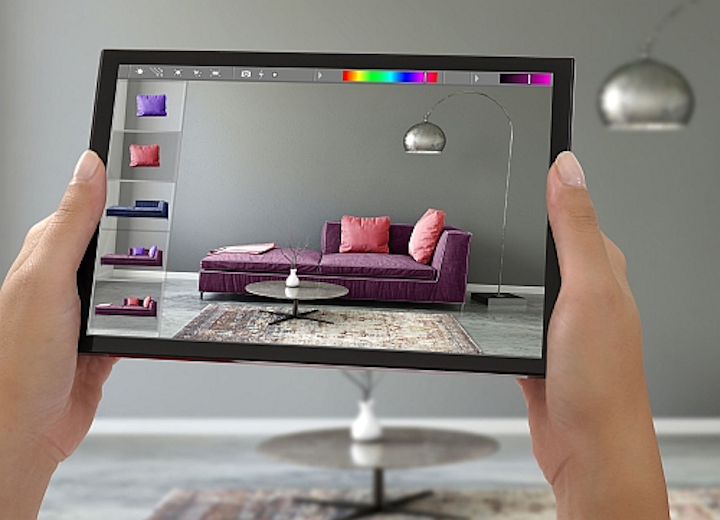 Osram has continued adding new variants of light-emitting chips aimed at specialty digital applications, as its Opto Semiconductors (OS) division introduced two LED and laser diodes each, with all four geared for biometric identification purposes among others.
In LEDs, last week the Munich company unveiled two infrared (IR) emitters, the Synios SFH 4772S A01 and the Synios SFH 4775S A01. Osram said both are ideal for biometric ID in cars, by scanning either a driver's iris or face in order to recognize him or her and then unlock doors and engine immobilizers.
The 4772S A01 is optimized for iris recognition, operating at 810 nm, a wavelength that Osram said is "best suitable for all different eye colors." It has an optical output of 1070 mW at 1A.
The 4775S A01 is geared for facial recognition. In addition to providing security, it can also monitor a driver to detect tiredness. It operates at 940 nm, has an optical output of 1650 mW at 1.5A, and "has also been designed for high pulse loads up to 5A," Osram said.
Both automotive chips measure 2.0×2.8×0.6 mm, are approved to operate at up to 125°C, and are due out in the spring.
They are Osram's latest iris and facial recognition LEDs. The company is positioning others in different form factors at separate vertical markets. For example, it introduced the 940-nm Synios P2720 IR LED early this year as a facial recognition chip to unlock phones and tablet computers.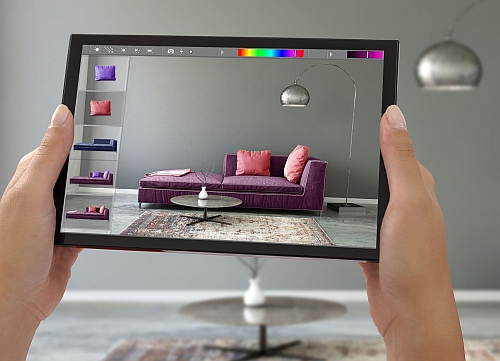 Among many other potential uses, Osram's new 3D sensing VCSELs (bottom) can position virtual furniture in a room and thus save time and money on interior design.
While LEDs can provide a certain level of ID function, Osram has also been developing vertical cavity surface-emitting lasers (VCSELs) to meet other and often higher-performance needs.
The day after the company introduced the two LEDs, it promptly unveiled two new VCSELs, both of which support three-dimensional (3D) scanning, as opposed to the two dimensions of the LEDs.
"It actually depends on the final application and the requirements of the customer whether an infrared LED (IRED) or a VCSEL is more suitable," an Osram spokesperson explained to LEDs Magazine. "For example, 3D face recognition is only possible with VCSELs — in terms of 2D face recognition, it depends on the customer's different parameters such as desired performance, easy assembly or system integration, etc., whether an IRED or a VCSEL is more suitable."
The two new VCSELs, the PLPVCQ 850 and the PLPVCQ 940, join Osram's Bidos family of VCSEL products. The 850 operates at 850 nm and the 940 at 940 nm, with both rated at 2W.
In addition to 3D facial recognition, Osram said the VCSELs are also suitable for machine vision — the process by which machines and robots see — "as well as object or architectural scanning that involves mapping an area in 3D and positioning virtual furniture and other items." Both measure 2.40×3.30×1.20 mm and are due to hit the market in the second quarter of 2019.
The new chips come only three months after Osram launched the Bidos VCSEL family with the facial recognition-oriented PLPVQ 940A (the model number is similar to this week's new one, but without a "C" and with an "A"), which Osram described at the time as its first VCSEL.
Whereas the 940A uses flood illumination — illuminating a scene uniformly with IR light — the 940 is used for taking time-of-flight (ToF) measurements, which measures the time between the emission of light and detection of the target from which the light is reflected, based on the known speed of light, the Osram spokesperson explained.
Osram's VCSELs come from the Vixar subsidiary that Osram established after acquiring Plymouth, MN-based VCSEL specialist Vixar, which Osram announced in May.
Between VCSELs and LEDs, Osram has this year had a flurry of optical diode announcements. Other new chips have included an IR LED that when embedded in a phone or tablet can help farmers determine whether their crops are ready for harvesting, by taking spectroscopy readings of the crop's contents. That chip, called the SFH 4736, is part of Osram's Oslon Black line.
In September, Osram added a smaller-form-factor IR LED, the Synios SFH 4776, for spectroscopy use in smartphones to help consumers read the contents of foods in stores. With its smaller form factor, the Synios line of LEDs provide less detailed information than the larger Oslon Black line.
In July, with security cameras in mind, Osram added the SFH 4718A to its Oslon Black line. That came a few months after it added six new models to the Oslon Black family for a variety of interior and exterior automotive applications, including pedestrian detection as well as some uses that would seem to cross over with the new PLPVCQ VCSELs.
The onslaught of new devices comes as Osram pursues what it believes to be strong growth opportunities in serving digital applications beyond general illumination for its optical chips.
MARK HALPER is a contributing editor for LEDs Magazine, and an energy, technology, and business journalist (markhalper@aol.com).