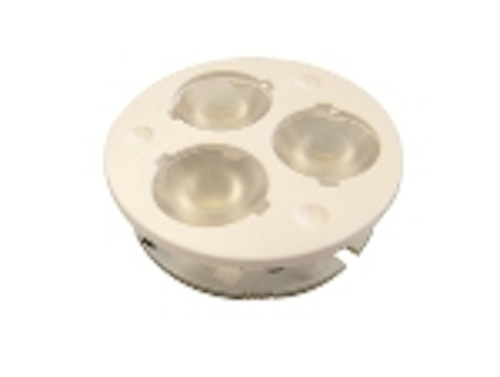 Future Lighting Solutions hopes to further deliver on its "Making LED Lighting Solutions Simple" pledge with a new program that provides fixture manufacturers with fast access to a variety of what the company terms light engines. The just-announced simpleLED program includes 12 LED modules that are in stock for immediate delivery and more than 600 custom options available with a four week lead time.
Future has comprehensively supported solid-state lighting (SSL) with not just LED products but with engineering support and products in the power and thermal areas. That level of support will continue for lighting fixture manufacturers that need the assistance. The simpleLED program targets "the innovative engineer looking to reduce cycle time" according to Heather Goldsmith, Global Marketing Communications Manager. Costa Politakis, Global Product Line Manager, states, "We want to accelerate time to market, accelerate time to revenue."
According to Politakis, the number of SSL fixture makers has exploded. There are a handful of very well known high-volume manufacturers. But Politakis claims there are hundreds to a thousand smaller manufacturers in North America and thousands globally. Politakis points out that the simpleLED program offers scalability stating, "It's hard to reach thousands of customers."
The simple LED program includes linear, circular, and square modules with 1 to 9 LEDs, in a variety of color temperatures. Goldsmith states, "We will have stock available on the 12 most popular models." But Politakis points out the possibility of more than 630 options. Customers can chose models with a connector or solder pads; with narrow, medium or wide optics; and with frosted or plain lens.
Learn more about the program at the simpleLED web site. The modules come with a three year warranty and feature ANSI-binned Philips Lumileds Luxeon Rebel LEDs. Cusomers can use a Light Engine Builder tool that allows selection based on factors such as nominal flux, color temperature, and module dimensions. The selector tool outputs a model number for which the customer can get a price and delivery quote.
The term light engine may deserve a bit more definition because different companies mean different things with that term. In some cases, light engine refers to a module with power and thermal subsystem integrated with the LEDs. The simpleLEDs program is focused on modules with only LEDs integrated, and Future offers downloadable guides on thermal and power requirements, as well as engineering support when required.