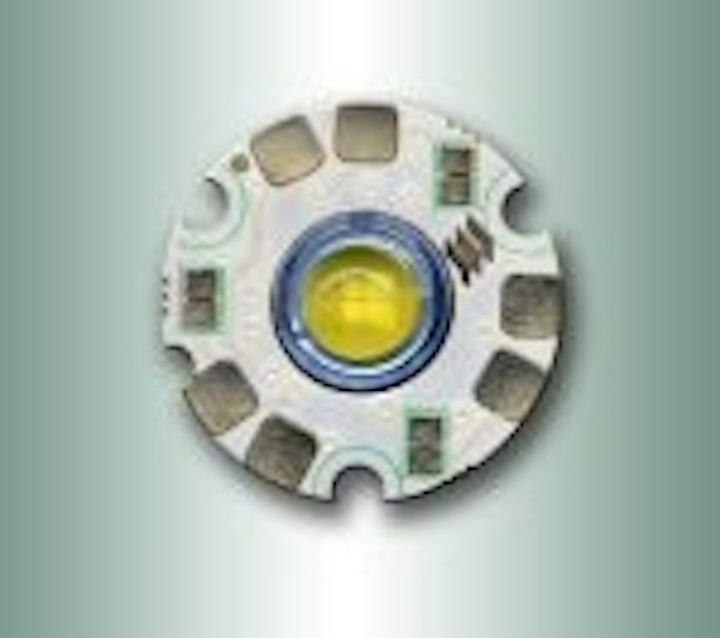 Lamina Ceramics plans to introduce a new line of ultra-bright LED light engines at the 2006 Light+Building show in Frankfurt, Germany, including a record-setting warm white model designed to replace halogen and tungsten filament competitors and a powerful "daylight white" model designed to replace fluorescents.
The new Atlas line has an identical footprint to the company's BL-4000 line, but is up to twice as bright.
The Atlas Warm White produces more than 100 lumens, and its enhanced red and orange color spectrum provides light output similar to a 10-watt halogen bulb while using little more than half the power and lasting 3-4 times as long.
"As lighting designers know, cool white light, while perfect for many applications such as office lighting, is generally not welcome for illuminating the more intimate interior spaces of home and leisure – most people prefer a warmer light for reading, desk illumination and dining," said David McConaghy, Lamina's vice president of sales.
Lamina says that its Atlas Daylight White "rivals the quality of natural sunlight", and is designed for many architectural and office lighting applications, task lamps, machine vision and high-powered flashlights. It has an output of more than 200 lumens and is a "drop-in" upgrade for the company's BL-4000 LED light engine.
The Atlas RGB+ LED light engine has 3 independently controlled input/output channels (red, green and blue) and can produce any of 16 million saturated and blended colors, including white with variable color temperature.
"We developed our Atlas LED light engines by listening to the wants and needs of customers," said McConaghy. "Lamina's Atlas line pushes solid state lighting to center stage by making possible applications which until now could only be accomplished with traditional lighting sources, and by creating many entirely new lighting opportunities."
Product samples are available immediately, and production volume manufacturing begins in early June 2006.
Lamina CEO leaving to form new LED venture
Lamina has announced that CEO Taylor Adair will be leaving the company this summer to found a new solid-state lighting venture. Company board chairman Greg Blonder said "Under Taylor's leadership Lamina has established itself as the premier supplier of ultra-bright LED light sources. Our soon-to-be-announced new product releases will further extend our lead."
Adair said, "Lamina is extremely well positioned to continue providing the brightest and easiest to use solid-state light sources. My next venture will depend upon the performance and availability of Lamina's light sources, so my interests now and going forward are very much aligned with the company's. In fact, I look forward to becoming one of Lamina's biggest customers."