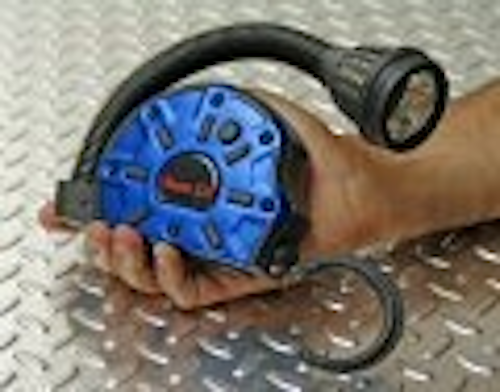 The CentraLED work light from Central Tools, one of the brightest, most compact repair lights on the market, is powered by a BL-2000 LED light engine from Lamina Ceramics.
Developed for automotive repair technicians, the CentraLED light uses Lamina light engines because of their ultra-bright light output and small footprint. The light's 42 LEDs are focused by a high-tech, precision optic which concentrates the light to produce a 40-degree beam angle. This allows the production of an 18-inch "perfect circle" of very bright, evenly distributed light at a distance of two feet.
The high light output from CentraLED's small footprint make this product's screw-on light head assembly suitable for a wide range of OEM architectural, automotive, task lighting and general illumination applications.
"We were quick to recognize the exciting design possibilities afforded by the brightness and small size of Lamina's LED light engines," said Alec Dawson, president of Central Tools, Inc. "However, we needed to learn a lot in a hurry about this new world of solid-state lighting. The engineers at Lamina have been great partners – they really educated us about LEDs and dedicated themselves to helping us make a very bright and durable product unlike any other in the marketplace."
Lamina says that the BL-2000 light engine used in the CentraLED is one of its most popular LED light engines, delivering 108 lumens of white light from a total of 42 LED chips.
Powered by internally rechargeable NiMH batteries and housed in high-impact materials, CentraLED is completely portable and extremely durable. Additional features of CentraLED include a flexible neck, thin profile for maneuvering into tight areas, with powerful neodymium magnets on the back and bottom, and a hanging hook.
"We are pleased to work with Central Tools on this innovative product – it's been a very rewarding design and engineering experience," said Taylor Adair, president and CEO of Lamina Ceramics. "With innovative, high-quality products like CentraLED hitting the market, it's easy to see why solid-state illumination is becoming increasingly prevalent in the lighting industry."