Yes, it is talking with private equity firms Bain and Carlyle after all. Meanwhile, it shuts down its indoor positioning unit, while buying into another.
Epitomizing the lighting industry' changing and uncertain times, Osram has confirmed reports that it is an acquisition candidate, while also revealing to LEDs Magazine that it is overhauling an important chunk of its approach to what many consider to be the industry's future: the Internet of Things (IoT).
The company said it is in discussions with private equity firms Bain Capital and Carlyle Group for a possible joint buyout of the Munich company, after Bloomberg first reported the talks. As LEDs has been reporting, Bain's interest in Osram first surfaced about two months ago, when other financial firms were also believed to have interest.
"Osram Licht AG confirms market rumors that Bain Capital and Carlyle Group are considering a joint acquisition of up to 100% of the company's shares," Osram said in a press release. "The company is currently engaged in detailed discussions with the interested parties. It is not yet clear whether there will be an investment by Bain Capital and Carlyle Group. It is also possible that the discussions fail. In accordance with legal requirements, Osram Licht AG will further inform the capital market and the public in due course."
The news comes as Osram, like the lighting industry in general, struggles to find its financial feet in the era of LED lighting, in which long-lasting bulbs have forced vendors to abandon their century-old business model of selling new lamps and their replacements.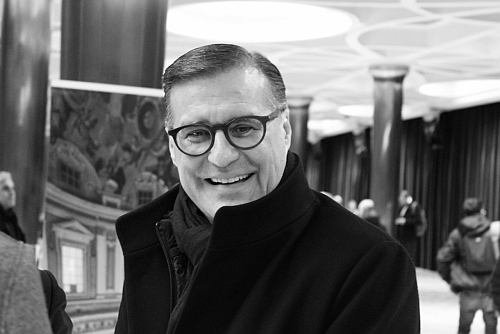 Osram confirms it's in talks to be acquired, and overhauls an IoT segment
Osram CEO Olaf Berlien has been finding new directions for the company ever since taking the helm four years ago, and now he's looking at some possible suitors. (Photo credit: Mark Halper.)
On top of that, Osram has been hit hard by downturns in the automotive market, a source of nearly half its revenue as it sells both LED chips and lights to carmakers. Last week, Osram reported that first-quarter 2019 revenue fell 15%, earnings plunged, and it has had to let go a small number of factory workers, following a year of financial warnings and a November restructuring of its business units.
As part of the tumult, it has been without a permanent head of its optical semiconductor group Osram OS, following the departure of the group's former CEO Aldo Kamper in August. Osram is expected to name Kamper's replacement soon.
Industry-wide troubles have put a number of lighting companies into acquisition play. Smart-bulb pioneer LIFX, for example, was recently acquired by IoT specialist Buddy Platform Limited.
More takeovers or mergers are expected.
All about the data
While Osram has confirmed interest from private equity groups Bain and Carlyle, IT and data companies might also be interested in lighting companies. Germany's Software AG, for instance, has said that it has between €1 billion ($1.13B) and €1.5B ($1.69B) to spend acquiring companies that would help it expand in data integration and the industrial Internet. It has not publicly expressed an interest in lighting per se, but lights are increasingly connecting to the Internet.
Many lighting vendors, Osram among them, are trying to become data companies, hoping to outfit lights and the lighting infrastructure with sensors and communications chips that collect data, route it to the Internet, analyze it, and help end users improve operations not just of lighting but also of heating and cooling, property management and space optimization, inventory and asset tracking, security, customer engagement, and more.
To help with that broad approach, in December Osram brought its Lightelligence systems integration framework to market, hoping to tie together hardware, software and cloud computing, and to boost its efforts to sell lighting and data as a service.
One of the industry's greatest IoT hopes is in indoor positioning systems (IPS) for the retail trade, in which the lighting systems communicate with phones and other things to help guides customers around stores and offer them deals.
But while the industry has been talking up IPS and other IoT possibilities for several years, deployments have been slow to develop (watch for LEDs' feature story in the February issue next week). Vendors have been building up a number of small and pilot examples, but wide-scale implementation of lighting-based IoT has yet to emerge.
Changing positioning positions
To help invigorate its IoT efforts, Osram has now decided to shut down its own IPS group and instead will rely on IPS solutions developed by Berlin-based Beaconinside, an indoor positioning specialist in which Osram has purchased a minority ownership.
Osram had been developing IPS within its Innoventures group, a division headed by group senior vice president of innovations and Innoventures Thorsten Müller. Innoventures develops technologies and processes until they are ready to move into one of the three business units — Automotive, Digital (general lighting and IoT systems), and OS.
"In the transformation of Osram into a high-tech company, it is essential to remain flexible and to constantly question the paths taken," Müller said in an internal announcement seen by LEDs. "In this case, we have determined that we will be successful in the market much faster by forging relationships and making financial and operational investments such as the one made in Beaconinside, rather than through the development and marketing of our own solutions."
Beaconinside uses Bluetooth beacons to track peoples' movements in physical-world stores and other locations and thus provide retailers with insights on how to better engage customers. It has worked independently of the lighting infrastructure, but by joining with Osram it is extending its potential reach. Its customers include Vienna Airport and a pallet company called CHEP, and it is also believed to be working with a major gas-station chain and bookseller.
"Beaconinside's innovative solutions enable sales-supporting advertising campaigns, detailed customer analyses, and intelligent logistics monitoring of shipments," said Osram chief technology officer Stefan Kampmann, Osram's chief technology officer and Müller's boss. Both Kampmann and Mueller joined Osram from Bosch in 2016, to stir up IoT innovations including developing new uses of sensors and beacons.
"Our Innoventure Smart Positioning Solutions with about 20 employees will be shut down," an Osram spokesperson told LEDs. "We won't develop our own location-based services software solutions any more. Instead, we will bet on Beaconinside's solutions."
Michael Hoege, who has been running the smart positioning group at Innoventures reporting to Müller, will leave Osram and take a management position at Beaconinside.
Of the 20 employees, some will also move to Beaconinside, some will relocate within Osram, and some will lose their jobs.
Seeing what sticks
In the trial-and-error approach to IPS and the IoT, Osram's investment in Beaconinside appears to move the company further away from an IPS software firm with a similar name, Beaconsmind, in which Osram had also purchased a minority share.
Zurich-based Beaconsmind provided software that Osram used in Switzerland to furnish 23 Guess and Marc O'Polo retail stores with Bluetooth-based IPS in 2017.
Osram is believed to have ceased operational work with Beaconsmind last year, although Osram continues to hold an equity position in the company. Whereas Osram holds that stake through its Fluxunit venture capital group, it holds its new stake in Beaconinside through a more internal Osram unit.
Osram' Innoventures made its foray into IPS in 2016, under the banner Einstone.
Osram will continue to use the Einstone brand name for IPS hardware products but not for software and systems. Einstone, which included Bluetooth beacons, resides inside the Digital business group, headed by Wilhelm Nehring.
Christoph Peitz, who headed Einstone operations upon its launch three years ago, is no longer involved but now has profit and loss responsibility in southern Germany for Siteco, the luminaire division which Osram is selling as part of its general exit from the traditional general lighting market.
With the industry in a throw-the-spaghetti-against-the-wall stage, Osram has been trying a number of tactics in IPS and indoor tracking.
It recently partnered with software firm Rifiniti to use ZigBee wireless technology and Osram's Encelium light management system to help commercial property owners analyze how to better make use of their space.
It is also piloting a scheme with two commercial property firms in Lithuania in which it is not even using the lighting infrastructure. Rather, it is deploying occupancy sensors to help the companies better utilize space. Those examples fall under yet another Osram escutcheon called VISN, aimed at complete end-to-end installation of sensors, software, and cloud connections.
In another recent deployment, Osram has outfitted an Edeka supermarket in Berlin with an IPS system in which data is communicated to connected lights via electricity wires, and lights house either beacons or sensors or both (Osram has not said exactly what functions Edeka is utilizing).
Osram also offers lighting-based industrial and commercial asset tracking through its Boston-based Digital Lumens group.
MARK HALPERis a contributing editor for LEDs Magazine, and an energy, technology, and business journalist (markhalper@aol.com).