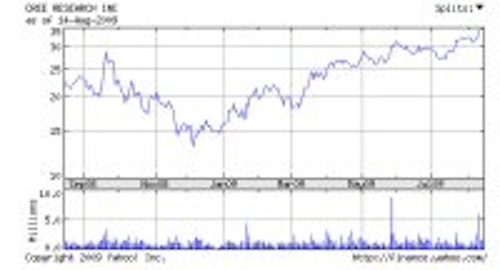 Cree has reported record revenue of $148.1 million for its fourth quarter of fiscal 2009, ended June 28, 2009. This represents a 9% increase compared with the same quarter last year, and a 13% increase sequentially. The company's GAAP net income for the June 2009 quarter was $9.7 million, or $0.11 per diluted share, compared with $8.4 million, ($0.09 per share) for the year-ago quarter.
Revenue from LED products in the June 2009 quarter was a record $131 million, up 17% sequentially. In the same quarter last year, revenue from LED products was $115.6 million. Cree's largest single customer was Seoul Semiconductor.
Cree said that revenue growth in Q4 was driven by higher XLamp and high-bright LED sales for lighting related applications; higher LED chip sales due to increased demand in notebook backlighting; and sequential double digit growth in LED lighting product sales.
For fiscal year 2009, Cree reported revenue of $567.3 million, which represents a 15% increase compared with revenue of $493.3 million for fiscal 2008. GAAP net income was $30.3 million, ($0.34 per share), compared with $33.4 million, ($0.38 per share) for fiscal 2008.
Total revenue from LED products during fiscal 2009 (July 2008 – July 2009) was $493.5 million. LED revenue for calendar 2008 was $472 million.
"Our strong Q4 results were an outstanding finish to a very good year and reflect the success of our strategy to drive growth in LEDs and LED lighting applications," stated Chuck Swoboda, Cree chairman and CEO. "Entering fiscal 2010, our Q1 backlog is very strong as we see growing demand across our LED product lines. We continue to invest in the new products, channels and technical support needed to accelerate the LED lighting revolution."
For the September 2009 quarter, Cree is targeting revenue in the range of $160 million to $166 million with GAAP earnings of $0.14 to $0.16 per diluted share.
Conference call comments
In the company's conference call (see transcript on Seeking Alpha), it was noted that the final earn-out for Cree's acquisition of Cotco resulted in $57.1 million payment versus a maximum potential of $65 million. This will be paid in cash in August.
Also, Cree noted that it had two customers greater than 10% of total company revenue during fiscal 2009, namely Arrow Electronics and Seoul Semiconductor. Seoul Semiconductor revenue was 13% and Arrow is now Cree's largest distributor at 11% of total company revenue.
Furthermore, sales to Light Engine Limited and Conwin Technology Limited, both customers of Cotco, accounted for $40 million and $38 million, respectively (both around 7% of Cree's total revenue).
Swoboda said that Cree is "well positioned to benefit from the growth in LED lighting, which remains our strategic focus. At the same time, the rapid adoption of LED backlighting for notebook computers and TVs has changed the market dynamics for small, chip-based white LEDs and increased demand for high-end blue LED chips. This has created near-term supply constraints, extended lead times across the industry, and resulted in a more favorable LED chip pricing environment. In the short term, we need to manage our capacity constraints as we continue to invest in new capital to expand our factories."
Asked about Cree's conversion to 4-inch wafers, Swoboda said that the conversion will be in the "high 90% range" by the end of the calendar year.