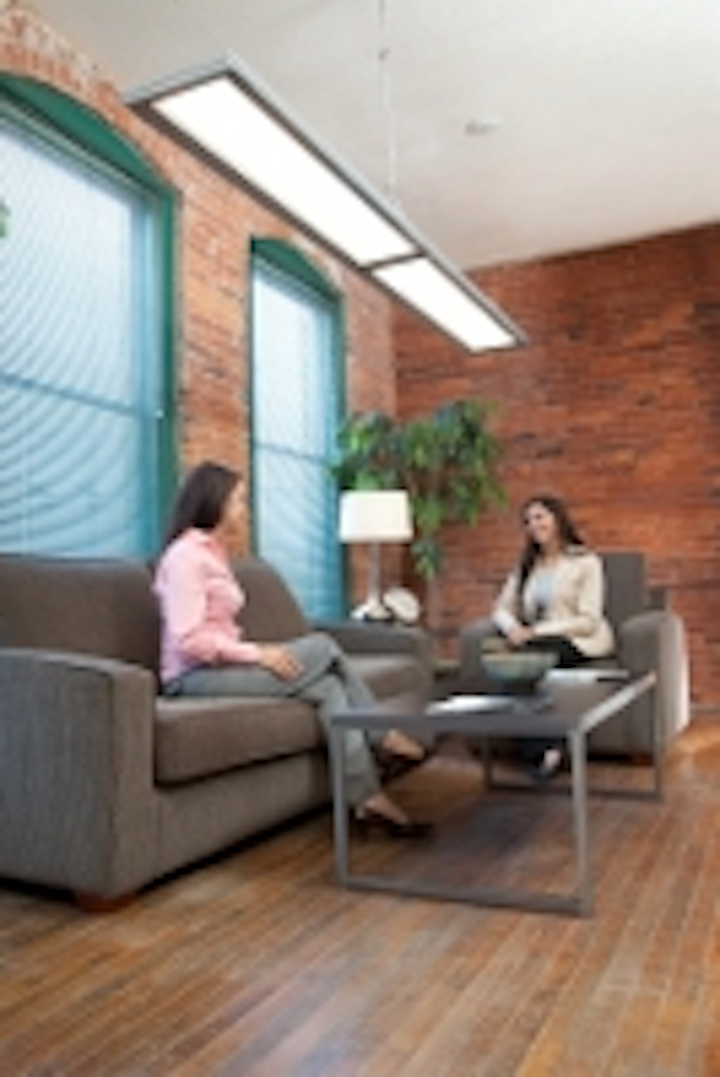 GE Lighting has released a new LED-based planar suspended pendant, the Lumination LED Suspended Luminaire. The fixture is thin and was designed for commercial ceiling lighting. for minimalist aesthetic appeal, the solid-state lighting (SSL) fixture features a narrow band that outlines the light source. The product has a minimum CRI of 80, efficacy of 71-76 lm/W, a lumen output of 3900-4200 lm, and color temperatures of either 3000K, 3500K, or 4000K.
"The minimal design of the luminaire makes it a game changer in the commercial lighting arena, from reception areas to conference rooms to private offices to the sales floor," said Eric Stevenson, global product manager for GE Lighting. "Our LED suspended fixture can play a starring role in any room and is already garnering critical acclaim across the industry."
The Lumination LED suspended Luminaire was recognized in the Next Generation Luminaires 2012 indoor comperition (Linear Pendant Lighting Category) where judges said it had "beautiful uplight" and "sleek modern style", combining direct and indirect lighting in one efficient, translucent LED luminaire. The luminaire was also named a 2012 Product Innovation Award winner by Architectural Products magazine.
Lumination LED Suspended Luminaires use GE Intrinsx technology, which is based on technology licensed from Rambus, that couples the LED light engine into the light guide and increases the performance and application efficiency of each LED in the luminaire. Intrinsx technology allows these fixtures to deliver versatile light distribution patterns—both diffused ambient uplighting and effective task downlighting.
The Lumination LED Suspended Luminaire is a GE ecomagination product, meaning it meets high standards for efficiency. Its 50,000-hour rated life eliminates bulb changes associated with fluorescent tubes and it contains no lead, mercury or glass, making handling and disposal less of a concern. The luminaire is UL Listed features a light aluminum frame.