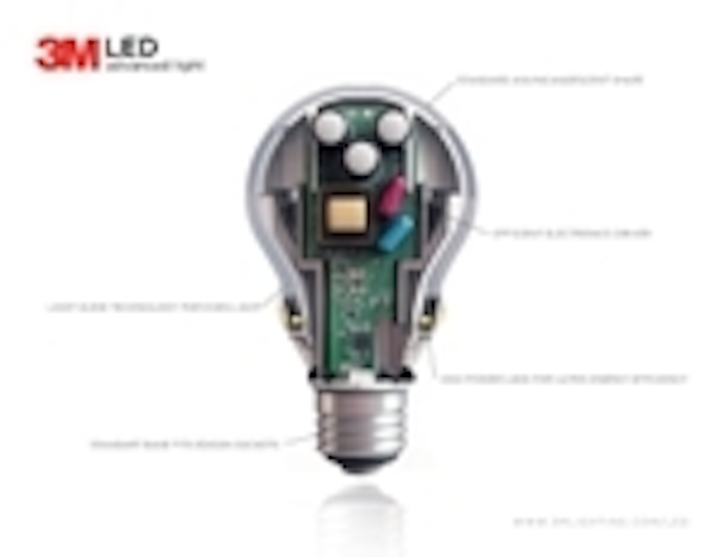 This Fall, materials specialist 3M will ship an LED-retrofit lamp that again proves that there is no limit to the number of different ways to apply solid-state lighting (SSL) technology to the problem of designing an omnidirectional bulb. The 60W-equivalent 3M LED Advanced Light uses a light guide that carries and distributes the beam uniformly with the LEDs mounted just above the Edison socket base.
The new lamps produce 800 lm and will be sold in a 3000K CCT version that the company calls soft-white light and a 5000K cool-white version. 3M says that the lamps will last 25 years based on a three-hour usage day and cost $1.63 per year to operate. Retailer Walmart will be the initial source for the $25 lamp with availability expected in September.
The lamp design is truly different from the many other approaches on the market. The approach greatly simplifies the driver design, as the nearby figure shows that the driver is located in the relatively spacious globe. Most other SSL retrofit lamps cram the driver into the base and/or neck of the lamp.
The design allows air to flow into lamp just above the base and exit through slots in the upper half of the globe – cooling both the LEDs and the driver. That thermal concept is again different from most lamps on the market.
LED light engine
The LEDs are mounted facing upwards around the circumference of the neck of the lamp as shown in the figure. The cool-white version uses 9 LEDs while the warm-white version uses 10 LEDs.
A number of 3M materials are used in the lamp including optically clear adhesives used on the globe. The design also uses 3M's Enhanced Specular Reflector material in the light engine. And the design uses 3M electrical connectors.
3M designed the light guide that forms the outer structure of the lamp and uses total internal reflection (TIR) technology to distribute light around the globe. The light-extraction elements are created with white paint on the inside of the light guide causing beams to reflect outside the lamp in an omnidirectional fashion.
The lamp appears similar to a frosted incandescent lamp and is primarily white in the off state. The cooling slots are apparent, but the look would not likely create the issue that say remote-phosphor designs do, with the non-white color in the off state, when lamps are used in fixtures that expose the bulb.