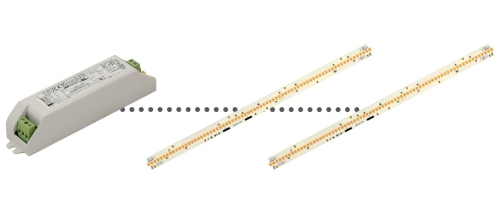 Lighting manufacturers that currently have linear fluorescent fixtures in their product portfolio can easily develop new LED versions based on Harvard drivers and light engines.
Harvard Engineering has announced the LER7 Low Voltage Linear Strips — LED-based light engines intended to help manufacturers of linear fluorescent fixtures develop a solid-state lighting (SSL) portfolio. The company says that lighting manufacturers can use the housings of existing fluorescent fixtures and substitute the LED strips and Harvard drivers for ballasts and tubes, thereby enabling quick entry into the LED business.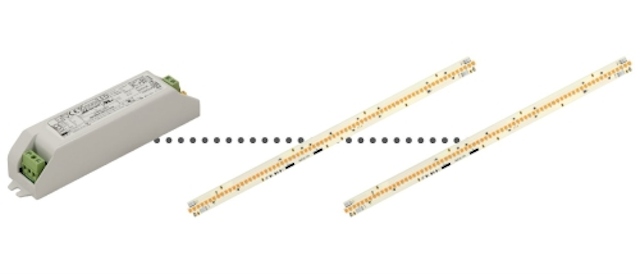 Harvard offers LED linear engines for manufacturers of fluorescent fixtures
The LED strips are 17-mm wide and are offered in 284- and 568-mm-long versions. The strips use Samsung mid-power LEDs. Harvard said the products can generate 1615 lm/ft. Moreover, the efficacy, without the driver, tops out at more than 150 lm/W when the light engines are operated at 65°C.
"Our LED linear upgrade solution makes it easy for our customers to switch from fluorescent to LED lighting using our latest LED technology," said Antony Corrie, vice president of Harvard Engineering Americas. "The system has also helped some customers migrate from constant-voltage LED systems to constant current, enabling built-in drivers to be used instead of remote power supplies."
Harvard has received UL listing for both the light engines and the drivers. That fact should allow lighting manufacturers a simple path to market. Harvard rates the light engines for 50,000 hours of life to 70% of initial lumen output (L70).
Lighting manufacturers will have significant flexibility in how to apply the linear light engines. The strips can be daisy chained together using push-wire connections between light engines. A single Harvard CoolLED driver can power as many as six of the strips.
The company will offer the light engines in 3000K, 3500K, and 4000K CCT versions and with the option of 80- or 90-CRI performance. Based on the selected drives, a design based on the light engines can support 0–10V dimming with light levels down to 5% of maximum.