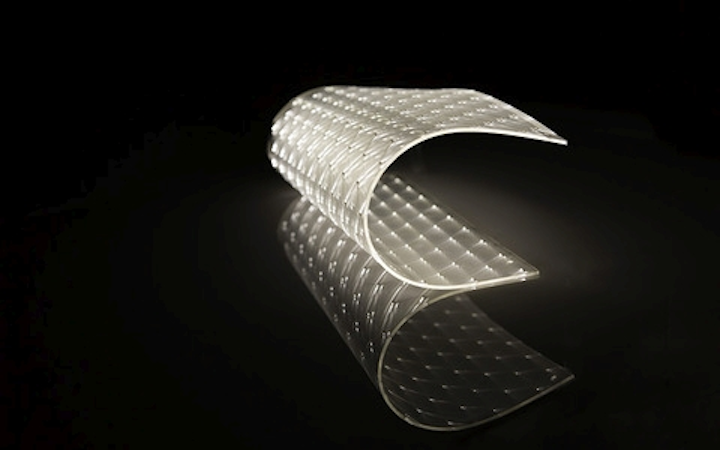 Low- and high-density, flat and flexible light engines and luminaires enable a variety of SSL applications in signage, retail shelf lighting, and backlighting applications.
Design LED Products Limited used LuxLive to launch a new portfolio of LED light engines and luminaires that utilize LEDs embedded in flat and flexible light guides for applications such as retail shelf lighting and backlighting for signs or displays. The product family includes models with LEDs embedded in light guides with output on one or both sides of the sheet, and in versions with a low or high density of LEDs to serve a range of applications and light-output requirements.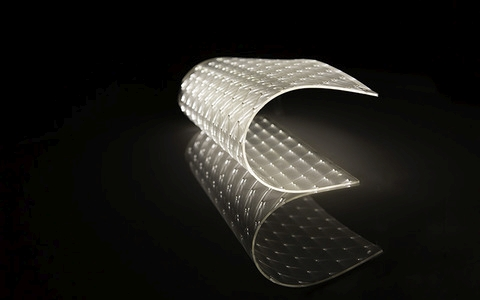 Design LED demonstrates thin and flexible LED shelf and back lighting at LuxLive
The shelf-centric products include a rigid light engine or tile that measures a miniscule 2 mm in thickness. The company also offers the product in an assembled 6-mm-thick luminaire.
The shelf products are designed to be cascaded in lengths up to 5m. The power connections can be daisy chained to as many as 10 of the products served by a single driver or drive channel. The closely spaced LEDs are operated at moderate current levels to provide uniform and glare-free light.
For display and signage applications, Design LED offers flexible sheets. The 300×400-mm products can be cut to desired sizes. Moreover, the tiles can be cascaded in two dimensions with no borders to support end products of any size.
LuxLive marked Design LED's emergence as a serious commercial supplier of SSL products. CEO Stuart Bain said, "The recent launch of our first complete products has generated a great deal of interest from the lighting market."
Back in August, the company announced that Ikea's venture capital group had invested an unspecified sum in the startup. Presumably the cash infusion will allow a manufacturing ramp. Moreover, the company just hired Wolfgang Andorfer as its chief sales and marketing officer. Andorfer spent 16 years at Osram.
It appears the market for LED-based sheets may be heating up. Ikea apparently sees a place for the technology in innovative luminaires. In the US, Cooledge has been actively promoting LED-based flexible panels and won a LightFair Innovation Award for the products in 2013.