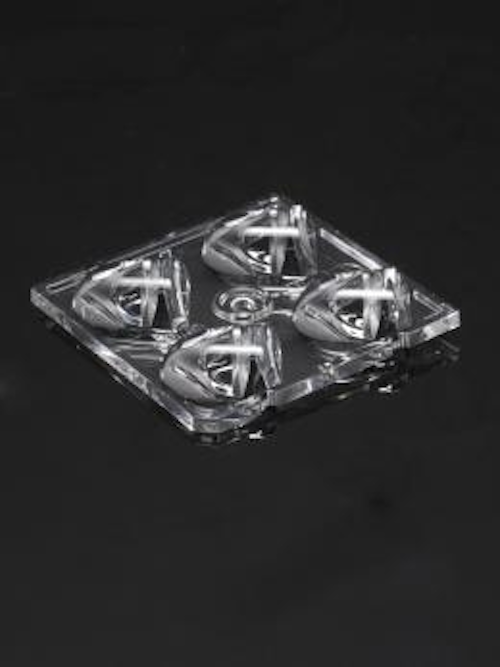 Silicone and PMMA lens options for COB LEDs enable applications in outdoor canopy lighting and retrofit lamps, while a new lens for pedestrian lighting delivers a beam that will not produce glare for drivers in automobiles.
LEDiL has announced a number of new optics products for applications ranging from MR16 LED lamps to outdoor area lighting. The Jenny silicone lens is intended for use with smaller or mid-size chip-on-board (COB) LEDs and can be used in indoor or outdoor luminaires. The Winnie polycarbonate and polymethyl methacrylate (PMMA) lens is specifically designed to enable LED-based MR16 lamp designs. And new members of the Strada lens family (shown) can deliver a unique beam pattern optimized for outdoor pedestrian-area lighting such as roadway crosswalks.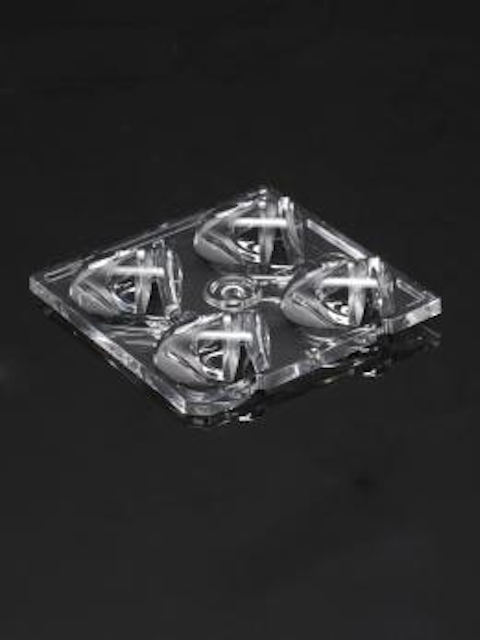 LEDiL adds optics for COB LEDs and a lens designed for pedestrian safety outdoors
The Strada-2X2-PX lens is designed for use with a four-LED array with the intent of delivering light to a pedestrian crossing while not producing glare that could impact automobile drivers. Indeed, LEDiL designed the lens specifically to be installed for right-side traffic flow in which a luminaire on each side of a roadway would illuminate half of the crossing area. The lens will deliver light directly into the crossing while not generating light in the direction from which cars approach the crossing. For more background on lenses and beam patterns see our feature article on the topic. The company also plans to deliver a version designed for left-side traffic at a later date.
The Strada optical family is made using PMMA. The new product is specifically designed for Osram Opto Semiconductor Oslon Square and similar LEDs. LEDiL provided a design example based on 6m poles to cover an 8m-wide roadway. A typical luminaire using the lens could deliver 38–41 lx on the roadway.
The new Jenny optic family, meanwhile, is fabricated from silicone and comes in a 8×1 configuration to work with a linear set of eight COB LEDs. Developers can also trim the lens into smaller configurations for applications that use fewer LEDs.
The first product in the family delivers a symmetrical beam, and the company said other distributions would be coming down the road. The lens can be used indoors or out. But the silicone material is especially helpful in any application where the luminaire is exposed to adverse conditions because the silicone lens can prevent ingress of water or dust. LEDiL said canopy lighting is one target for the new lens.
For retrofit lamps, meanwhile, the company has delivered the Winnie PMMA total internal reflection (TIR) lens that works with COB LEDs with light-emitting surface (LES) areas up to 21 mm. The lens can be utilized in MR16 LED retrofit lamps or in light engines.
LEDiL said the Winnie form factor makes it compatible with light engines designed to the Zhaga Consortium Book 3 specification. Book 3 is the specification for a non-socketable LED light engine with separate control gear. The lens offer fastening options compatible with the spec and will work with existing heatsinks.