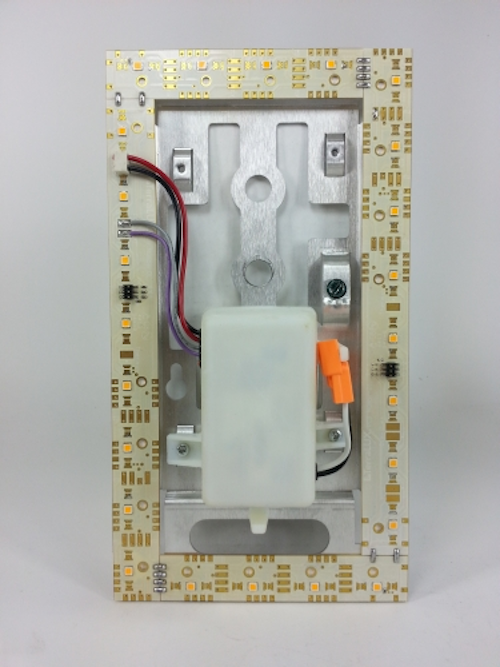 Surface-mount fixtures including wall sconces and other decorative fixtures that use low-profile pin-based lamps can be upgraded to LED sources with the look of the fixture maintained.
Terralux has announced the S Series LED Retrofit Kit that's intended to be used in retrofitting surface-mount fixtures such as wall sconces and other decorative products. The kit includes a rectangular LED light engine combined with a near-flat AC-DC LED driver that together can fit even in near-flat luminaires that were designed for slim pin-based fluorescent bulbs.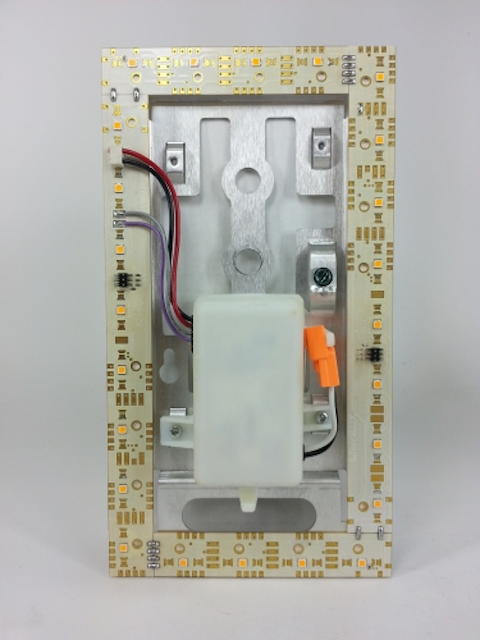 Terralux delivers an LED light engine and flat driver for sconce retrofits
The kit, model number SR95, requires less than 1 in. in terms of depth from the wall for installations. As the nearby photos depicts, the LEDs are mounted on a rectangular circuit board while the driver is mounted in the center of the rectangle. The driver can operate from 120 or 277 VAC line inputs.
The intended application for the kit is upgrade of architectural-grade fixtures that have been installed in settings such as hallways in hotels and multitenant dwellings. Terralux business manager Matt Sallee said, "Many fixtures in hotels and multifamily [dwellings] are highly decorative, architectural grade, and don't need to be replaced." The new kit allows the building to retain the look of the lighting design while leveraging sources that offer advantages in energy efficiency and lifetime. The company said retrofits deliver 50–75% reduction in energy relative to fluorescent lamps.
Terralux has previously supported retrofits of sconces with a linear LED module product line. Indeed, we covered a retrofit story in a San Jose, CA condominium complex where the fixtures were installed.

The new retrofit kit, however, enables retrofit of even thinner luminaires. Moreover, the company says the design delivers superior light output along with fast return on investment.
"The SR95 was designed to replace and outperform pin-based CFLs and pin-based LED lamps," said Erik Milz, vice president of sales at Terralux. "Knowing that ambience can be very important in hotel and multifamily buildings, we focused on improving both light output and color quality. Building owners are able to realize payback in as little as 18 months for a wall sconce retrofit while eliminating bulb and ballast maintenance."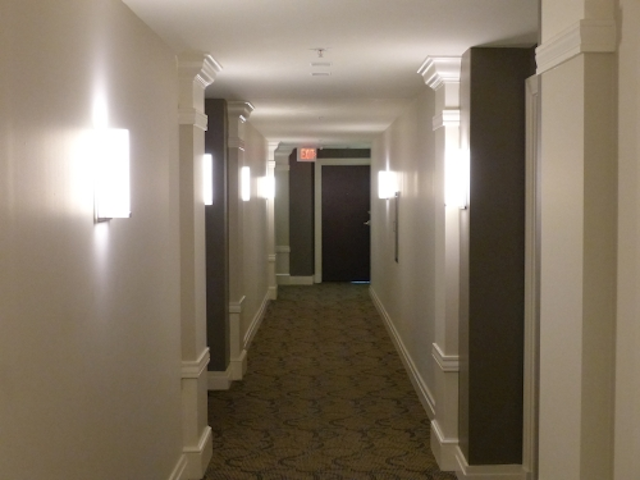 Sallee said the design of the light engine is the key to good optical performance. He said placing the LEDs along the outer edge of the back plate delivers even illumination over the entire optical surface with no visible dark spots. The result is even illumination along settings such as hallways.
Terralux rates the retrofit kit for 60,000 hours of operation and warrants the product for five years. The product is available in models ranging from 6–16W with flux output ranging from 500–1450 lm. The products are designed to replace 13–32W fluorescent lamps. CCT options range from 2700K to 4000K and CRI is 80 minimum.