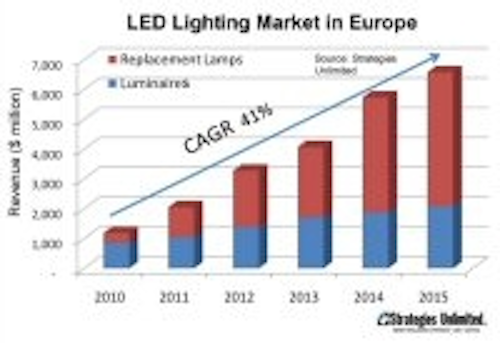 Several new announcements were made at the Strategies in Light Europe conference last week (October 4-6), including the revelation of the latest HB-LED and luminaire market outlook by Strategies Unlimited, while Lemnis Lighting disclosed details of its partnership with Ikea to supply LED lamps to the giant home-products retailer. Standards activities include Zhaga's progress in approving its third light-engine specification to date, while CELMA has provided an explanatory guide to two new IEC specifications for consistent light quality assessment of LED modules and luminaires.
Look for more details on the Strategies in Light Europe conference presentations in the November/December issue of LEDs Magazine.
Market developments
The Keynote session of Strategies in Light Europe 2011 was opened by a presentation from Dominik Wee and Arthur Jaunich from McKinsey & Company that covered the main points of their recent report entitled "Lighting the Way: Perspectives on LEDs and the Global Lighting Market. "
Another Keynote presentation was made by Vrinda Bhandarkar, Strategies Unlimited's Director of LED Lighting Research, who estimated that the LED market (at the packaged LED component level) will reach $12.3 billion in 2011. More details can be found in Strategies Unlimited's latest
HB-LED market report
.
Bhandarkar also focused on the LED lighting market, saying that in general performance is improving and prices are falling, but that there are "huge issues with low-quality, under-performing LED products." She also said that Standards setting is moving rapidly, but needs consistency between regions, a theme taken up by several other speakers in the conference.
Bhandarkar said that the LED lighting market had revenues of $5 billion in 2010, of which 21% was from replacement lamps and the remainder from luminaires. However, while the luminaires category will grow at a CAGR of 17% in the 2010-2105 period, replacement-lamp revenues will grow at a huge 59%. The overall LED-lighting market will grow at around 30% (CAGR: 2010-2015), while in Europe growth will be more rapid (Fig. 1).

Lemnis/Ikea partner for commercial 40W LED lamp
At the conference on Thursday, Martijn Dekker, CTO of Lemnis Lighting, an LED-lamp maker based in the Netherlands, announced that Lemnis has entered into a multiyear commitment with the giant Sweden-based retailer Ikea, to develop and market cost-effective LED lamps. The first products, to be introduced to stores soon, will include 400-lm and 200-lm LED lamps (Fig. 2).
"The price target for these lamps was less than EUR 9.99 for the 45W -replacement lamp and EUR 6.99 for the 25W replacement," explained Dekker. The 400 lm lamp offers a CCT of 2700K, CRI above 85 and lifetime of 20,000 hours. The LED design combines two red LEDs with four phosphor-coated blue LEDs, moving to a phosphor-only array in 2012 products.
Lemnis and Ikea entered into this commercial partnership in order to bring to market LED lamps at a price point that consumers would accept today. Dekker referred to the novel business agreement with Ikea as a "virtual vertically-integrated company" involving the retailer, the lighting manufacturer, an LED fabrication partner in India and other supply partners that are sharing the project risk. The target is to achieve long-term volume sales of LED lamps priced at $8/klm at the lamp level.
India was chosen as a manufacturing site due to the drastically lower employee turnover relative to China. However, Dekker stated that many components are being sourced from China. He explained that the business model will initially deliver single-digit margins to its partners, which will be offset by high volumes. "A non-integrated supply chain leads to a stacking of profit margins through the supply chain," he said, adding that this limits the industry's ability to hit low commercial price points.

Zhaga ramps-up standard approvals
Andy Davies, sales development director of LED assemblies at GE Lighting, stated at Strategies in Light Europe 2010 that "2010 was the year of the light module, but 2011 will be the year of the standardized light module."
Zhaga is a consortium focused on standardization of light engines – the combination of LED light modules and driver electronics – and Davies is the co-chair of the Zhaga general assembly.
Fig. 3. Socketable LED light engine
At this year's SIL Europe, Davies reviewed the latest standards passed by Zhaga, which now has 154 members and 55 members with voting rights, while previewing several to come.
Zhaga enables the interchangeability of light engines and second-source upgrading by standardizing the photometric (optical), mechanical, thermal and electrical interfaces of LED engines by application (e.g. spotlights, street lights, etc).
Three standards have been approved to date, namely a socketable LED light engine with separate driver, just passed in September (Fig. 3); the comparable spotlight engine (without socket), which was approved in June; and a socketable LED downlight engine that was approved in February. Eventually, Zhaga will approve several families of standards.
Davies described four light-engine specifications that currently are under development: a street-light engine (non-socketable with separate control gear); a compact socketable light-engine with integrated control gear;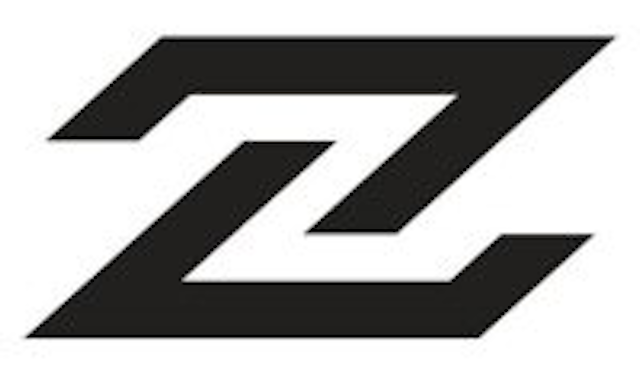 Zhaga logo
a circular, 85-mm-diameter, downlight engine for high lumen output (socketable with integrated control gear); and a light engine with a rectangular LED module for indoor use, with separate driver. In the latter case, Davies noted that one indoor luminaire may contain several such rectangular modules and one driver.
In addition to these activities, Zhaga is developing a supporting standard that standardizes the mechanical dimensions and fixation points of LED drivers. The organization is also merging specifications for a light engine with a linear module (non-socketable with separate control gear) for indoor applications.
Zhaga is currently defining the certification process for independent test labs that will verify Zhaga standard compliance. Once the certification process is established, Davies said he expects rapid approval of many Zhaga member products. "At that point those products will carry the new Zhaga logo," he said (Fig. 4).
IEC publishes two specifications, CELMA publishes guideline
Zhaga does not get involved in standardization of LED performance specifications, but this was a subject discussed later in the same session by Kay Rauwerdink, who was speaking on behalf of CELMA. The European lighting industry is represented in Brussels by CELMA for luminaires and components.
Rauwerdink explained that CELMA has recently published a guiding paper entitled "Apples & Pears: Why standardization of performance criteria for LED luminaires is important."
The CELMA paper discusses in particular two Public Available Specifications (PAS) documents that were recently published by IEC:
IEC/PAS 62717 – performance requirements for LED modules for general lighting

IEC/PAS 62722 – performance requirements for LED luminaires for general lighting.
Rauwerdink said the industry needs to transition from "comparing apples and pears" when it comes to commercial products, and instead make apples-to-apples comparisons. "Evaluating performance claims from different manufacturers cannot be done without using a standardized set of quality criteria that are measured in compliance with appropriate standards," he said. The CELMA guideline suggests that users of LED luminaires should request LED luminaire specifications that are measured in compliance with these new documents.
The standards were released simultaneously to ensure consistency between module- and luminaire-quality criteria. The criteria suggested by the IEC/PAS documents to assess manufacturer's claims include a large selection of metrics, including input power, luminous flux and efficacy; luminous intensity distribution; CRI and chromaticity co-ordinate values, initial and maintained; rated life (in hours) and associated rated lumen maintenance (in lux); and failure fraction (Fy), corresponding to the rated life of the LED module in the luminaire.
The guideline explains why these criteria are important and the best methods for measuring each. The document further explains the difference between lifetime claims based on lumen maintenance and luminaire lifetime claims that depend on component reliability.