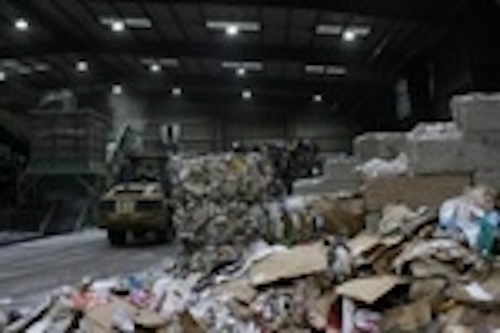 Waste Connections has installed Cree-LED-based Xeralux high-bay luminaires in a San Luis Obispo, California waste-collection facility, reducing energy costs by two thirds. In separate news, Groom Energy has installed Digital Lumens solid-state-lighting (SSL) systems in three Interstate Warehousing facilities, cutting energy usage by as much as 90%.
Waste Connections
In the Waste Connections case, Xeralux XLE-HB LED-based, high-bay luminaires replaced more than 80 400W-metal-halide (MH) lamps in the company's Cold Canyon Material Recovery Facility. The company is realizing savings of 260-285 kWh per day via the 148W SSL luminaires – equating to more than $13,000 per year in savings.
Waste Connections noted the energy savings, maintenance savings, and light quality as benefits of the retrofit. "Our previous lighting technology didn't deliver the high-quality light our facility needed," said John Ryan, Facilities Manager at Cold Canyon.
"Now, not only do we seem to have more light, but we also have a brighter, whiter light that is very pleasing. The employees love it. Less energy, better light and beats our IRR (internal rate of return) target - the Xeralux retrofit is a great choice."
The 50,000-hr rated life of the SSL products equates to virtually no maintenance costs. Counting maintenance and energy savings, Waste Connections expects to achieve payback in less than three years.
The Xeralux fixtures use Cree XP-G LEDs. "Cree XLamp LEDs allowed us to deliver high-quality fixtures that are virtually maintenance-free and enable the Cold Canyon facility to take full advantage of the benefits of LED lighting," said Jay Shuler, Xeralux Vice President of Marketing. "High-bay lighting has always been a challenge for industrial and commercial property owners, due to its high energy consumption and the high lumen output requirements."
Xeralux offers the XLE-HB luminaires with lumen output ranging from 5,750-11,500 lm and ranging in power consumption from 74-148W. The company offers a choice of 70 or 90 CRI in the product line.
Interstate Warehousing
Interstate Warehousing, a Tippmann Group Company, just expanded facilities in Indiana, Ohio, and Tennessee, and chose to install the Digital Lumens System in the new refrigerated warehouses. The Indiana installation was completed first and the lighting energy cost is $30,000 lower annually relative to the older portion of the warehouse. The Ohio and Tennessee facilities are just coming on line, and Interstate Warehousing expects similar energy savings in those locations.
Digital Lumens has consistently said that its system can deliver 90% savings based on network controls and the ability to instantly dim or extinguish LEDs when workers are present in a given area. That scenario works especially well in warehouse applications where operators sporadically enter an aisle to retrieve stock. The savings are compounded in cold-storage applications because LEDs generate less heat than other types of lighting thereby lowering cooling costs.
"To maintain the leadership that we have earned in the refrigerated warehousing market, it is critical that our facilities offer the latest innovation in the most sustainable manner and at the lowest operating costs in the industry," said Chuck Tippmann, President, Interstate Warehousing. "Working with Groom Energy to design and install the Digital Lumens System in our newly expanded warehouse allowed us access to the best solution with the least impact on the environment. We are very pleased with the increased light levels, functionality and the significant energy savings and look forward to the results that will be evident in our newest facilities as they become fully operational."
Interstate Warehousing also announced plans to ultimately install the Digital Lumens System in all of its refrigerated facilities. "We are honored that Tippmann and Interstate Warehousing have standardized on Digital Lumens for both expansions and retrofits," said Mike Feinstein, Vice President of Sales and Marketing, Digital Lumens. "They have carefully reviewed and tested the system ensuring that it meets their lighting and energy efficiency requirements, while providing the flexibility to support their growing and changing operations. We look forward to continuing to work with them and Groom Energy."
New Digital Lumens luminaire
Digital Lumens also recently announced a new 15,000-lm SSL light engine for its system, increasing light output by 50%. The new light engine can either enable greater spacing between luminaires or be deployed in higher-ceiling, high- and mid-bay applications.
"For customers who are building taller facilities, have higher light-level requirements, and those who have extra-large facilities, these latest additions make Digital Lumens the only logical choice for maximizing light while minimizing power use," said Feinstein.
"Our global customers have a broad range of environments and evolving lighting requirements, which we are committed to addressing across our Intelligent Lighting Systems."
The company also announced an upgrade to its LightRules software that's used to manage the intelligent lighting systems. New features include a calendar view for simpler scheduling, new data reports, and advanced diagnostic tools.