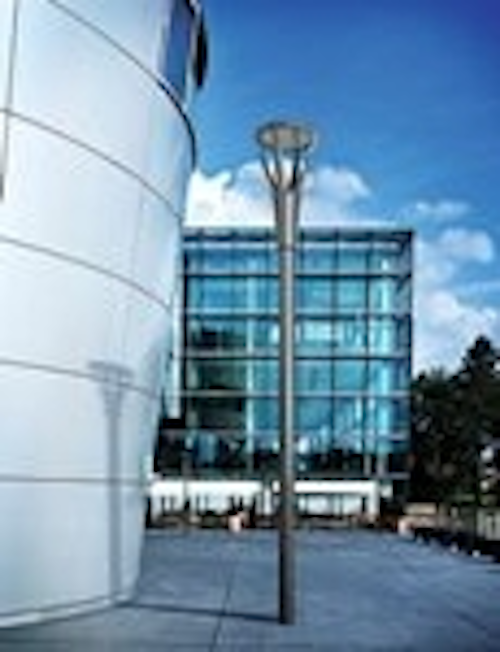 Philips Lighting has announced the LED-based UrbanScape and MetroScape luminaires that the company says will deliver 40-60% savings over high-intensity discharge (HID) alternatives. Solid-state lighting (SSL) products are also proving adept in a broad range of outdoor applications, and Access Fixtures says that LEDs in bollards can reduce energy usage by 73-95% over fluorescent and incandescent alternatives. Hubbell Lighting has a new LED WallPack rated to last 50,000 hours delivering both maintenance and energy savings. There have also been recent LED street- and canopy-light announcements.
Philips designed the UrbanScape luminaire with a modern appearance that can provide what the company calls a minimalistic look for urban projects. The MetroScape luminaire, meanwhile looks decidedly retro and could be a match in applications ranging from lighting historic sites and downtown districts as well as being a style fit for many residential outdoor lighting applications. The products fall within the Philips Lumec brand and are rated for 100,000-hour lifetime.
Philips modular LEDgine
Philips used its modular LEDgine light engine as the basis for both of the new products. That module is the basis for a number of Philips outdoor products that range to street lights. For example, we recently covered LED street-light installations in Boston, MA; Weston, FL; and Bristol, UK that involved three different Philips brands, but that were all based on the LEDgine modules. The modules use Philips Lumileds Rebel ES LEDs.
Philips combined the light engine with reflectors that enable pole spacing that's 7x the mounting height. The modular light engine allows the company to offer a broad-range of light-output options in both new products. For example, you can specify both the MetroScape and UrbanScape with 3872 to 14,080 lm. Across the lines, the products offer a CRI of 70 and a color temperature of 4000K.
WallPacks target entranceways
Targeting building-entry and -perimeter-security applications, the new Hubbell Lighting NRG 300B series is a 15W LED WallPack. The luminaire outputs 635 lm with a color temperature of 5000K. Hubbell says that the 50,000-hour life is five times what can be achieved with compact fluorescent lamps (CFLs). You can specify the product with or without a photocell that can automatically control the luminaire based on ambient-light levels.
The luminaire design uses a refractor for light controls and that does not cut-off the light. That non-cut-off design spreads light uniformly. The design is vandal proof allowing companies to deploy it around commercial buildings in non-supervised areas. It is also rated for use in wet locations.
Landscape and pathway lighting
LED-based lights continue to invade other applications areas such as landscape and pathway lighting as well. Access Fixtures has updated one of its 180-degree bollards with an LED light engine from LEDnovations that the company has previously offered with CFL and incandescent lamps. The LEDnovations EnhanceLite engine delivers efficacy in excess of 100 lm/W and Access Lighting says it does a better job of delivering the light at the target.
"LED lamps achieve equivalent performance by focusing the light directly at the bollard's reflector, as opposed to CFLs and incandescent lamps that disperse light in all directions," explains Access Fixtures Senior Lighting Specialist Steve Rothschild. "Now LED bollards can equal CFL brightness while using 73% less energy or only 6.1 watts. Additionally, the LED [version] will operate for 50,000 hours reducing maintenance."
The LED bollard delivers more than 90% of the photopic light than a CFL can offer. And Access Fixtures says the LED version is equivalent to or better than the CFL in scotopic performance. The LED version delivers 95% percent energy savings relative to an incandescent-lit fixture.
New street and canopy lights
In the street-light segment, Ambergreat introduced a new luminaire family. The Amberstar 252W fixture outputs a maximum 25,312 lm and integrates Cree LEDs. A modular design allows the company to supply the product in versions that range from 28 to 252W. The company says the products deliver 64% energy savings relative to HID sources such as metal halide (MH) and high-pressure sodium (HPS).
Canopy lights are used in outdoor applications under canopies in locations such as gas stations, convenience stores, and similar spots. E-Lite OptoTech introduced the new Omni series of canopy lights available in 40 to 120W versions. Light output ranges to 10,880 lm and the design is rated IP65 for all-weather and dusty applications. The company says that the lights can also be used in low-bay, high-bay, and tunnel applications.