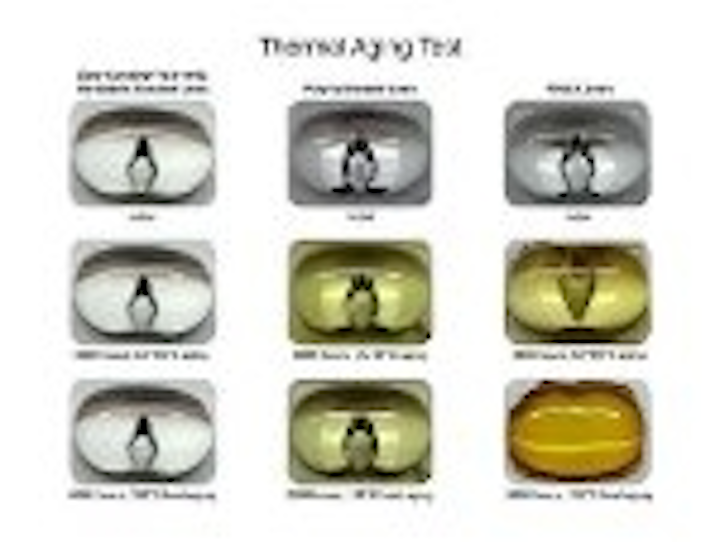 While the awards surrounding the Lightfair show largely recognize lighting products, LEDs and other enabling technologies for SSL products also received recognition in the Lightfair Innovation Awards. In terms of products and technologies that enable solid-state lighting (SSL) products, Dow Corning and startup Cooledge Lighting took the spotlight while other companies including LED Engin, LG Innotek, DSM&T, and Ideal Industries made the podium. Fulham won in a driver/ballast category.
There were two categories where enabling technologies were the clear target for the judges – "LED/OLED, chips and modules" and "Non-luminous components and specialty hardware." Cooledge took the former with its LED Light Sheet product in the former and Dow Corning won for its Moldable Silicones in the latter.
Those two companies also received two of the four main awards that highlighted the event. The judges bestowed a Technical Innovation Award on the Dow silicone and a Design Excellence Award on the Cooledge sheets. Philips Lighting took the other two top awards with the LED-based color-changing Hue lamp winning the Judges' Citation Award and the LED linear BoldPlay luminaire winning the Most Innovative Product of the Year award.
The Cooledge product won over finalists LED Engin with its LuxiTune tunable LED light engine and LG Innotek with its ModulA linear LED light engine. There was other significant competition in the category including chip-on-board (COB) LEDs from Samsung, LG Innotek and Bridgelux, and modules from GE Lighting and Xicato.
Dow Corning won over finalist DSM&T with the Slide-N-Seal waterproof connector system and Ideal with Chip-Lok COB array holders. Other significant competition included Nactus optics panels from Khatod, a SynJet cooler from Nuventix, and remote-phosphor optics from Intematix.
The other category where enabling technologies were the focus was "Ballasts, transformers and LED drivers." The winner however was not an SSL-centric product but rather the HighHorse induction lighting generator from Fulham. LED drivers were finalist in the category including the EldoLED 50W SOLOdrive product and the Osram Optotronic programmable 40W LED driver.