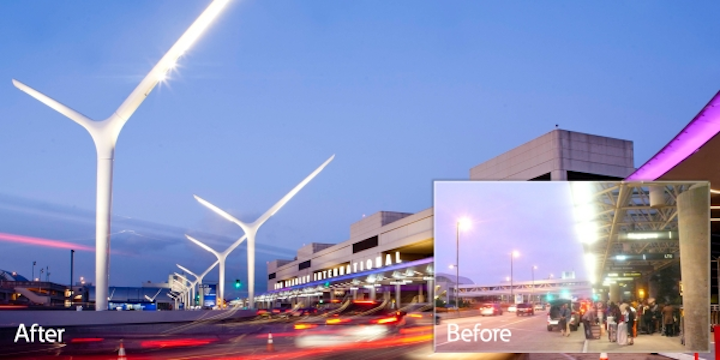 Eaton has supplied more of the innovative Y-shaped LED luminaires that light the departure and arrival roadways at Los Angeles International Airport while Georgia Power awarded a significant rebate to Atlanta Airport for a retrofit of the airfield to LEDs.
Eaton's lighting division (formerly Cooper Lighting) has announced completion of a second phase of a roadway solid-state lighting (SSL) project within the confines of the Los Angeles International (LAX) Airport that involves a custom-designed Y-shaped luminaire illuminating upper/departure and lower/arrivals roadways. The Hartsfield-Jackson Atlanta International Airport (ATL) in Atlanta, GA has announced that utility Georgia Power presented a $45,901 rebate to the airport for the conversion of runway and other airfield lighting to LED sources.
Interested in more articles & announcements on lighting?

Contemporary LAX luminaire
We first covered the unique airport lighting at LAX back in a 2014 feature article on the Eaton/Cooper Source Awards that recognize innovative lighting projects that use a significant amount of the company's lighting products. The Y-shaped LED-fixture custom design was led by lighting design firm Horton Lees Brogden Lighting Design (HLB) based in Culver City, CA, working with architectural firm Aecom based in Los Angeles, CA.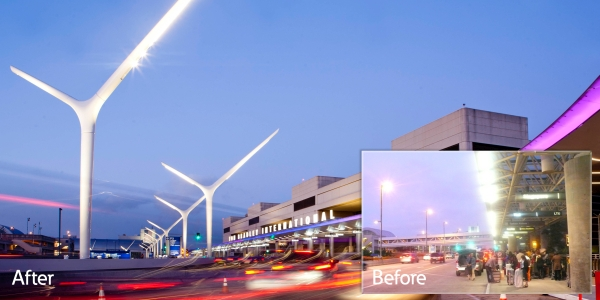 Airport lighting: Los Angeles adds to roadway project; Atlanta converts airfield
The team designed the innovative airport lighting fixture around the rectangular form factor of the Eaton LightBar modular light engines that Eaton has used in its own outdoor lighting products. The result is a luminaire that is functional, especially in that each pole lights roadways on different levels, and that makes an architectural statement and is aesthetically compelling.
"Los Angeles is a progressive city that is constantly innovating and in flux. The team sought a design that would be forward-thinking and inspirational but simple enough to be timeless," said Teal Brogden, senior design principal at HLB. "Eaton's customized LED technology has been pivotal to the success of the design, enabling discrete integration of light and architecture."
Our 2014 story on airport lighting covered the initial deployment of 13 luminaires installed in the Tom Bradley International Terminal that opened in 2013. Now the airport as installed an additional 78 fixtures in the LAX Central Terminal Area as part of the $118 million LAX Curbside Appeal and Roadway Improvement Project.
The LAX fixtures dissipate 413W whereas the prior high-pressure sodium (HPS) lights each used 920W. Clearly, the new lights are more appealing in general, and Eaton said the design meets the requirement of delivering an average 2.5-fc level on both roadways.
Atlanta airfield lighting
In Atlanta, meanwhile, the most recent energy-efficiency effort with regard to lighting included retrofit of more than 16,000 halogen lamps throughout the north and south airfields. The project included runway edge lights, runway centerline lights, runway guard lights, taxiway guard lights, and taxiway centerline lights.
The airport lighting is being lauded for both efficiency and reliability advantages. Georgia Power said that new LED lighting would save 2 MkWh (million kilowatt hours) annually.
But in the airfield role, maintenance savings may prove more significant. The lighting is rated for 200,000 hours of life. Such products will eliminate relamping costs and will also minimize disruptions to airport operations.
The Atlanta hub asserts that it is the first in the world to have airfields lit exclusive by LEDs. "At the world's busiest and most efficient airport, we work tirelessly to be one of the most sustainable airports in the world," said Miguel Southwell, aviation general manager of Hartsfield-Jackson Atlanta International Airport. "We are grateful for our partnership with Georgia Power on our airfield LED lighting project and look forward to working together on future energy efficiency initiatives."
There is quite a lot of guidance available for airports that seek to use LED-based lighting in a variety of applications. For example, the Lighting Research Center (LRC) at Rensselaer Polytechnic Institute issued a report back in 2012 focused on airports. That report noted that maintenance savings are often the biggest benefit for airport SSL projects.