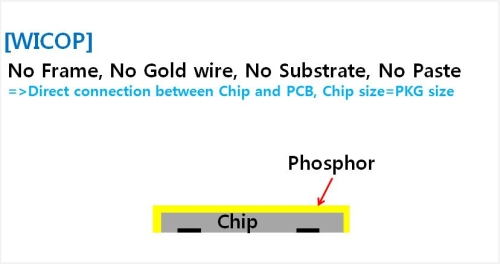 The company's WICOP LEDs have been supplied into backlighting units for two years and now Seoul will supply the chip-scale package products for use in general SSL applications.
Seoul Semiconductor has announced that it is beginning mass production of LEDs in a chip-scale package (CSP) that the company calls WICOP (wafer-level integrated chip on PCB) LEDs. The new LEDs designed specifically for general illumination are being called WICOP2, differentiating the solid-state lighting (SSL) sources from earlier WICOP LEDs that have been sold in backlighting, automotive, and camera-flash applications.
Interested in more articles & announcements on LEDs & sources?

As we covered in a feature that just ran in our September issue, there has been a race to supply CSP LEDs into general lighting applications. Philips has said it shipped more than a quarter-billion CSP LEDs in 2014 but none of those were used in lighting products. Likewise, Samsung has supplied CSP LEDs in backlighting applications but has said it would deliver such products for general lighting at the end of this year.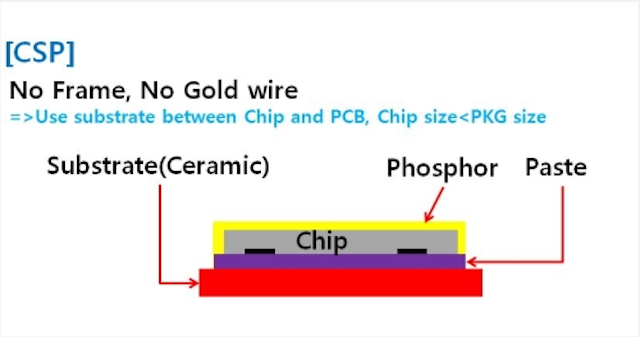 Seoul did not say precisely when its WICOP products will ship or when a lighting product would emerge that integrates the LEDs. But the company is clearly one of the key players in the race and many believe that CSP technology will be the latest big innovation in both lowering the cost of LED lighting products and improving performance.
Seoul also questioned the investment that some legacy LED companies have made in packaging lines. "Through the development of WICOP, which is an innovative small sized, highly efficient LED technology, the effective value of packaging equipment which was once essential in semiconductor assembly process will noticeably decrease," said Kibum Nam, head of the central research center at Seoul Semiconductor. "As all of the parts which had been used for more than twenty years will not be necessary anymore, there will be a huge change in the future LED industry."
Seoul used the announcement that was made in Shanghai, China as a platform to tout that its WICOP technology as different from other CSP LEDs emerging on the market. The company distributed the nearby figures that show a CSP LED requiring a ceramic substrate while the WICOP LEDs can be affixed directly to a printed circuit board (PCB).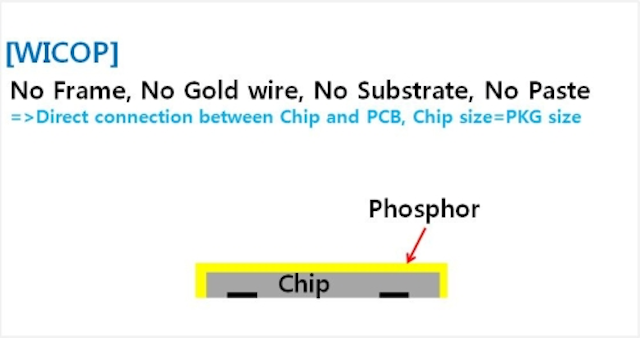 Seoul Semiconductor announces CSP LEDs for general lighting
But that claim may not hold up to closer scrutiny. Lumileds has clearly indicated that its CSP LEDs can be affixed directly to a PCB. Indeed, the company said in the article linked above that there is no interposer between the LED and the PCB. Now clearly there will be cases where one or more CSP LEDs are mounted on a ceramic substrate, creating a modular light engine in what is being called a Level 2 product because many customers will not be able to directly manufacture lighting products that use the CSP LEDs, which will require automated assembly techniques.
Still, CSP technology will be of greatest benefit to the lighting manufacturers that can afford the assembly equipment and that can pack the LEDs tightly in some products or essentially use the luminaire frame as the substrate in products such as linear lighting and troffers. Meanwhile, the elimination of the packaging steps should yield lower-cost LEDs in the supply chain.
Seoul Semiconductor will apparently supply WICOP2 LEDs into mid-power-LED applications at least initially. The company compared the WICOP LED structure to legacy mid-power structures at the announcement. Samsung is pursuing a similar strategy since announcing its CSP plans in a Strategies in Light keynote speech in 2014. Lumileds, conversely, is touting CSP technology as a way to scale high-power LEDs down into traditional mid-power applications.
Back to Seoul, the company said it has acquired a global patent portfolio focused on WICOP. Nam said the company has won hundreds of patents and that Seoul would be closely monitoring products that emerge from competitors.