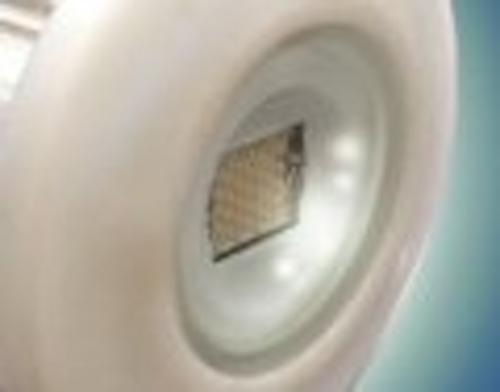 Two of the latest solid-state lighting products from Super Vision International - an ultra-bright interior/exterior LED floodlight and the world's brightest underwater LED pool light – have been built around LED arrays supplied by Lamina Ceramics.
The two products are members of Super Vision's new SaVi™ line of super-high-output LED lighting designed around Lamina's chip-on-board packaging technology. This enables multiple LEDs to be clustered very closely together, resulting in very high light output in a very small footprint.
Lamina has secured a design-in and purchase contract for the SaVi line. Taylor Adair, president and CEO of Lamina Ceramics, said, "Lamina's exclusive packaging technology created the brightest and best LED light engines which Super Vision has designed into new world class products. The SaVi product line is proof that the benefits of solid state lighting are not something to be realized in the future - they're here today."
Both products feature fully dimmable, independent control of their respective red, green and blue color channels using the DMX-512 protocol, an industry standard. This enables instantaneous switching and blending of any of 16 million colors. DMX-controllable color effects include static colors, cross fade, chasing and single color rotation.
SaVi Pool Light
Super Vision's new SaVi Pool Light incorporates Lamina's BL-3000 RGB+ LED light engine. Its 39 cavities, each populated with multiple LEDs, produce 306 total available lumens. Available in both 120 and 12 volts, the SaVi Pool Light it fits easily into a standard spa niche – installation is simpler and less costly, while aesthetics are enhanced.
The fixture is the cornerstone of an entire new line of products that Super Vision calls Symphony of Light™. This package features an easy to use programming system to control an entire system of pool lights, spa lights, water features, XStream™ laminars, landscape lighting, patio and other backyard feature lights to create an entire backyard LED lighting experience. At home underwater in the pool or spa, Super Vision's SaVi Pool Light
SaVi SHO flood
The SaVi SHO commercial grade floodlight incorporates 12 BL-4000 RGB+ LED light engines powered by Lamina, each containing 2 red, 2 green and 2 blue LEDs in a single cavity. Designed for interior/exterior architectural and entertainment lighting applications, Super Vision's SaVi SHO shows itself off in a sleek, black, sealed housing made of cast aluminum alloy.
With its 1,400 total available lumen output, the SaVi SHO is as bright as most of the popular 100-watt tungsten and many 100-watt halogen single-color floodlights (PAR 38 type). Its self-contained, auto-switching power supply runs on regular line voltages.