LED architectures advance across package types and applications (MAGAZINE)
Today, packaged LED manufacturers offer products specific to most every application you can imagine, and you can choose from high-power, COB, mid-power, CSP, and other options. We have advancements in white and color components, and for that matter in UV and IR devices that emit outside the human visual range.
Mar 29th, 2016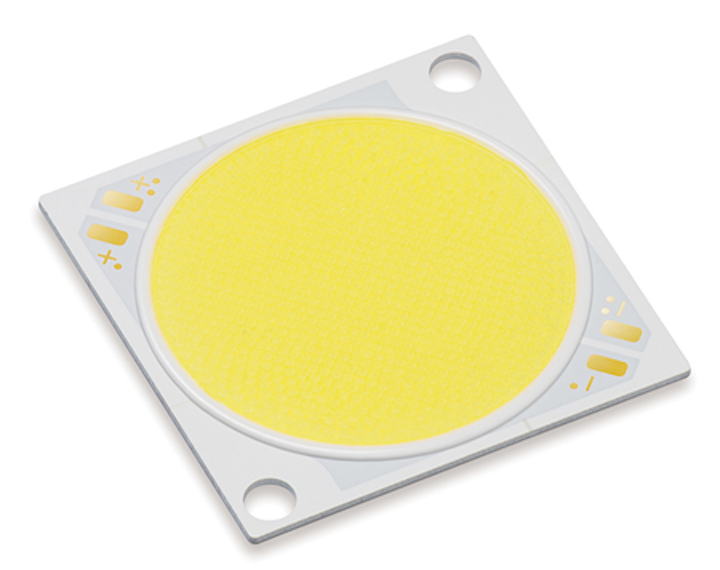 Just a few short years ago in the early days of so-called high-brightness LEDs, manufacturers offered a small selection of component options and left it to solid-state lighting (SSL) product developers to meld the components into the target application. Today, LED manufacturers offer products specific to most every application you can imagine, and in fact you can choose from high-power, COB, mid-power, CSP, and other options for the same general-lighting application. We have advancements in white and color components, and for that matter in UV and IR devices that emit outside the human visual range and that promise to enable amazing new SSL applications. Here we will review some of the most significant packaged LEDs announced in the past year with summaries of device characteristics, general device trends, and specific SSL application targets. - MAURY WRIGHT
Samsung Vivid COB LEDs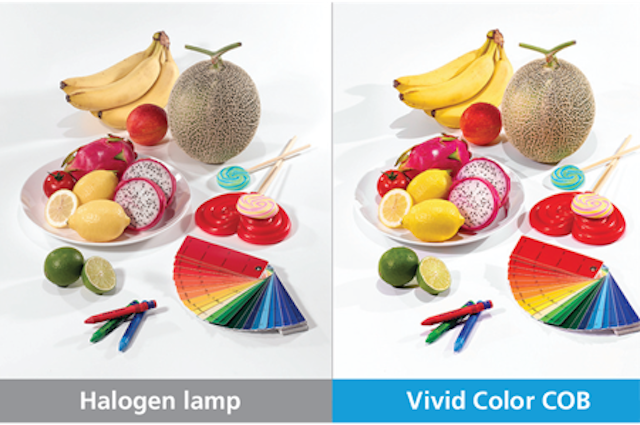 The chip-on-board (COB) LED-array landscape has proliferated broadly in the past two years, progressing from a product of convenience given the simple electrical, thermal, optical, and mechanical interfaces to products with enhanced optical properties. For example, Samsung brought to market several new COB lines in mid-2015 that have significant white-light and color-quality innovations. Most prominently, the Vivid COB Series is intended to make colors appear, as the name implies, more vivid. In many cases, LED and SSL module makers have used different emitter and phosphor mixes to enhance and even oversaturate colors such as red and blue. Samsung is evidently not oversaturating the colors because the company said the Vivid LEDs would maintain a CRI rating of 90 and oversaturation is penalized in the CRI formula. The company said the Vivid COB LEDs combine improved tuning of the color spectrum and better phosphor control to "depict the red, blue, and green coloration of objects much more clearly." Samsung also added COB devices with smaller light-emitting surface (LES) areas - 6, 8, and 11 mm -to offer higher center beam candle power (CBCP) for directional lighting applications. Indeed, the products are generally 35% smaller at the same output levels relative to prior-generation COB LEDs from the company. Samsung further announced a number of COB LEDs with what it calls Ultra-High Color Rendering, meaning a CRI rating of 95 or better.
Lumileds Gen 2 Luxeon COB LEDs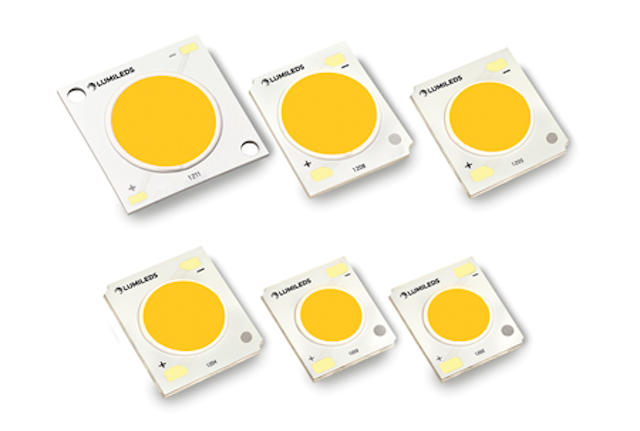 Lumileds was first to strike with optical enhancements to a COB architecture when it launched the CrispWhite product back in 2014 for better white and color rendering. In fact, the team behind that product won the 'Illumineer of the Year' award in our LEDs Magazine Sapphire Awards program in February 2015. Later in 2015, Lumileds launched the Gen 2 Luxeon COB Core range with LES options ranging from 9-19 mm and in the fall the new COB 1216 that delivers 15,000 lm and is available over the range of 2200K to 5700K CCT. That newest COB LED is targeted at applications such as street and area lights and indoor high-bay luminaires with such SSL products being capable of replacing 100W to 150W high-intensity discharge (HID) lights. The 1216 COB LED features a 23-mm LES and is packaged in a 28×28-mm footprint. The LED delivers an even greater performance increase of 40% than did the smaller Gen 2 LEDs. Such COB LEDs continue to be popular for simple manufacturing and assembly, but increasingly it's the performance and efficiency that will draw many customers. "We continue to push our chip-on-board technology to higher efficiency, which is important in all applications but particularly in outdoor fixtures," said Eric Senders, product line director for COB LEDs at Lumileds. "With the new line of arrays, customers are achieving 150 lm/W at nominal condition, which, combined with our lowest-in-the-industry thermal resistance, leads to the most cost-efficient systems."
Citizen CLU550 COB LEDs
LED architectures advance across package types and applications
Citizen Electronics is also a player in the COB LED space. At the Hong Kong International Lighting Fair in the fall of 2015, the company unveiled the CLU550 family. The new LEDs show the advancements being made in COB packaging that are happening in parallel with advancements in emitter architecture and performance. Citizen said it was able to increase the number of emitters integrated in the COB LEDs by 45% in the same physical space relative to its prior-generation COB product. Typical lumen output went from just under 57,000 lm to more than 70,000 lm. The CLU550 LEDs come in a 38×38×1.4-mm package and in 70- and 80-CRI models. Citizen said the new LEDs enable brighter luminaires or the development of smaller luminaires that rely on a single brighter source.
Cree XHP35 LED Series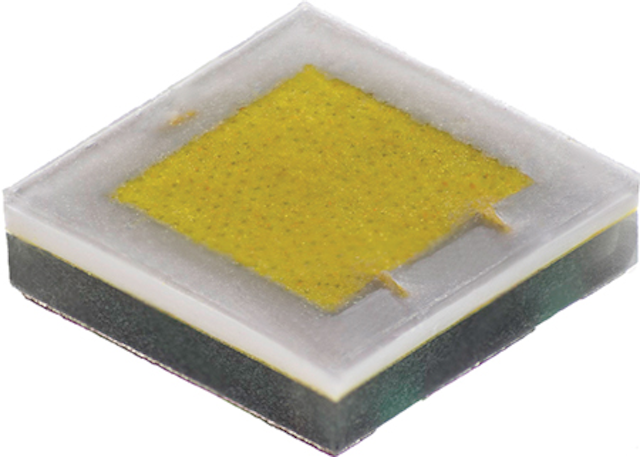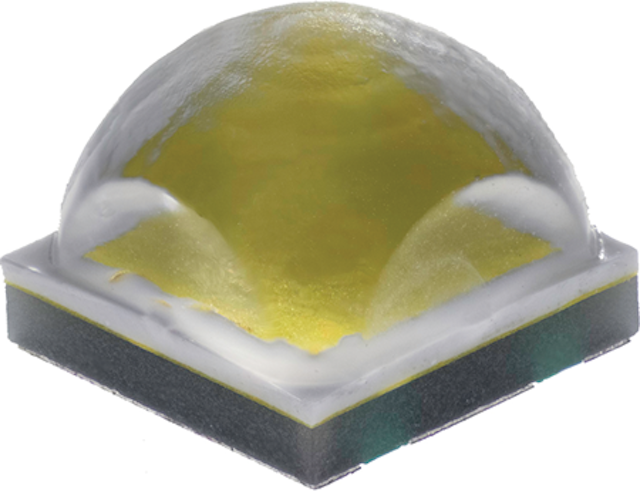 In the traditional discrete high-power packaged LED area, Cree continues to set the performance pace whether the implementation uses one or multiple-arrayed emitters. In mid-2015, Cree announced the XLamp XHP35 family of packaged LEDs that includes products in both High Density (HD) versions with a domed primary optic and High Intensity (HI) versions with a flat primary optic. The new products marked the introduction of what Cree calls the SC5 (silicon carbide 5) technology platform being fully utilized in an LED in the 3.45×3.45-mm form factor, or what Cree calls the XP footprint based on prior packaged LEDs such as the XP-G/G2, XP-L, and XP-E/E2. The XHP35 LEDs output a maximum 1833 lm from a single emitting surface, putting the LEDs in a class with multi-die LEDs in discrete packages but without the optical inefficiency of multi-die LEDs. Cree offers the LEDs across the range of 2700K to 8300K in CCT; in 70-, 80-, and 90-CRI flavors; and in 2- or 3-step MacAdam ellipse bins. Customers are using the new LEDs and footprint legacy to upgrade existing SSL products with the simple change of an LED. "We're excited that the XHP35 LED brings the performance of Cree's Extreme High Power LEDs to the XP footprint," said Jorge Fraile, CEO of Hispaled. "In addition to delivering an impressive amount of light, the XHP35 LED allows us to leverage existing drivers to achieve the full performance of Cree's high-power LEDs at lower drive currents." As for the HI and HD flavors, Cree uses the term HD to describe discretely-packaged and COB LEDs that offer what the company calls better optical control factor (OCF), essentially touting the better beam control achievable with more flux from a smaller source. See a description of the HI concept in coverage of the XQ-E LED series later in this article.
Samsung LH351B LED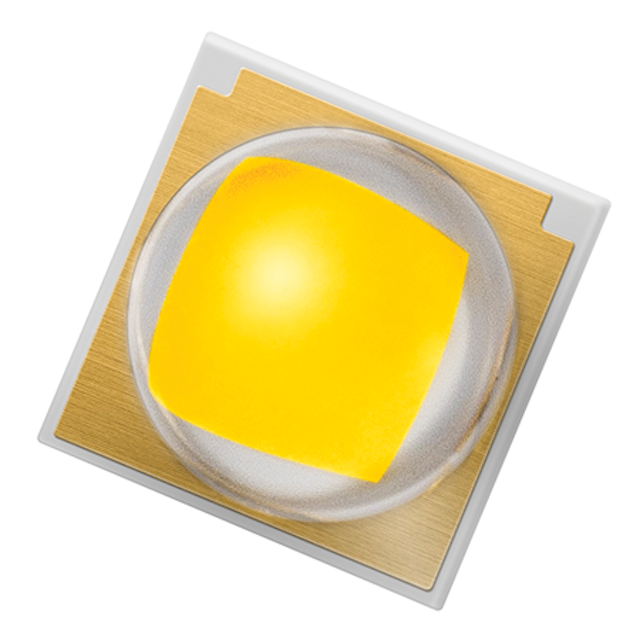 Samsung is proliferating its LED offerings across the COB, high-power, and mid-power LED spaces. In 2015, the company achieved a major upgrade in performance levels with a new version of the venerable LH351B LED. Efficacy hit 173 lm/W at 85°C temperature and 350 mA of drive current - an 8% improvement over the prior year. The LED utilizes Samsung's proprietary TZ chip structure and PSS (Patterned Sapphire Substrate) technology to achieve the high levels of performance. Moreover, the LH351B relies on a relatively-unique film phosphor for conversion that Samsung claims improves color stability. The LED has an expected lifetime of 280,000 hours when operated at 105°C and 1A.
LG Innotek H35C4 LED Series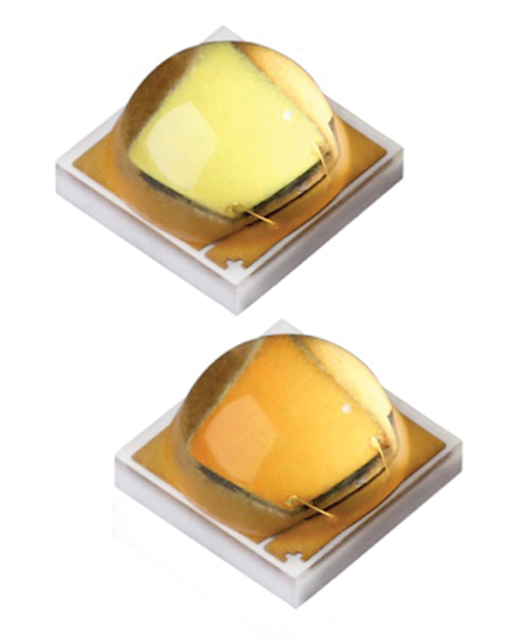 In the fall of 2015, LG Innotek announced the H35C4 high-power LED Series with what the company claimed at the time to be the highest efficacy on the market. The 3.5×3.5-mm high-power LEDs can be driven at up to 5W and are squarely targeted at high-output general-lighting applications such as street lights and high-bay fixtures. The new packaged LEDs arrived with a maximum efficacy claim of 180 lm/W when driven at 350 mA and forward voltage rated in the 2.7V to 3V range. The company stated that the maximum efficacy was 10% higher than any competitive high-power LED products from other manufacturers and 13% better than its prior offerings in a similar form factor. At 700 mA, the efficacy drops to a still respectable 152 lm/W at a junction temperature of 85°C. It's always hard to evaluate manufacturers' claims about superior LED performance because there are so many variables in play; often, stated maximum performance specs may not be at realistic use conditions. The Cree XHP35 would appear to be a bit ahead, but the LG product is in the ballpark. LG said it achieved the performance of the H35C4 through a vertical LED architecture and an optimized mixing process in the phosphor materials that create the white light. The vertical characterization implies a flip-chip approach in which the emitting surface was originally adjacent to the growth sapphire. The new LG packaged LEDs also come with LM-80 test data that suggests a life of 150,000 hours.
Samsung LM561B+ and LM561C LEDs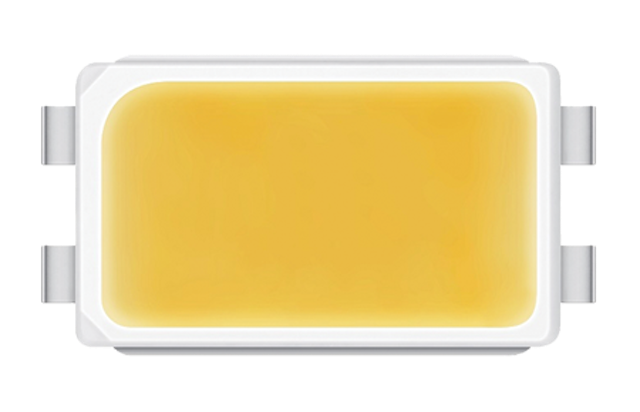 The trend toward mid-power LEDs in many general illumination applications was a prominent theme over the past year. Generally, mid-power LEDs cost less than high-power alternatives and while more devices are required to deliver a given lumen requirement, the mostly surface-mount device (SMD) components are assembled using automated equipment. Moreover, efficacy levels exceed those found in many higher-power devices. For example, Samsung recently announced the LM561B+ and LM561C 0.3W LEDs that extend efficacy to the 200-lm/W level. Such products are also delivering tighter color- and lumen-maintenance tolerances. The new LM561B+ is more focused on color attributes while the LM561C delivers maximum performance. Samsung is offering the LM561B+ LEDs in 3-step MacAdam ellipse bins and quarter bins in CCTs ranging from 2700K to 6500K. Moreover, the company said it has a new phosphor-control technology that will yield 90-CRI LEDs with 15% higher flux output at 90 CRI. "To date, we have achieved outstanding performance in all of our mid-power LED packages," said Jaewook Kwon, vice president for the Lighting Marketing Group at Samsung Electronics. "By now offering premium light quality to a greater number of customers with our LM561B+ LED package, we are able to provide superior performance on a much wider scale." While the LM561B+ LEDs max out at 190 lm/W, the new LM561C LEDs hit the 200-lm/W level. Samsung said it will bring the tighter color control to the LM561C family later in 2016. The company first introduced the LM561B family at 160 lm/W in early 2013, with those LEDs offering a 30% performance upgrade over the prior LM561A LEDs.
Cree XQ-A Series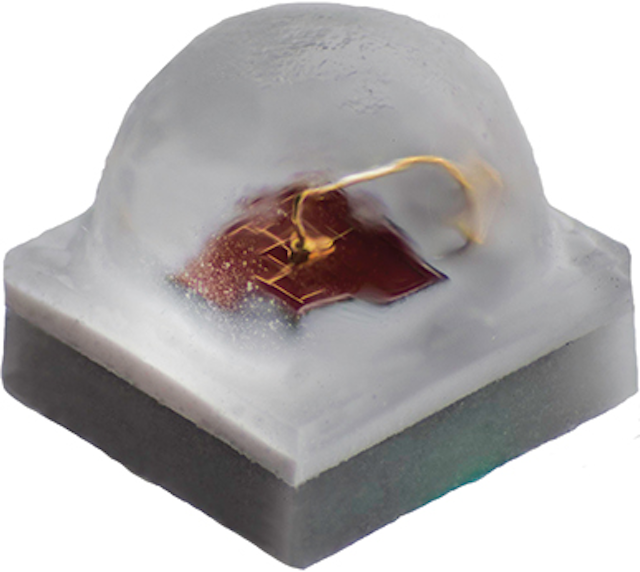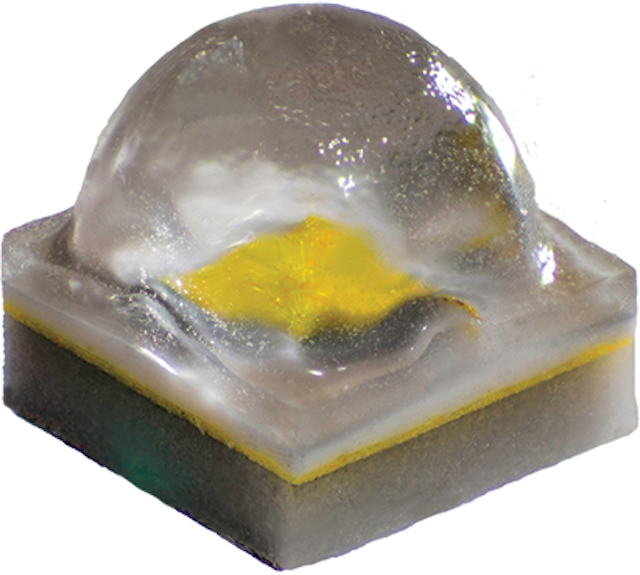 Cree remains a holdout from the plastic-packaged mid-power LED trend, although the company does enjoy access to such LEDs via its investment in Lextar. But for its own packaged LED portfolio, Cree has focused on developing very small LEDs that are still delivered in ceramic packages with high-power operational characteristics. The Cree XLamp XQ-A LEDs extend the XQ family with mid-power alternatives that the company said offer better reliability and more consistent lumen-output and color performance. Some of the applications will also come in industrial settings. "The introduction of the XQ-A LED gives us more options to increase the capability of our machine-vision and industrial LED lights using the same compact XQ package that we know and like," said Matt Pinter, co-founder and lead design engineer for Smart Vision Lights. "Unlike mid-power color LEDs, the compact, ceramic-based XQ-A LED will allow us to put two, three, or even four LEDs under our new silicone lens technology where we could only use one LED before. This generates more light for industrial applications without compromising lifetime." The XQ-A outputs 89 lm at 1W maximum in phosphor-converted white flavors. Cree offers the white LEDs across the 2700K- to 6200K-CCT range with 70-, 80-, and 90-CRI options. The company also offers color versions available in monochromatic red, red-orange, green, blue, and royal blue along with phosphor-converted amber.
Everlight 5630KK5D and 5630KK6D LEDs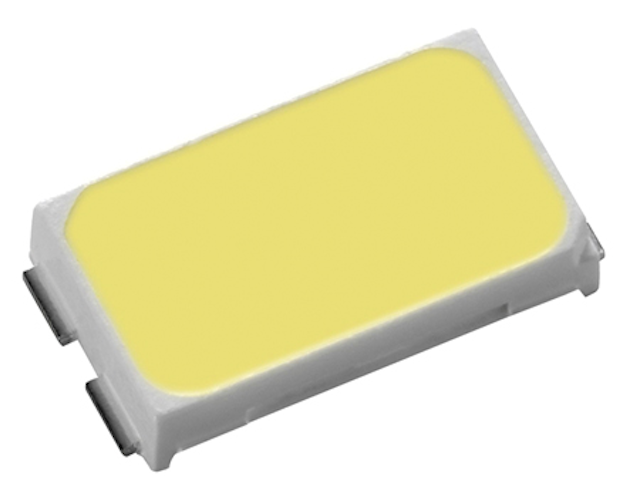 The industry-standard 5630 LED package (5.6×3.0-mm) is among the most popular of mid-power options and many companies offer such LEDs. For white SSL applications, Everlight Electronics has new LEDs in the 5630 package that push efficacy to the 200-lm/W level, targeting both retrofit lamps and luminaires. These Everlight LEDs are intended for operation more akin to traditional mid-power levels at 0.2W. The company has announced two new products. The 5630KK5D delivers 195 lm/W at a 5000K CCT and shipped a bit earlier than the 5630KK6D that delivers 205 lm/W at a 5000K CCT and came to market in late 2015. Everlight said the improved performance enables SSL manufacturers to substitute the new LEDs into existing product designs with no printed-circuit board (PCB) or optics changes, and realize significant performance improvements. Alternatively, development teams can deliver new product designs with fewer packaged LEDs when specifying the new products. Everlight said a 2000-lm finished product would consume 11W or less. Everlight also noted that it achieved the new performance levels using plastic materials with high-reflection and improved optical structures, and that the LEDs would deliver the long lifetimes needed in applications such as commercial lighting.
Edison Opto PLCC 2835 NE Series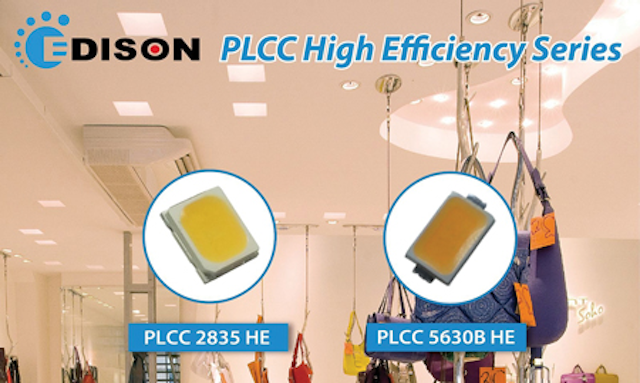 Still, much of the development in mid-power LEDs in the recent past has been focused on lower-cost components that can reduce the bill of materials in a lighting product despite the use of more lower-brightness LEDs. Indeed, Edison Opto, faced with what it characterized as chaotic price wars, has been striving to introduce more high-efficiency packaged LEDs in order to build a strong market position. One of its new product lines is the PLCC 2835 HE Series packaged LEDs. It features 185lm/W luminous efficacy at a 4000K CCT. Moreover, the compact package size increases flexibility in lamp design and expands the range of applications in which the LEDs can serve. In addition, Edison Opto added products in the 5630 packaged LED space. The advanced PLCC 5630B HE Series offers 188 lm/W efficacy at 4000K CCT and reaches 34 lm at 65 mA of drive current. Both of the PLCC families have undergone LM-80 testing.
Seoul Semiconductor WICOP LEDs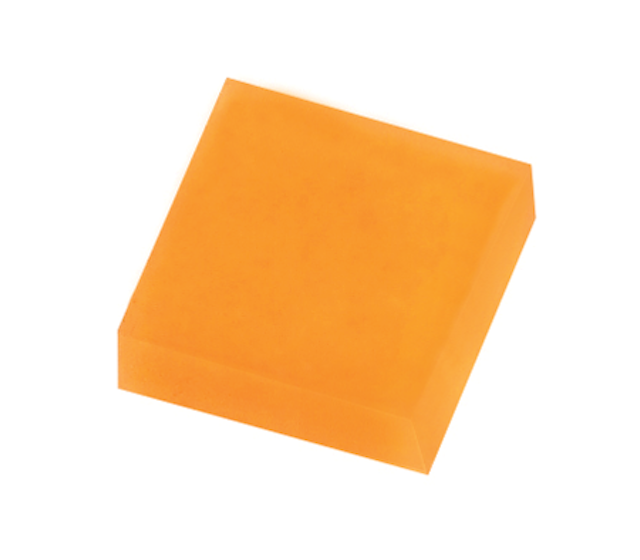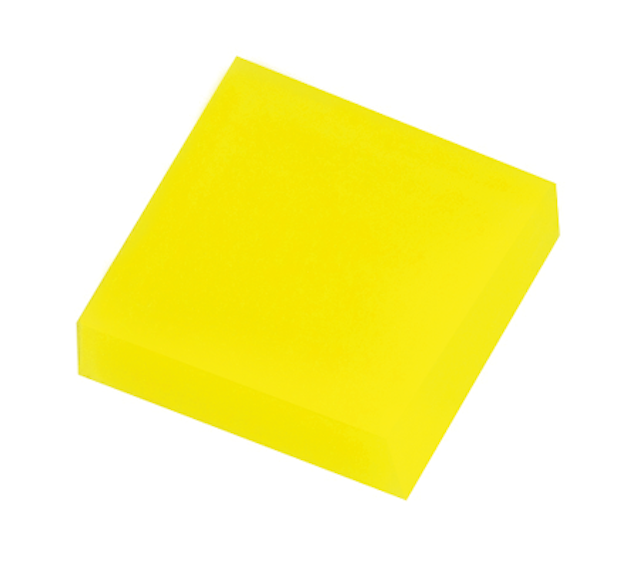 The next evolutionary step for packaged LEDs is thought by many to be the elimination of the package with the move to what is called a chip-scale package (CSP). We ran a feature article in September 2015 that explained the theory behind the CSP and the potential for lower component cost. Seoul Semiconductor has become among the first manufacturers to enter mass production of CSP LEDs in what the company calls WICOP (wafer-level integrated chip on PCB) LEDs. The new LEDs designed specifically for general illumination are being called WICOP2, differentiating the new products from earlier WICOP LEDs that have been sold in backlighting, automotive, and camera-flash applications. Seoul was bold in its announcement that questioned investments other manufacturers are making in packaging lines. "Through the development of WICOP, which is an innovative small-sized, highly efficient LED technology, the effective value of packaging equipment which was once essential in semiconductor assembly process will noticeably decrease," said Kibum Nam, head of the central research center at Seoul Semiconductor. "As all of the parts which had been used for more than twenty years will not be necessary anymore, there will be a huge change in the future LED industry." CSP technology will be of greatest benefit to the lighting manufacturers that can afford the required automated assembly equipment and that can pack the LEDs tightly in some products or essentially use the luminaire frame as the substrate in products such as linear lighting and troffers. Seoul Semiconductor will supply WICOP2 LEDs into mid-power-LED applications at least initially and that's the target for most CSP providers except for Lumileds, which is applying CSP at the high-power level.
Lumileds Luxeon FlipChip White LED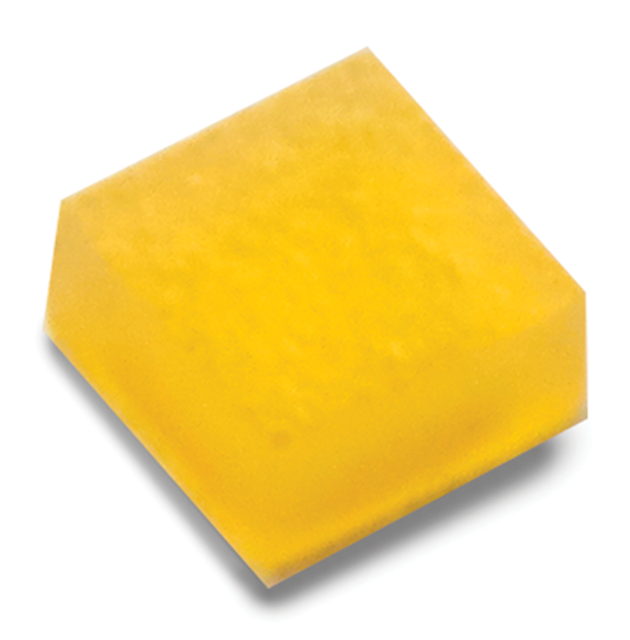 Lumileds was the first manufacturer to announce a CSP LED back in early 2013 at Strategies in Light (SIL) when it launched blue-pump LEDs with no phosphor. At SIL in 2015, the company said it shipped more than a quarter-billion CSP LEDs during 2014 into backlighting, automotive, and camera flash applications. In the fall of 2015, Lumileds announced the Luxeon FlipChip White LEDs for general illumination applications. The LEDs will come in 1.4×1.4- and 1.1×1.1-mm footprints and are available over a color temperature range of 2700K-4000K CCT. Lumileds will offer the LEDs in a choice of 70 or 80 CRI. Efficacy is as high as 124 lm/W when driven at 175 mA for the smaller LEDs and 139 lm/W when driven at 350 mA for the larger LEDs, both at 85°C. The CSP LEDs do not integrate a primary optic and will emit on five sides, delivering a wide beam angle that's ideally targeted for products such as low- and high-bay luminaires. The new CSP LEDs will also be available on Matrix LED light engines in PCB form for customers who lack the manufacturing equipment to install the CSP LEDs. That family includes both linear and flexible models and optionally can include other elements needed in a luminaire design such as optics and electronics.
Lumileds Luxeon C color LED Series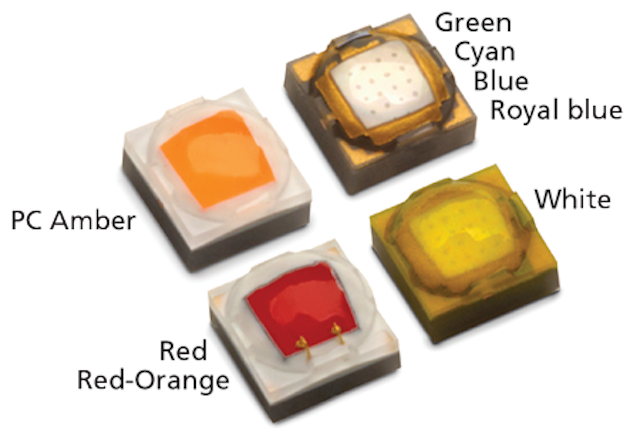 The 2015 calendar year saw a resurgence of interest in color LEDs, both monochromatic and phosphor-converted colors, and in fact we published a feature article on the topic. It wasn't so much that color LEDs haven't been widely used in the recent past because they are prominent in vehicle lighting, signage, and tunable color lighting. But in 2015, several prominent players refreshed their color product lines and brought advancements pioneered in white LEDs to the space. Lumileds, for example, announced the Luxeon C family of monochromatic- and phosphor-converted-color LEDs to market, leveraging some of the latest epitaxial, packaging, and optics technologies from white high-power LEDs. The new family includes a low-profile primary dome-shaped optic for more center punch and the optic height is consistent relative to the emitting surface on all LEDs in the family for precise color mixing. The Luxeon C family includes 12 color LEDs plus white LEDs in six different CCTs. The Luxeon C announcement followed the roll out of the Luxeon 3535L mid-power color family. Lumileds also became the first manufacturer to hot test and bin color LEDs at 85°C with the Luxeon C family. Such testing is critical to consistent performance at temperature both in terms of the wavelength shift of each emitter and in intensity shift.
Cree XQ-E Series color LEDs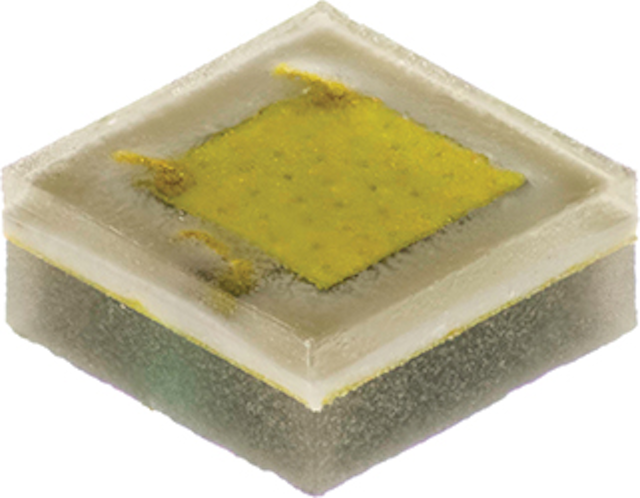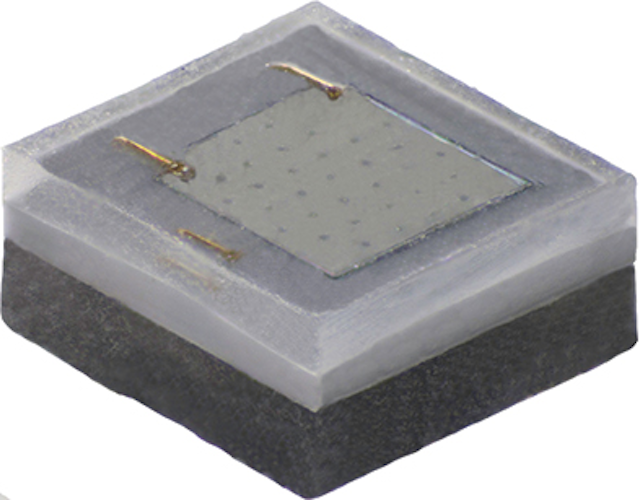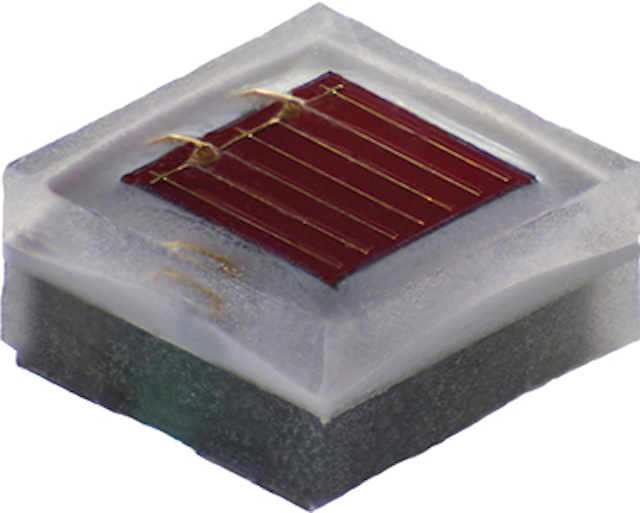 Not long after Lumileds revealed the Luxeon C family, Cree announced an upgraded XLamp XQ-E packaged LED product family applying its High Intensity (HI) feature set to color LEDs and a new white LED. The new products are based on the SC5 (silicon carbide 5) technology platform and are offered in white, red, red-orange, phosphor-converted amber, green, blue, and royal-blue versions for SSL applications such as architectural façade lighting. The new Cree XQ-E HI white LEDs deliver 334 lm at 1A of drive current and 3W compared to an earlier product that delivered 287 lm. Still, the performance improvement is more significant than evident strictly from a luminous flux comparison. The HI concept came to market in 2015 in the XP-L product family. The LEDs use a relatively flat primary optic that ultimately enables a tighter beam and better punch or center beam candle power (CBCP). The Cree LEDs come in a smaller 1.6×1.6-mm form factor relative to the 2×2-mm Lumileds Luxeon C family. Lumenpulse is one company that uses color LEDs in luminaires intended for façade or grazing applications, and that commented on the new Cree products. "The XQ-E High Intensity is a perfect tool in our toolkit to maximize candela output for our innovative products," said Greg Campbell, senior vice president and CTO at Lumenpulse. He further emphasized the importance of CBCP, adding, "At Lumenpulse, candela is the name of the game, and we want to put as much light as possible on the surface we are illuminating, as efficiently as possible."
Osram Duris S 5 Color LEDs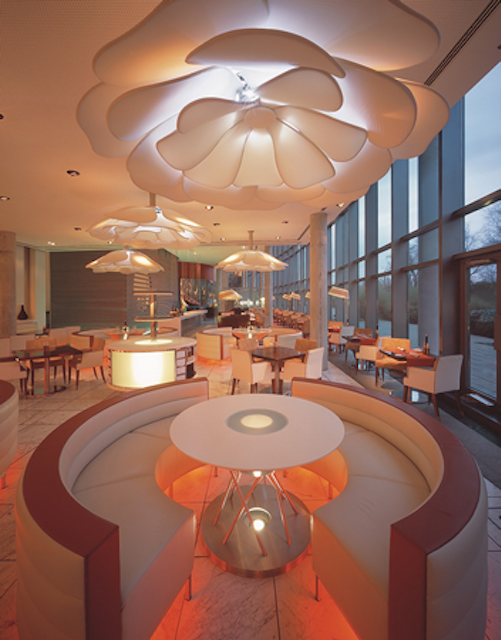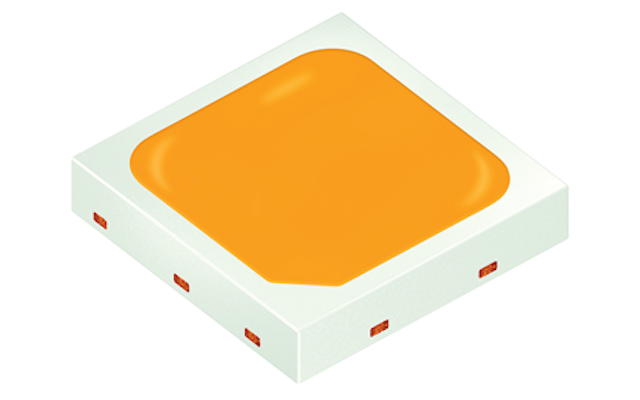 Osram Opto Semiconductors has arguably the widest selection of color LEDs, as you will surmise if you peruse the aforementioned feature article on the topic. Most recently, the company announced the Duris S 5 Color LED portfolio positioned in the mid-power space and intended for application alongside phosphor-converted white Duris packaged LEDs in general lighting products with color mixing capabilities. The Duris S 5 Color portfolio includes packaged LEDs in four colors - red, amber, green, and deep blue. The new 3.0×3.0-mm LEDs come in an epoxy-based package designed to enable reliable operation and good color and lumen maintenance at relatively higher drive currents. The dual-emitter designs have a typical 6.2V forward voltage and are rated at 150 mA. That near-1W operating level has only in the past couple of years become common for mid-power LEDs. Efficiency is difficult to quantify with color LEDs because the normal efficacy (lm/W) metric is based on the characteristics of the human eye and is meaningless in products such as blue and even red LEDs. But Osram says the green LEDs deliver 170 lm/W. Osram realized all of the Duris S 5 Color LEDs via phosphor conversion. The baseline LED chips are identical for all colors. The phosphor-converted approach can yield higher efficacy across the color range and the LEDs in all colors should have the same projected lifetime and identical focal lengths.
LED Engin LZP LEDs
RGB LEDs targeted at entertainment and projection applications represent a niche within the broader subject of color LEDs. Generally, such LEDs are very-high-power devices and often have red, green, blue, and possibly other-color emitters integrated in one package. LED Engin is one key player in the entertainment and dynamic-lighting space and announced what the company said was a new world record in both flux and power density for high-power, multi-color LED lighting in late 2015. The LZP family of red, green, blue, and cool white (RGBW) LEDs can deliver 3800 lm from a 12×12-mm footprint. The 25-die, 80W LEDs have a 6.2×6.2-mm light-emitting area. The LZP LEDs now give designers of LED entertainment and architectural lighting the freedom to create more powerful yet slimmer, very compact lamps in innovative new styles that appeal to customers. Developers can buy the LZP products in two package options. A domed version is typically used with a secondary total-internal reflection (TIR) lens while a flat version provides compatibility with more-complex secondary optics such as zoom lenses that might narrow the output beam to 10°. "We're dedicated to developing LED products that enable lighting designers to express their creativity and produce better products for their customers, particularly in the competitive and highly demanding entertainment lighting sector," said David Tahmassebi, LED Engin's CEO and president. Three of the LZP LEDs can deliver 10,000 lm or the equivalent of a 700W HID lamp.
Osram Ostar Power Projection LEDs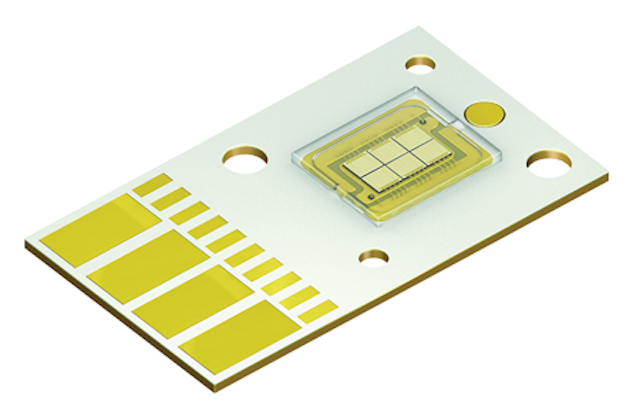 Indeed, packaged LEDs continue to find use in digital projection applications for settings ranging from conference rooms to entertainment venues. Osram is a key player in that space and recently announced new LEDs in the Ostar Projection Power family. The company said the new P3W 01 and P3A 01 LEDs will enable mainstream projectors to output 2500 lm. The company offers monochromatic red and blue, and phosphor-converted green LEDs in the family for the intended RGB application. "In the past ten years, the brightness of projectors equipped solely with LEDs has been increased by a factor of 100, since the first LED projector launched by our partner," said Andrew Lin, product marketing for LED at Osram Opto Semiconductors. "This is the result of years of research and development. Our customers have made huge progress in system development, while we continue to improve chips and packages." Each of the color LEDs in the new packages integrates six smaller emitters with an area of 2 mm2. The devices are based on the Osram UX:3 thin-film technology platform. UX:3 ensures uniform current spreading, enabling the high output required in applications such as projectors. The red LED is rated at 4500 lm, the green at 11,000 lm, and the blue at 33W of radiometric power.
Nikkiso DUV LEDs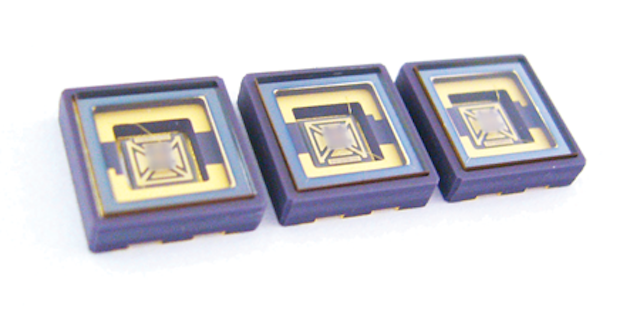 While LEDs that produce visible light, and most often white light, receive the most interest within the SSL industry, devices that operate outside the visible range in the ultraviolet (UV) or infrared (IR) bands are also enabling many new applications. Moreover, industrial, life science, medical, consumer, and other applications that can use UV or IR LEDs leverage similar energy-efficient, small-source-size, and longevity benefits that have driven visible-light LEDs to success in lighting. Nikkiso America, for instance, recently announced the general availability of 50-mW deep-ultraviolet (DUV) LEDs that the company said have operating lifetimes in excess of 10,000 hours. The evolution of UV-LED technology at shorter wavelengths holds great potential for applications ranging from industrial curing to water sterilization. UV-LED manufacturers, however, have struggled to deliver high-power, long-life, and cost-effective LEDs, especially in the UV-C or deep-UV range. The latest Nikkiso UV LEDs address the issue of delivering useful levels of radiometric power in a small packaged LED. The company said the 50-mW output at 350-mA of drive current is 1.7 times the power of its prior generation products. That performance level combined with the long-life expectation is seen as key to commercial success in UV LEDs. "UV-LED technology is advancing rapidly, with extraordinary progress reported annually in optical output power, efficiency, and cost," said Dennis Martin, president and CEO of Nikkiso America. "Whether the application involves curing, medical, germicidal, or analytical instrumentation, deep-UV LED technology offers compelling advantages over lamp-based solutions and further enables new applications."
Osram Oslux SFH 4786S IR LEDs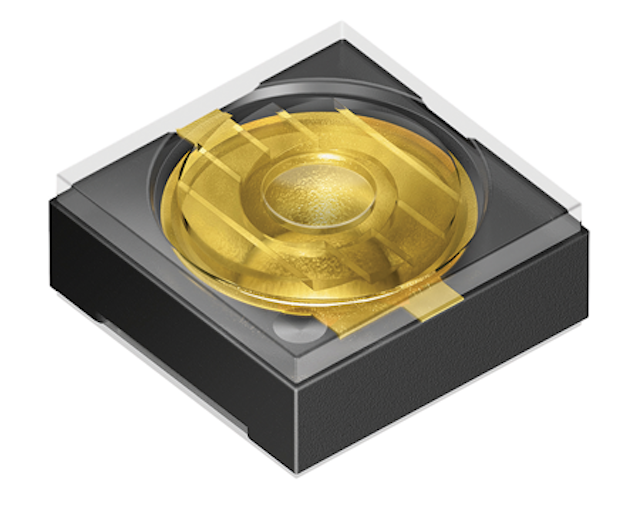 While UV LEDs support applications such as sterilization and curing, IR LEDs are being used in range finding, night vision, and consumer electronics. The Oslux SFH 4786S IR LEDs (Osram calls them IREDs) squarely target biometric identification applications in devices such as smartphones and tablets. Iris scanning allows owners of a device to simply gain access while sensitive data is protected from others. The new products are follow-on components to IR LEDs that the company announced in 2014. Both the new packaged LEDs and the prior SFH 4780S family are optimized for light extraction that is necessary for generating an iris image that can be acquired by the camera in a phone or tablet. But the new SFH 4786S is lower profile, measuring 1.6-mm high whereas the prior product was 2.4-mm high. The more compact design enables usage in thinner phones and tablets. The new LED also features an 8° tilt in the emission direction. Osram says the "slightly sideways" beam matches the typical field of view of a camera in terms of how users hold such devices. "Up to now, mechanical means have been used in iris scanners to tilt the IRED slightly," said Chris Goeltner, IR product marketing manager at Osram. "However, this additional expense is no longer needed with the SFH 4786S. This greatly reduces the level of complexity in designing iris scanners." Osram also introduced the IR Oslon Black LED in 2015 that is designed for use in near-range illumination for camera surveillance. The 850-nm LEDs have a 100m range.
Crystal IS Optan UV LEDs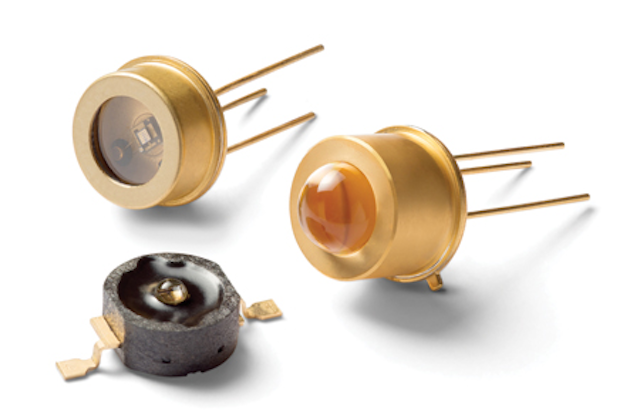 Back in the UV-LED space, Crystal IS offers a range of such LED products in SMD and through-hole packages with the latter including both TO-39 packages with a dome lens and with a flat window on top. The newest Optan UV-C products deliver longer life, greater light output, and lower power consumption. Target applications include biofouling control and Total Organic Carbon monitoring in water to safeguard industrial water purification systems. The SMD version is the newest member of the Optan family and those devices are especially suited for use in scientific instruments in the aforementioned applications. "Our customers came to us with a difficult situation in controlling biofouling, where coatings, traditional UV lamps, or mechanical wipers weren't that effective," said Larry Felton, CEO of Crystal IS. "We are thrilled that our latest Optan product will solve that problem, especially when it comes to ocean and industrial process instrumentation." The LEDs can also be used as a low voltage source of UV-C light for calibration of cameras, photodetectors, and more.