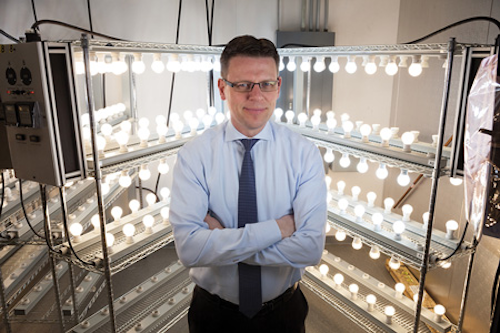 MAURY WRIGHT discusses the beginning of LEDvance as a standalone global lighting powerhouse with CEO JES MUNK HANSEN, the progress of a potential acquisition of the business, and how the new operation will be structured.
The solid-state lighting (SSL) industry has known definitively since last fall that Osram would in some way divest its lamps business and perhaps its broader lighting business as we reported on numerous times. The process perhaps accelerated in early 2016 with the new venture given the name LEDvance - a brand that had been used on some of the company's lighting products. The Osram-described carve-out of LEDvance was underway as this issue went to press, and completion or even a sale of the business could happen by the time you read this. In mid-June, however, LEDs Magazine turned directly to LEDvance CEO Jes Munk Hansen for an update on the new venture.
Interested in articles & announcements on LED & lighting business?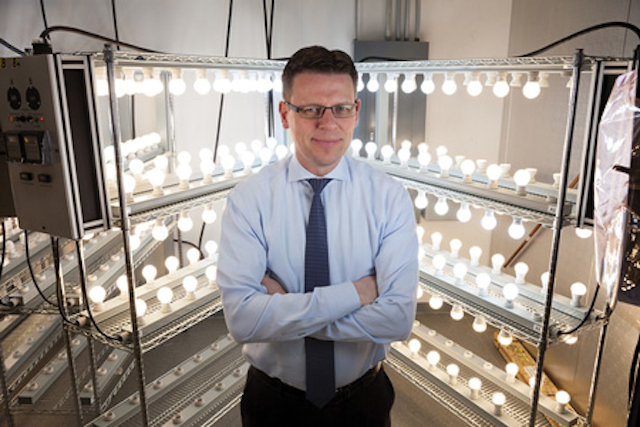 LEDvance prepares for life independent from Osram and sale may loom (MAGAZINE)
Jes Munk Hansen
LEDs Magazine: Can you provide an update on the separation or what has been described as the carve-out of the Osram lamps division into the operation called LEDvance? We had reported that a carve-out would happen by April 1 and separately that Osram had received offers for the business. Is LEDvance operating separately as a business, perhaps in the same manner that Philips has reported Lumileds as discontinued operations in its financial reporting?
Jes Munk Hansen: The carve-out process is progressing. Our company is going through a unique moment in time with the Osram Lamps business unit becoming LEDvance. This paves the way now for the lamps business to further develop. As an independent entity, the business will be able to operate with greater agility and flexibility on the market, entering into new areas of business.
LEDs: What is the status of a sale?
Hansen: Osram will inform the public once there is material news regarding this topic.
LEDs: Assuming that there is a sale of LEDvance on the horizon, what are the prospects for you to remain in a leadership position in the company? Might the buyer establish a completely new leadership team?
Hansen: While I can't predict the future of the company structure if a change of ownership were to happen, I can say that I am excited to lead LEDvance in this new chapter, and the leadership team is a world-class group of colleagues who all have strong track records in leadership.
LEDs: Please clarify exactly what has been captured in the LEDvance business. I assume it includes all lamps, legacy and LED? What about professional luminaires? What about drivers? And what about modular light engines?
Hansen: LEDvance will offer Sylvania-branded products to our North American customers and predominantly Osram-branded products in the rest of the world. Our product portfolio will cover traditional lighting, modern LED lamps, and standardized over-the-counter (OTC) luminaires, as well as connected and intelligent lighting solutions for smart homes and buildings. We will have access to sell drivers and light engines from Osram to our trade channel as well.
LEDs: Would you expect LEDvance to continue to manufacture lamps based on legacy light-source technology for the foreseeable future?
Hansen: We are proud of all of our lighting solutions, LED and traditional. High-quality Sylvania traditional lighting products continue to be in demand by customers, and we will be there for them in the future.
LEDs: When we talked a couple of years back not long after you came to Osram, one of your priorities was fast product development cycles in LED-based lighting products. Specifically, you talked about a platform-based approach to products that would allow engineering work to be shared across a range of product developments. How has that process evolved? Are you satisfied with the progress? Or has the business side of things and the divestiture taken precedence over the platform effort?
Hansen: We improved upon the platform-based approach we talked about when I joined, and I am very proud of the fact that our teams have greatly increased the speed in developing and delivering quality products to the market. In the past, projects could take around a year. Now we are delivering in months. Part of the reason is that we are taking a more collaborative approach with quality, R&D, and product development teams working simultaneously on projects, and with even more collaboration across regions. Our first-to-market, 10-Year LED portfolio is an excellent example of how our efficiencies are delivering. This robust family of LED lamps and downlight kits delivers quality light for practically any socket at cost-effective price points. We haven't let the business side of the carve-out slow us down when it comes to continuing to improve, and when we are independent, we expect to be even more agile.
LEDs: From a corporate perspective, I have heard several Osram speakers of late talk about a transition by the lighting industry to interconnected lighting systems and value-added services that can be layered on top of lighting networks. I would argue that Osram was later than, say, Philips, Acuity, GE, and others to espouse that vision, but it's consistent among most of the leaders in lighting today. Do you share that vision? And where does LEDvance fit into the vision of connected intelligent lighting?
Hansen: Smart connected lighting will be one focus for LEDvance. This is a growing market and we are constantly expanding our portfolio of Lightify smart connected lighting and accessories for homes and businesses. At LightFair, for example, we showed several first-to-market Lightify products such as the highly-requested, wet-rated Indoor/Outdoor Flex Strip RGBW and a professional RT 5/6 RGBW HO downlight, which delivers 1500 lm and has a 90+ CRI. What sets us apart from the industry is our focus to provide a robust portfolio of cost-effective products that are quality lighting solutions first, and controllable second. This is because first and foremost, customers want superior illumination and functionality. Another differentiator is that we believe interoperability will help lead to increased adoption of smart connected technologies. This is why we have one of the strongest networks of partners, which includes leaders in the connected arena like Samsung SmartThings, Belkin, Amazon, and Nest. By combining our strengths, we are making the smart home even more a reality.