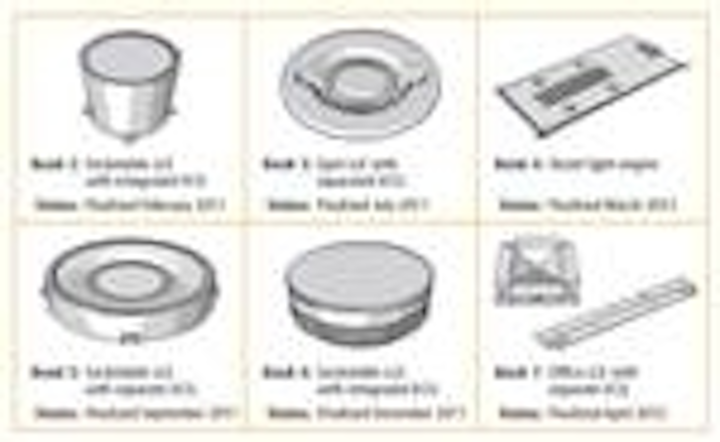 +++++
This article was published in the July/August 2012 issue of LEDs Magazine.
View the Table of Contents and download the PDF file of the complete July/August 2012 issue, or view the E-zine version in your browser.
+++++
Visitors to one of the three major lighting tradeshows this spring – Light+Building in Europe, Lightfair in the USA or Guangzhou International Lighting Exhibition in Asia – could hardly fail to miss the Zhaga logo alongside many different LED light engines from various lighting companies. In fact, this was part of Zhaga's efforts to create awareness throughout the global lighting industry for its LED light engine specifications.
The Zhaga consortium was founded in 2010 to develop interface specifications for LED light engines and thereby to enable companies to develop interchangeable LED light sources. The consortium now has over 190 member companies from Europe, Asia and North America, and at Light+Building in April more than 30 companies presented Zhaga-compliant LED products for the first time.
The Zhaga specifications are known as Books, and seven Books have now been finalized. Fig. 1 summarizes the six interface specifications (Books 2-7) while Book 1 defines aspects that are common in multiple Zhaga interface specifications, such as common definitions, the mechanical interface of separated electronic control gear (ECG), and the generic aspects of the thermal interface.
Books 2-7 contain specifications for different types of LED light engines (LLEs). Zhaga defines an LLE as "a combination of an LED module and the associated control gear." The ECG can be integrated within the LLE (as in Books 2 and 6), or it can be connected to the LED module by a cable.
Zhaga treats an LLE as a "black box," with defined interfaces that do not depend on the type of LED technology used inside. The Zhaga specifications only define the outside of the LLE, specifically focusing on the mechanical, thermal, electrical and photometric interfaces (Fig. 3). The idea of course is to make light sources from different manufacturers interchangeable with one another.
Within each Book, it is possible for there to be several different options for the LLE's form factor. Book 7, which defines LLEs with separate ECG for indoor use, describes light engines comprising LED strips with several different lengths and widths. Book 4 is the other specification focused on a particular application, namely street lighting.
In the future, different form factors can be added to existing Books, or new Books may be added, as Menno Treffers, Secretary General of Zhaga, explained: "Members can propose different form factors, for different applications," he said. "For example, a different version of the spotlight module in Book 3 could be proposed that has a smaller diameter, to take into account the improved performance of LEDs." However, the new proposal would have to be sufficiently different from other existing specifications.
Specification development
The Books were developed as part of a 5-step process, the first being for members to propose light-engine interfaces that they would like standardized by Zhaga. In phase 2, members studied the proposals for similar light sources and tried to merge them into a single proposal. The goal of this phase was to avoid unnecessary and arbitrary variations. Phase 3 was to create and review a draft specification, build prototypes and verify interchangeability. Members then voted to approve the specification.
While many companies had a voice in developing the specifications, the influence of some of the major lighting companies is plain to see. At Light+Building, some people referred to Book 5 as the Infusion specification, named after the GE module. Similarly, the generic drawing of Book 3 in Fig.1 looks a lot like Osram's PrevaLED module, while Book 2 has many features of the Fortimo remote-phosphor light engine from Philips.
This raises the question of intellectual property, since some companies own patents relating to specific aspects of the interfaces defined in the Books. Treffers explained that it is a condition of Zhaga membership that such IP is licensed to other members on a royalty-free basis.
The Books released so far are in phase 4 of development, which involves maintaining and revising the specifications, providing clarifications and fixing problems reported by members. In phase 5, the Zhaga specifications will be transferred to a standard development organization such as IEC, and will eventually join the list of established lighting-industry standards. Treffers was unable to say when exactly this would happen.
Testing and certification
In future, only Zhaga-certified products that have been tested by an independent test lab will be able to carry the Zhaga logo. The organization's website says that "when you see the Zhaga logo on a product, in a product advertisement, or in a product catalogue, you know that this product is Zhaga-certified."
However, this was not the case at the recent tradeshows listed above. Member companies were given permission to use the Zhaga logo to indicate that their products were built according to Zhaga specifications, even though they had not been tested and certified. "At these tradeshows, the logos were used to show that the company had developed Zhaga-compliant modules, and to give the promise of certification in the future," said Treffers. "But in all cases, if a product is actually offered for sale with the logo, it must be certified."
Each independent test lab has to be authorized by Zhaga, and needs a separate authorization for each Book, and for each testing location. Both UL Luminaire Testing Laboratory, Inc. (Allentown, PA, USA) and DEKRA Certification B.V. (Arnhem, The Netherlands) have been authorized to test according to Book 2 and 3, which were the first Books to be finalized. There are at present no authorized test labs for Books 4-7 inclusive, but this is just a matter of time, said Treffers.
As mentioned above, certification allows the use of the Zhaga logo, and this offers significant benefits. "The logo shows that the products have been tested, and the datasheet values have been verified," said Treffers. Of course, this is a benefit that's only available to Zhaga members, and these companies are also the only ones that can access the full specifications at present. However, Zhaga's policy is for open publication of the specifications once the first certified products are on the market. So non-members will be free to design products that comply with Zhaga specs, but they won't be able to have these products qualified, or to use the Zhaga logo.
Reduced risk and cost
Alongside the generic benefits of product standardization, there are some specific benefits to Zhaga's work, including a reduction in both cost and risk. LED light sources are constantly improving, which forces luminaire makers to upgrade the LEDs in their products. However, if the luminaire maker uses a light source with defined interfaces, then the upgrade can be done without a redesign, which significantly reduces the development costs. "Additionally, standardized light sources can be manufactured in higher volumes, which helps drive down the cost of the light source," said Treffers.
Zhaga also believes that its interface specifications reduce the business risks for all parties along the supply chain. For example, luminaire manufacturers know that they can source Zhaga-compliant modules from multiple manufacturers and that they will not be dependent on a single supplier. End users know that when they buy the same luminaire in subsequent years, this luminaire will contain an upgraded, state-of-the-art LED light source.