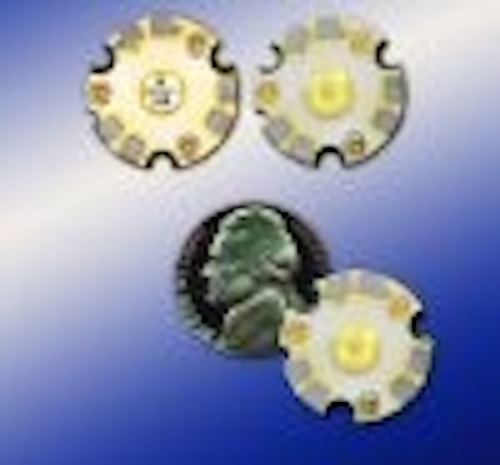 A total of 211 products were entered into the New Product Showcase Awards at LightFair, and several LED products were honored. The Awards marked the start of the three-day trade show, which is the largest annual lighting event.
Any product launched during the last year was eligible for entry, which resulted in the inclusion of some products such as the Millennio by Hess and Waldmann's Diva light that were first seen at last year's Light + Building show in Frankfurt.
Lamina Ceramics
The BL-4000 RGB+ from
Lamina Ceramics
won the Technical Innovation Award as well as the Best in Category Award for LED Lamps.
Smaller than a US nickel, the round footprint of the Lamina BL-4000 series of 120-lumen light engines results in a less complex optic design, providing greater compatibility with a wider variety of luminaires. The RGB light engine which won the award contains two 1 x 1 mm2 LEDs of each color, positioned for optimum color mixing. The 5,500K white-only light engine contains four 1 x 1 mm2 chips and has a color rendition index (CRI) of 78. Lamina said that the lifetime of the white device is over 20,000 hours. For more on this product, see our recent news item.
Hess
The Millennio streetlight from Hess America won the Design Excellence Award, and was also named Best in Category for Exterior Luminaires: Landscape and Fountain Lighting.
The Millennio comprises two parallel, slender extruded aluminum sections attached to a vertical pole with a square cross-section, which carries the electrical unit. Vertical T-slots in the pole allow the bracket to be moved easily, and also allows amenities such as waste bins or street signs to be fixed to the pole.
From a height of 4.5 m, the luminaire is designed to project a uniform light distribution over an area of 8 x 36 m. Each linear optical system contains a total of 450 white and colored LEDs, and the light is emitted through a distinctive triangular lens.
Dialight
Dialight recorded two wins; its Long-Throw Projecting Light Engine won the Best of Category Award for Components, while the SpectraMix product was named Best of Category in Specialty and Hardware Innovations.
Dialight's Long-Throw Light Engine has a flux density of 1214 lumens per square inch featuring no color fringing from a hard-edge focus projection even from a gobo (template) pattern. The initial product includes both a spot lighting and flood beam projection instrument, which when coupled with frontal secondary optics will provide 6000 lumens in a 500-watt solid-state LED package containing red, green, blue and amber devices. (See Dialight LED light engine demonstrates future possibilities for theatrical applications.)
The engine incorporates complete control of color mixing using SpectraMix, which references industry standard color by Rosco. This provides exact CIE x-y coordinate specifiable color, which is repeatable from fixture to fixture regardless of light engine composition.
Illumination Management Solutions
IMS won the Best in Category award for Specialty Luminaires: Fiber Optic and Remote Source for its new LED-based fiber optic illuminator, FiberMagic III (see
news item
).
Xenon Light
The Roeder Award went to the Squadro LED from
Xenon Light
.
Available in four different sizes, this surface-mounted wall and ceiling lamp fixture provides a homogenous illuminated fixture body with Bluetooth or DMX control. The inside of the cube made of satin-finish acrylic is equipped with high-performance RGB-LEDs and, upon request, constantly changes its color by means of an integrated color sequencer. Eight color-changing speeds and any color can be selected. Moreover, the special acrylic that has been used for the cube guarantees a particularly homogenous illumination, thus providing the best of optical effects.
Color Kinetics
The iW MR from
Color Kinetics
was one of two LED products to receive the Judges' Citation Award.
The iW MR from Color Kinetics' IntelliWhite range is a compact lamp designed to retrofit into standard MR16 fixtures and sockets. It is available in three distinct kelvin temperatures: 3000K, 3500K, and 6500K. It is well suited for use with tracks, rails, cables and pendants in interior architectural, retail, exhibit, display, and residential applications. The lamp features standard MR16 bi-pin connectors and a sleek housing with matte chrome finish. iW MR is compatible with most dimmers and transformers designed for use with incandescent 12 volt lighting systems, when used in accordance with specifications.
e3LED
A second Judges' Citation Award was made to e3LED for its ecoXT MR16 product.
The ecoXT is a direct replacement for halogen MR16 and contains a single 3-watt LED and an optic providing an approximately 5-degree beam angle. A range of color temperature shifting (CTS) filters are available for the white product, which can change to the color temperature from 5500-8000K to 5000K(7% loss of light), 4600K (18% loss) or 4200K (27% loss). Light-shaping transformer filters are also available to change the beam spreading capabilities.
The power consumption of the ecoXT is 5.5 W, compared with 25 W for a halogen product. e3LED estimates that while its product can produce 50,000 hours of light for a single bulb costing $40, the equivalent halogen product would require 10 bulbs at $10 each, or $100. Likewise, the cost of electricity to generate 50,000 hours of light is $150 for halogen but only $33 for the ecoXT.
e3LED is a joint venture between e3light Inc. and Farlight LLC; the company is also developing a PAr38 replacement bulb.
Waldmann
The Diva LED Task Light from Waldmann Lighting was the Best of Category winner in the Interior Luminaires: Decorative Sconces, Chandeliers, Ceiling, Table and Task Lamps section.
The luminaire features four 3-watt white LEDs, and rotational head and arms made from extruded aluminum with an anodized finish (which were designed by Porsche). The product has previously been available in Europe from the company's German headquarters, and was on show at LightFair to gauge the response of the US market.
Nualight
The CryoLED from Nualight won the Best of Category Award for Specialty Luminaires: Linear Lighting Systems.
CryoLED is designed to illuminate refrigerator and freezer retail display cases. It provides more on-target illumination than typical fluorescent tubes, uses less energy, lasts for the lifetime of the case and has an 18 month payback period, due to reduced energy consumption and reduced maintenance. Additionally, sales performance from correctly illuminated display cases is superior to that from cases containing under-illuminated, dark, or flickering light sources.
The photograph shows a freezer case illuminated by a 32-watt CryoLED in each mullion, producing 1700 lux. The darker cases on each side are illluminated by 54-watt fluorescent tubes. The normal industrial standard of 500 lux is exceeded by 8-watt CryoLEDs, which are available in a range of both warm and cool colours, and in lengths from 1 ft to 6 ft, in multiples of 4 inches. They are supplied complete with wiring and power supplies.