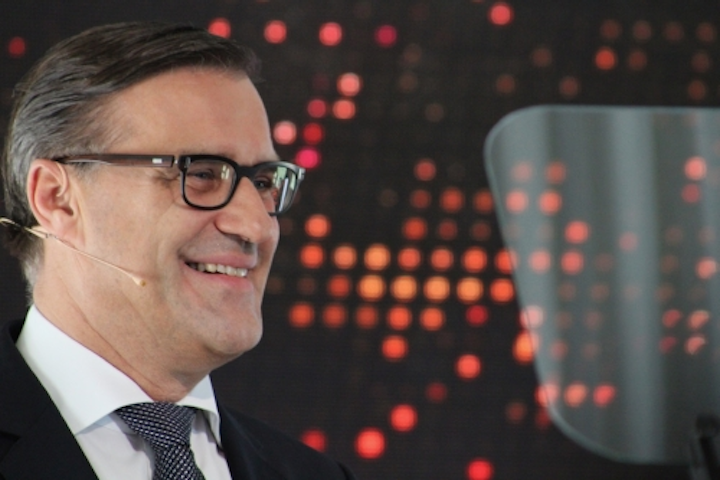 The company's high-tech transformation is picking up pace, and revenues inch forward. But there's work to do before profits rebound. CEO Berlien recasts the business units.
After a fourth quarter in which profits continued to slip amid Osram's ongoing attempt to transform from a lighting-driven outfit to one with more of a high-technology orientation, the company announced a restructuring that it hopes will reinvigorate the bottom line as it starts its new fiscal year.
While revenue for the quarter ended Sept. 30 inched up 3%, to €1.1 billion (US$ 1.3B), Osram lost €40 million ($45.9M) after tax, compared to a smaller loss last year of €5M ($5.7M). Profit by any measure tumbled: EBITDA by 39% to €72M($82.6M), adjusted EBITDA by 8% to €147M ($168.6M), and margins by 160 basis points to 13.9%.
Osram CEO Olaf Berlien cited "considerable macroeconomic challenges, a difficult market environment in the automotive sector, and project postponements by some customers," as the root of the financial difficulties, and said Osram is "on the right track" in shifting its attention to growth areas.
On a positive note, free cash flow for the quarter registered €40M ($45.9M), compared to last year's negative €28M (negative $32.1M). Headcount grew by 5%, to 27.4 million.
For the year, revenue was flat at €4.1B ($4.7B; it nudged up by 2% on a "comparable" basis adjusting for currency and other factors), and after tax profit plunged by 48% to €142M ($162.8M), with EBITDA declining by 23% to €477M ($547M), adjusted EBITDA by 13% to €605M ($693.8M).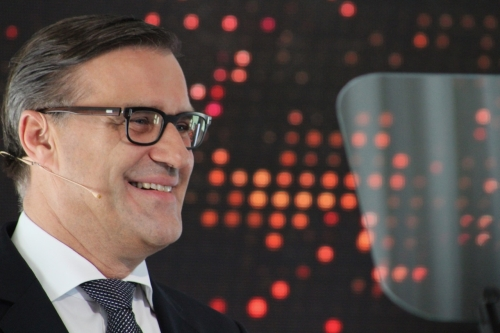 CEO Olaf Berlien is confident that Osram is "on the right track." (Photo credit: Mark Halper.)
The results come amid Osram's continuing efforts to focus more on digital applications of LED chips and lighting systems, and less on general lighting. With that pursuit very much in mind, the Munich-based company said it is regrouping its three main business units, making major changes to two of them — Lighting Solutions & Systems (LSS), and Specialty Lighting (SP) — while leaving its Osram Opto Semiconductors (OS) chipmaking unit untouched as what the company called "Osram's technological backbone" making solid-state lighting (SSL) and other optical chips for the rest of the company and others. Berlien had flagged the reorganization three months ago.
Osram has renamed LSS as the "Digital" group, a moniker that reflects the company's efforts to sell its luminaire business and to focus on providing technologies and services that equip offices and lights with sensors and communication chips, and collect data for cloud analysis. Such Internet of Things (IoT) schemes are believed to be the future for many lighting companies. The Digital Systems subgroup within the old LSS continues to be a key element under the new Digital imprimatur.
Specialty Lighting also got a new identity, as Osram re-dubbed it the "Automotive" group. It will continue to make lighting products for the auto industry, but it gives up its entertainment lighting activity — Osram's Clay Paky brand — as well as other industrial sectors such as horticultural, to Digital.
Other units that Osram shifted out of the former Specialty Lighting group and into the new Digital group include its Traxon façade illumination and its E:Cue lighting control operations.
"We continue to sharpen our profile and focus more strongly on high-growth markets within newly tailored business segments," CEO Berlien said.
Expanding on that theme, Osram said in a press release that it "intends to focus even more strongly in the area of photonics and optical technologies beyond lighting." As LEDs Magazine has reported, that endeavor has included the opening a year ago of a €370M ($424M) chip factory in Kulim, Malaysia, part of a €1B ($1.15B) chip-plant expansion plan as the company increasingly makes LED chips not just for lighting but for medical and fitness devices, virtual and augmented reality, security, drones, self-driving cars, and more. Osram OS is on course to become the largest revenue maker of the company's three groups; that distinction has belonged to the now defunct Specialty Lighting but OS has been steadily gaining.
OS had 2018 revenue of €1.7B ($1.95B), compared to SP's €2.2B ($2.52B) and LSS's €973M ($1.11B).
While Osram left the group unchanged, it continues to seek a new boss for the operation, as former OS CEO Aldo Kamper left in late August to become CEO of Leoni AG, a German company that makes cables and optical fibers for the automotive industry. Osram chief technology officer Stefan Kampmann is serving as OS's acting CEO.
The regrouping is the latest twist in Berlien's efforts to rebrand Osram as a "high-tech company," a mission he embarked on soon after taking the company helm in January 2015.
But like other lighting companies in the midst of transformation to SSL technologies and digital services — such as rival Signify — the new focus has come at the cost of profits. Berlien twice issued profit warnings in 2018. And while he did not outright deliver a profit warning in announcing the fourth-quarter loss, Osram stated in its outlook, "Due to several uncertainties (particularly in the automotive market) such as existing and imminent trade barriers, visibility will remain limited for the foreseeable future." It added that, "The company is likely to see a stronger performance the second half of the fiscal year."
In what could be seen as a veiled warning, the company also said, "EBITDA margin adjusted for special items should be between 12 and 14 percent." It was 14.7% in 2018, down from 16.8% in 2017.
It forecast revenue growth between flat and 3%, on a "comparable revenue" basis, and said "positive free cash flow in the mid-double digit million euro range is also expected."
Osram announced its quarterly results yesterday, a day earlier than originally scheduled, because it also announced a share buyback of up to €400M ($458.72M) while saying it will keep its dividend steady at €1.11 ($1.27) per share. Berlien said the buyback marks an effort by Osram to return value to shareholders, now that "over the past few years, Osram has established a very, very solid financial position."
The company continues to seek a buyer for its Siteco luminaire business, and for Sylvania Lighting Solutions, its US services group.
MARK HALPERis a contributing editor for LEDs Magazine, and an energy, technology, and business journalist (markhalper@aol.com).