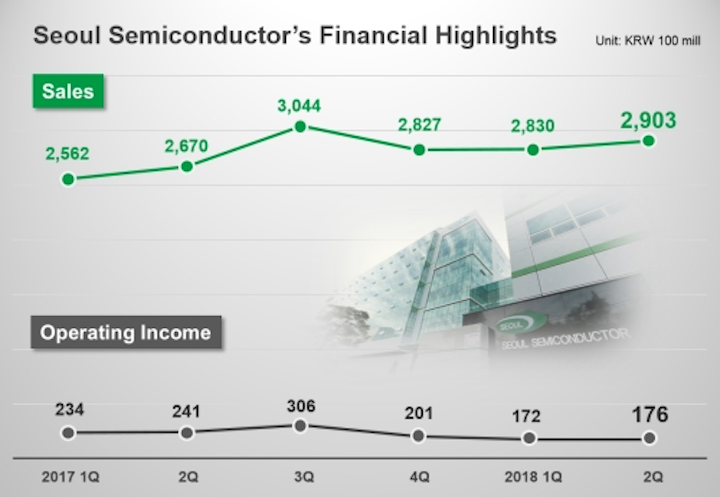 Seoul Semiconductor reports Q2 sales of 290 billion Korean Won and projects growth while Signify is rapidly repurchasing shares following its recent quarterly announcement and the company continues its humanitarian work.
Seoul Semiconductor has announced that sales for its second quarter of 2018 totaled KrW 290 billion ($260 million) with operating income at KrW 18 billion ($16 million) and EBITDA of KrW 45 billion ($40 million). Signify (formerly Philips Lighting) had announced a share buyback program after its recent quarterly financial release and now has said that it repurchased 386,001 shares between July 30, 2018 and August 2, 2018. The company has also announced that, working with BRAC, it's providing LED-based solar lanterns to 46,000 families in Bangladesh.
Interested in articles & announcements on LED business and financial updates?
Seoul financial results
Seoul has delivered a string of good quarters, including the most recent results that the company said came during the "low season." Still, the company delivered year-over-year growth and slight growth from the prior quarter. As we reported in May, sales for the first quarter were KrW 283 billion.
The company is projecting sales in the range of KrW 300–320 billion ($270–$280 million; see chart below)). Such performance could mean that the company exceeds the record sales that it achieved in the third quarter of 2017. The growth will be driven by uptake in the WICOP LEDs that utilize a chip-scale package (CSP) and in the SunLike LEDs that mimic the spectral power distribution (SPD) of the sun. At LightFair back in May, Seoul announced a number of customers that were demonstrating SunLike-based products.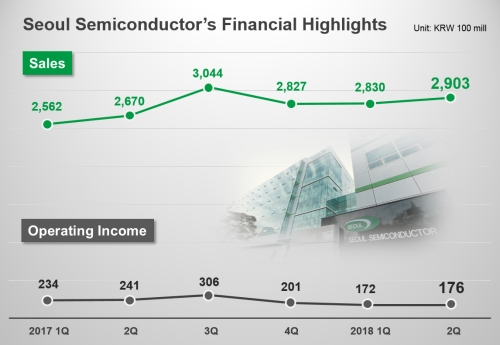 LED business news: Seoul sales rise, Signify repurchases shares and donates solar
Signify share buyback
Moving to Signify results, we reported recently that Signify had reported tepid quarterly results. The company had previously projected growth for the year, but after a slow quarter, CEO Eric Rondolat said the second half of the year would be better but that full year performance would be flat to the prior year.
After the financial release, however, the company said it would begin a share repurchase program that might total EUR 230 million ($270 million). That move signaled confidence in the future and the trend in the stock price has been moderately positive since. And the company clearly didn't wait to start the program.
Thus far, Signify has bought the 386,001 shares at an average price of EUR 23.57 ($27.24) for an aggregate EUR 9.1 million ($10.5 million). The company has a dedicated webpage at which you can follow the repurchase program.
Solar lanterns
Moving to the solar humanitarian story, Signify Foundation has previously worked with NGO (non-governmental organization) BRAC to help impoverished regions get access to safe light. The partners have now delivered Philips LifeLight solar lanterns to 22,495 Rohingya families in Bangladesh, touching the lives of 132,720 individuals — almost half of whom are children.
"Lighting is a key enabler to create safer spaces. Especially in refugee camps where women and children are vulnerable to exploitation and abuse, lighting can make a real difference," said Prajna Khanna, director of the Signify Foundation. "Our continued collaboration with BRAC leverages the strengths and resources of both organizations to deliver interventions like these."
"These clean solar powered lights will make the camps a much safer place at night, and are, therefore, making a much-needed contribution to the lives of people who are spending days in unimaginable difficulties," said Asif Saleh, senior director for strategy, communication, and empowerment at BRAC and BRAC International. "We hope this partnership with an organization like Signify will be another step towards making lasting impact."
"At Signify, our ambition is to create safer spaces for communities," said Padmanava Gupta, managing director at Signify's operations in Bangladesh. "We are honored that we're able to support this noble cause by donating our solar-powered LifeLight Lanterns to Rohingya families living in Cox's Bazar."
We at LEDs Magazine recognized the work of Philips Lighting earlier this year when we bestowed our first Sapphire Humanitarian Award to the company. And speaking of our Sapphire program, the awards competition for 2019 is now open.