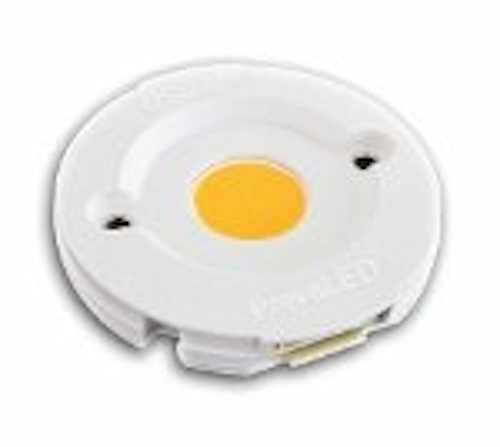 Zhaga members show the first compliant, interchangeable LED modules
The international lighting industry has so far lacked clear guidelines to ensure the interchangeability of LED modules made by different manufacturers. The Zhaga Consortium has developed specifications for LED module interfaces. These interfaces enable easy LED module integration into luminaire designs and reduce overall system design cost.
GE debuts landmark LED modules at Light+Building
GE Lighting's full range of Infusion LED modules will be shown at Light+Building carrying the Zhaga logo based on the modules being designed to the approved Zhaga 'Book 5' specification for Socketable Light Engines with Separate Electronic Control Gear.
Osram announces Zhaga-compliant Prevaled Core Z2 LED module
With Prevaled Core Z2, Osram offers its first Zhaga-certified LED light engine. It is ideally suited for spot- and downlight applications in addition to being up to 10 times more efficient than incandescent lamps.
Panasonic announces plan to expand LED lighting business in Europe
Panasonic Corporation announced it will launch a 40W-equivalent LED lamp with a clear globe in the European market beginiing July 2012. Panasonic will expand its LED lighting business in Europe which includes both lamp and device businesses by leveraging the company's latest industry-leading LED lighting technology fostered through product development for the Japanese market.
Philips enhances the experience of light with LED innovations at Light + Building 2012
"LED Lighting plays a unique role in creating meaningful experiences for people and delivers significant energy savings," said Frans van Houten, CEO of Philips. "Today we are proud to present a broad array of LED lighting solutions designed to create inspiring ambiences both in buildings and outdoors while reducing energy consumption and operational costs."
Erco LED technology finds its way into new outdoor applications
ERCO is now offering new and upgraded versions, powered by cutting-edge LED technology, for its product brands Powercast, Beamer, and Cylinder. Driven by ERCO's highly efficient LED lenses produced in-house, these innovative lighting tools for outdoor applications create enormous cost saving potential without compromising on security or light quality.
Osram hosts "LED light for you" at Light+Building
At the Light+Building fair, 16 international partners of "LED Light for you" will be demonstrating how they develop individual, precisely tailored LED light solutions – for large, medium-sized and small manufacturers, as well as for specialists and newcomers in a wide range of fields and sectors.
Novaled cooperates with Marcus Tremonto on development of PAD, a new transparent OLED suspension light
New York artist and designer Marcus Tremonto, in cooperation with Novaled AG, a company specializing in OLED technologies and materials, has designed PAD, a new transparent OLED suspension light.