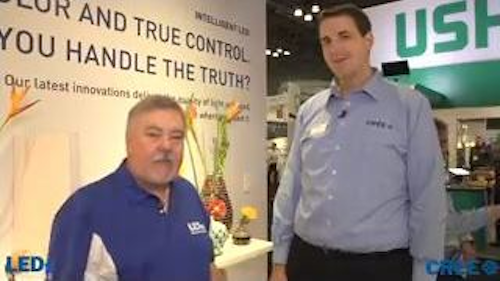 Cree LED product development leader Paul Scheidt gives LEDs Magazine chief editor Maury Wright a closer look at the latest Cree offerings being used in new solid-state lighting reference designs.
At LightFair International (LFI) 2015, LEDs Magazine chief editor Maury Wright stopped by the Cree booth to talk with LED product development leader Paul Scheidt about solid-state lighting (SSL) designs enabled by Cree's recently announced TrueWhite LED array, as well as the latest high-intensity packaged LEDs.
Scheidt offered some insight into the Cree LED products by explaining the quality of light demonstration at Cree's exhibit. With the TrueWhite LED array, he said, the light quality matches that of a ceramic metal halide source but achieves much higher luminous efficacy.
So, pointed out Wright, "The story is better quality as well as even better efficiency than a legacy source or even another 90-CRI LED."
The TrueWhite LED array delivers these light output characteristics along with enabling controllability, dimmability, and instant on and off, said Scheidt.
The two-channel technology leveraged in the LED array does not represent a new technique from Cree, but instead, Scheidt explained, the novel approach is the array form factor that allows it to be designed into directional luminaires such as tracklight heads. Previously-released TrueWhite LED modules have been designed for implementation in downlights, for example.
Scheidt also demonstrated that the new optics design in the latest Cree high-intensity packaged LEDs allows for dramatically reduced size and cost in developing high-light-output track heads, as exhibited by the reference design in the video.