Architects relied on modular Tridonic LED light engines and drivers to create a consistent but scalable custom luminaire form for use throughout the new LEE building at ETH University.
Tridonic has released the details of an LED-based solid-state lighting project (SSL) in the new LEE building that is adjacent to the main building at ETH University — a university in the city center of Zurich, Switzerland focused on technology and natural sciences. The solid-state lighting SSL project illustrates how LED-based modular technologies give architects and lighting designers/specifiers new freedom in creating custom luminaires specifically for an individual project. Architect Fawad Kazi and lighting designers at Reflexion AG worked with manufacturer Kaspar Moos AG to develop a scalable ceiling luminaire that is used throughout the new LEE building that houses the mechanical engineering department.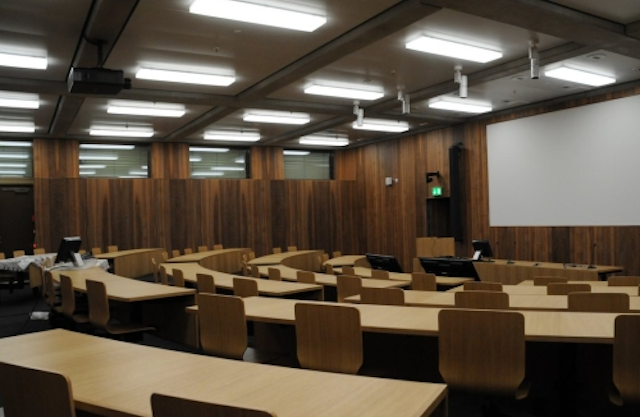 Tridonic modular solid-state lighting products enable custom lighting of Zurich university building
The key to the LEE building story is the modular angle. The small size of LED sources enables manufacturers such as Tridonic to offer very low-profile modules as building-block components for a luminaire development. For more information, we published a feature on the value proposition behind modules including proprietary products and those that are designed to open-industry specifications such as Zhaga.

The Tridonic QLE LED modules used in the ETH University solid-state lighting project are designed for linear, rectangular, or square luminaires. Essentially the modules consist of a thermally-optimized circuit board with LEDs mounted in a regular matrix fashion. The modules were matched with Tridonic ECO Series drivers for linear/area luminaires in the Zurich project.
By developing a custom design, the architect was able to utilize a single luminaire type -- in terms of form and styling -- throughout the building. Indeed, the fixtures are used in seminar rooms, auditoriums, offices, corridors, and walkways. The team specified the design in a variety of sizes that could be realized by using multiple LED modules per luminaire and even multiple drivers in some cases.
Related article: Tridonic refocuses on LEDs, plans exit from legacy business
Kaspar Moos calls the luminaire Minergie and said the collaborative design eliminates glare at the requisite mounting heights, is realized in a low-profile form, and delivers uniform light with no point sources visible. "When it came to selecting the light sources, we opted for the TALEXXengine QLE LED modules from Tridonic and the matching drivers," said Roger Müller, sales director at Kaspar Moos. "With their mounting height of only 5.5 mm, the square LED modules enable the luminaire body made from microprismatic PMMA to have a particularly low profile. This low-profile design of the LED luminaires was also helped by the fact that the QLE is self-cooling. This means that there is no need for a separate heat sink to ensure an optimum temperature range for operating the LEDs."
The QLE modules measure 27×27 cm and are designed to be cascaded to enable larger luminaires. In total, the team specified ten different luminaire configurations with from two to ten LED modules per luminaire. Moreover, the drivers that the team specified include a DALI interface, enabling control at the luminaire level throughout the LEE building.
Tridonic offers SSL modules in a variety of form factors with a choice of light-source technology. For example, the company announced OLED-based rectangular modules in late 2013. The company has round LED modules for applications such as downlights. And the offerings include both proprietary products and modules that carry Zhaga certification.