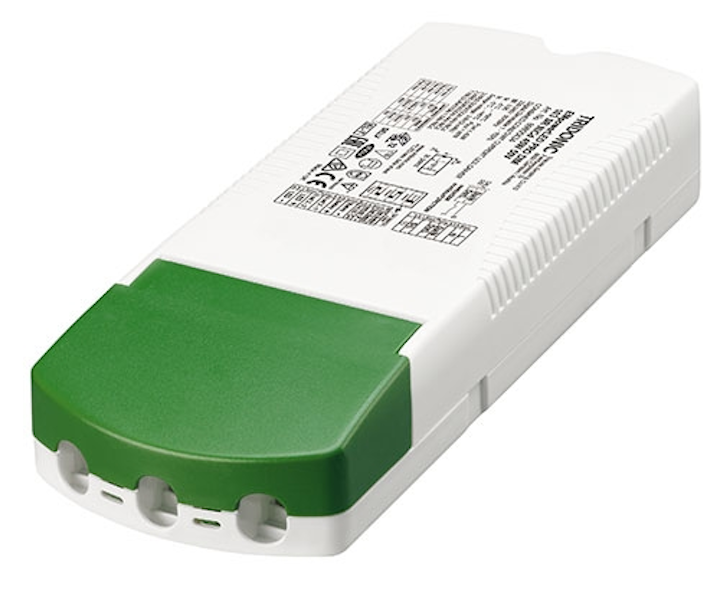 Dornbirn - The EM powerLED 45 W LED Drivers in PRO DIM and SELV versions from Tridonic combine normal and emergency lighting modes for LED luminaires in one unit. The compact housings of the installation version save space in the luminaire. The modest space requirements of these combination devices provide greater freedom for luminaire designers.
Interested in more articles & announcements on LED drivers?

The combination LED Drivers provide an output of 45 W in normal operation, and the integrated battery system produces up to 4 W of emergency lighting power. In normal operation EM powerLED PRO DIM 45 W can be dimmed via DALI, switchDIM or the corridorFUNCTION and is prepared for ready2mains. Emergency light functionality is monitored centrally via DALI. One DALI address is sufficient for performing lighting control, dimming and the prescribed emergency lighting tests and for documenting them centrally – for example via connecDIM or the x/e touch panel. The devices are compatible with the EXCITE series of LED Drivers from Tridonic and can be easily integrated in any installation.
EM powerLED ST FX 45 W 50 V with SELV qualification is a version with fixed output and integrated self-test function. In normal operation this LED Driver provides the dimming function via the simple corridorFUNCTION and does not require a higher-ranking DALI system.
The weekly function tests prescribed for emergency lighting and the annual service life test are performed via the integrated automatic self-test function. A two-colour LED status display indicates the test results.
There are two housing versions available: a built-in version that saves on space in the luminaire and the Strain Relief (SR) version which supports a wide range of LED modules with external LED Drivers and which is immediately ready for operation together with plug-in remote batteries.
About Tridonic
As a leading international supplier of intelligent and efficient lighting solutions, Tridonic supports its customers and business partners on their journey to greater success with intelligent, impressive and sustainable lighting. Our components and lighting systems offer the highest quality, absolute reliability and considerable energy savings, giving our customers a distinct competitive advantage.
Tridonic constantly brings innovations and state-of-the-art lighting systems to market. More than 95 percent of our R&D projects are devoted to the development of new LED systems and technologies for networked light. Thanks to our expertise and know-how in vertical lighting applications (in retail outlets, offices, educational establishments, outdoor installations and industry, for example), leading luminaire manufacturers, architects, electrical planners, lighting designers, electrical contractors and wholesalers place their trust in Tridonic for their indoor and outdoor lighting.
Tridonic is part of the Zumtobel Group and has its headquarters in Dornbirn, Austria. In the 2014/15 fiscal year, Tridonic achieved sales of 393.8 million euros. 1,750 highly qualified employees and sales partners in 51 countries throughout the world are committed to the development and introduction of new, intelligent and networked lighting systems. With over 40 million light points installed per year, Tridonic is ideally placed to position lighting as a key element and important infrastructure for networking more than just light (the internet of things).
Contact:
Tridonic GmbH & Co KG
E-mail:
markus.rademacher@tridonic.com
Web site:
Locate more LED driver vendors in the LEDs Magazine Suppliers Directory

Submit new products, case studies/projects, and other press releases at http://www.ledsmagazine.com/content/leds/en/addcontent.html.

More from Tridonic:
Tridonic launches TALEXXdriver Premium LED driver that interfaces with existing mains cable
Tridonic connecDIM light management system decentralizes lighting monitoring and controls