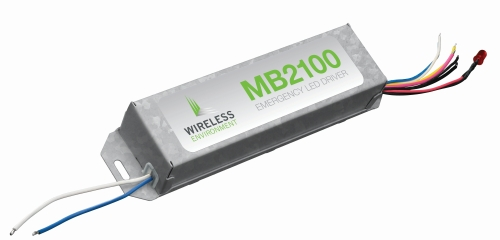 CLEVELAND, OH – Wireless Environment LLC introduces the new MB2100 Series compact emergency LED drivers that provide cost effective battery backup control for emergency egress lighting in commercial LED luminaires.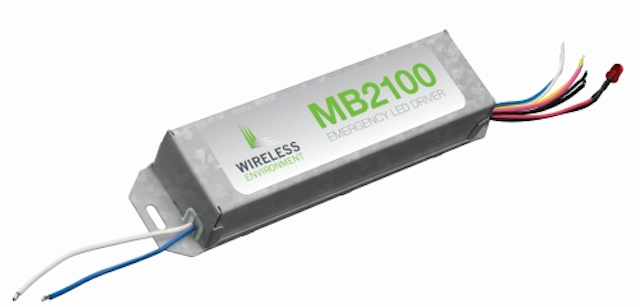 Wireless Environment introduces MB2100 Series compact emergency LED drivers

The new compact emergency LED drivers combine innovation and efficient design to create a product that is low cost, easy to install, and compliant with all UL924 requirements.

At only 1.5"W X 5.2"L, these LED drivers are among the smallest on the market today, and due to their attractive price point, they can save thousands of dollars from your lighting fixture construction budget.

The 2100 Series compact emergency LED drivers are available in a wide range of output power levels, from 7 Watt max up to 26 Watt max, that allow flexibility for any application, from recessed LED cans to troffers.

The LED drivers utilize an external battery pack that is customizable for various applications and power requirements. Additionally, their compact size permits installation in areas and fixture housings where space is limited.

These drivers are ideal for manufacturers of both commercial and residential LED luminaires for factory installation, and can be customized for both new light installations and retrofits.

Wireless Environment has developed and patented intelligent solutions for battery backup of lighting fixtures that offer lighting manufacturers new ways to differentiate their products by taking them off the grid. Our vision for taking lighting off the grid and our unique technology to do so enable applications in the lighting industry that have not been previously available to fixture manufacturers. In addition to UL924, Wireless Environment is developing specialized battery backup drivers incorporating its SwitchSense™ and ReadyBright™ technology.

Wireless Environment, LLC, is a fast growing technology company based in Solon, Ohio, ranking 534 on the 2014 Inc. 5000 list. The company mission is to design lights that operate fully off-grid or shift between wired and wireless. Wireless Environment has acquired 13 patents for its technology and has launched successful product lines for both residential and commercial needs. The Mr Beams™ line of motion sensing lights is the leader in the wireless lighting category, and the ReadyBright™ Power Outage Lights were awarded the 2013 Good Housekeeping VIP Award. We offer a number of customizable lighting solutions and licensing opportunities. Sixteen wireless lights have been launched to date and the company will soon launch hybrid light fixtures that – like laptops – are on the grid when needed and off the grid when convenient.

Contact:

Mike Recker, CTO - Wireless Environment, LLC
+1-877-298-9082 ext. 1

E-mail:

Web site:

www.wirelessenv.com

Locate more driver & controls vendors in the LEDs Magazine Suppliers Directory

Submit new products, case studies/projects, and other press releases at http://www.ledsmagazine.com/content/leds/en/addcontent.html and http://www.ledsmagazine.com/content/leds/en/iif/add.html.
More from Wireless Environment:
Wireless Environment's Mr. Beams NetBright spotlights use RF signals for networked LED outdoor lighting
Wireless Environment will debut NetBright wireless lighting communication technology at LightFair International