Helvar will exhibit its latest lighting controls at LuxLive 2015
Nov 10th, 2015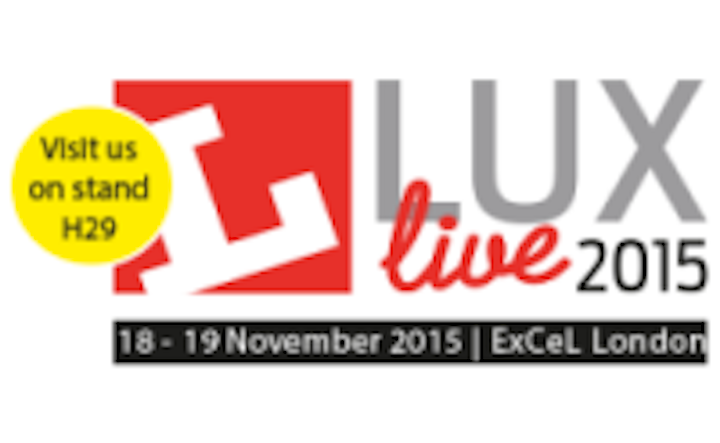 Lighting controls expert Helvar is set to display an exciting array of new and upcoming products and features this year at LuxLive 2015, including iDim Orbit, Active+, freeDim, illustris and Light over Time. There'll be plenty for visitors to get to grips with, and Helvar experts will be on hand to talk through the latest in lighting controls.

Interested in more articles & announcements on drivers & electronics?

Paul Wilmshurst, Managing Director at Helvar Ltd says, "We are really looking forward to demonstrating our latest innovations in lighting control technology. It will be a busy stand with lots going on, and we hope people will enjoy coming along and seeing what Helvar has to offer. This year we will be previewing two new products iDim Orbit a complete room lighting control solution in a single sensor and the latest in wireless lighting control with freeDim." We will also be sharing some new and exciting products that will be coming out in 2016.

Providing an intuitive user experience, iDim Orbit delivers a simple, cost-effective and easy to install room-based lighting control solution. iDim Orbit caters for a range of commercial and public building applications with a choice of PIR sensor configurations. Its built-in light sensor provides constant light and bright out modes for maximum energy efficiency. The internal iDim Orbit time-clock allows for profile scheduling and features mobile app connectivity for easy configuration using wireless technology.

Helvar will also be previewing their wireless lighting control solution. freeDim provides a fresh, completely personalised and intelligent approach to lighting control for building occupants. With freeDim, users can create their preferred lighting scene for a designated space which is then automatically saved and then wirelessly activated by their presence or by using the freeDim mobile app.

Active+ will be demonstrated on Helvar's stand H29, consisting of the Active+ LED driver and our smallest sensor yet, Active+ Sense. The Active+ driver connects directly to the Active+ Sense and so no external power source or additional cabling is needed to the luminaire. The Active+ driver and Active+ Sense work together, learning about the surrounding environment, detecting change in lighting conditions from other luminaires and light sources over an initial 60-100 hour learning period.

The latest in touch technology will be released towards the end of 2015, illustris, a touch-sensitive control panel. With a stylish sleek glass finish illustris features an app that allows a smartphone or tablet to be used via Bluetooth connectivity to remotely control lighting.

Helvar's range of LED drivers and LED modules are designed to create a state of the art lighting experience for the end user. Our Tuneable White LED drivers, including DALI type 8 can create varying white colour temperatures to balance mood, productivity and general wellbeing.

With a selection of LED drivers that can focus on efficiency, decorative lighting and tuneable white we are able to offer individual lighting experiences for everyone!

Over the two day Lux live event Helvar will be offering you the chance to enter their promotional prize draw, with the opportunity to win an iPad Mini. With lots more goodies available on the Helvar stand don't miss out on paying them a visit.

Helvar will be showcasing its offering on stand H29 of LuxLive at London ExCeL 18-19 November. More than 7,000 people attended LuxLive last year, making it the UK's biggest lighting event.

Contact:

Helvar (headquarters)
+358-9-5654-1
E-mail:

Web site:

www.helvar.com

Locate more driver & controls vendors in the LEDs Magazine Online Suppliers Directory

Submit new products, case studies/projects, and other press releases at http://www.ledsmagazine.com/content/leds/en/addcontent.html.

More from Helvar:
Helvar's LEDesign software tool automates selection of compatible control gear for LED light sources
Helvar appoints new sales manager for LED lighting components division