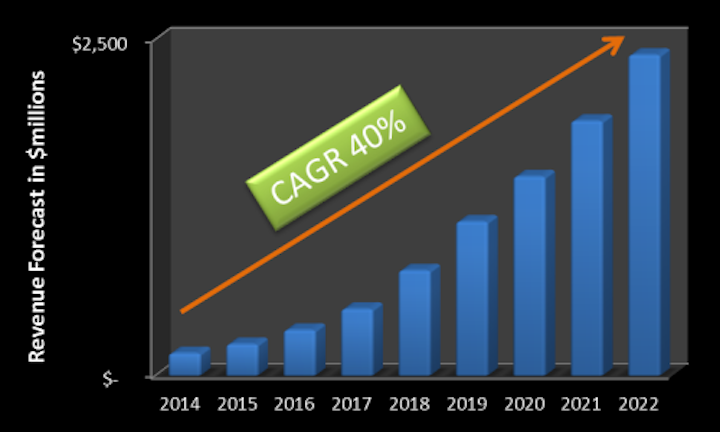 Mountain View, CA — Strategies Unlimited has released its new market research report, Connected Outdoor Lighting: Market Analysis and Forecast 2015. By leveraging its experience in the lighting market, Strategies Unlimited provides detailed analysis of the wired and wireless lighting technologies being used in the outdoor application, along with a comparison of LED and traditional lighting sources. This report foresees 40% revenue growth for the total connected outdoor lighting market from 2014 to 2022. The wireless portion will grow to 55% during the forecast period.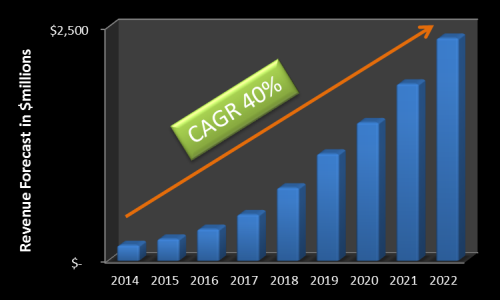 Strategies Unlimited forecasts connected outdoor lighting market to reach nearly 10% penetration by 2022

As the penetration of LED luminaires increases in the lighting installed base, end-users are looking to optimize the return on their solid-state investments by coupling their lighting systems with lighting controls. With the ability to do more than control the light operation of their lighting systems, many customers are making operational changes by using monitored lighting data and keeping track of their lighting assets and the functionality of their lighting equipment.

These investments in sophisticated connected lighting systems are not always being driven by the foresight of end-users. Regulatory influences are affecting the decisions of many private and public facilities and entities. Mandates such as Title 24 (in California), are pushing connected lighting to the forefront. Such regulations require the installation of lighting controls for new construction, retrofits, and major renovations.

The figure shows the forecasted growth of connected outdoor lighting. With current penetration at less than 1%, Strategies Unlimited anticipates this market to reach close to 10% penetration by 2021/2022. This aggressive growth will be driven by the demand to mitigate energy consumption of the growing population, meet federal and/or city/state level regulations regarding environmental impact, and reduce operational and maintenance costs.

The connected outdoor lighting market is expected to grow from $169 million in 2014 to nearly $2.5 billion in 2022.

"As demand for energy increases, the private and public sector will look to create an intelligent infrastructure to mitigate current energy stresses and comply with growing energy efficiency standards. Traditional lighting companies will need to invest and grow their connected lighting portfolio to compete with other non-lighting companies who know and excel in smart and connected lighting controls," says Strategies Unlimited's luminaire and lighting controls analyst, Shonika Vijay.

Connected Outdoor Lighting: Market Analysis and Forecast 2015 offers insight into the various popular lighting technologies on the market today. The technologies covered in this report are:
• Power line Communication
• ZigBee
• 6LoWPAN
• Proprietary/Other Lighting Protocols

The report evaluates the connected outdoor lighting market for facets of the industry that have different lighting behaviors, lighting preferences, regulatory forces, competitive landscapes and more. Parameters of the report include a detailed breakdown of the lighting market by the following regions and major applications:
• North America
• Western Europe
• Eastern Europe
• Rest of the World

• Street Lights
• Parking Garages
• Wallpack/Floodlights

For additional in-depth market information, purchase Connected Outdoor Lighting: Market Analysis and Forecast 2015 today.

About Strategies Unlimited
Strategies Unlimited, a division of PennWell Corporation, is the world leader in market research in LEDs and lighting, lasers and photonics devices, and beyond. With a unique blend of in-depth historical market knowledge and technological expertise, Strategies Unlimited produces highly detailed market reports, custom studies, and provides consulting services. Additionally, Strategies Unlimited presents industry events, including the Strategies in Light series and The LED Show, to large audiences worldwide.

About PennWell Corporation
Founded in 1910 in Tulsa, Oklahoma, PennWell Corporation is a privately held and highly diversified business-to-business media and information company that provides quality content and integrated marketing solutions for the following industries: Oil and gas, electric power generation and delivery, hydropower, renewable energy, water and wastewater treatment, waste management, electronics, semiconductor manufacturing, optoelectronics, fiber-optics, aerospace and avionics, LEDs and lighting, fire and emergency services, public safety, and dental. PennWell publishes over 130 print and online magazines and newsletters, conducts 60 conferences and exhibitions on six continents, and has an extensive offering of books, maps, websites, research and database services. In addition to PennWell's headquarters in Tulsa, Oklahoma, the Company has major offices in Nashua, New Hampshire; London, England; Houston, Texas; San Diego and Mountain View, California; Fairlawn, New Jersey; Moscow, Russia; and Hong Kong, China. For additional information about PennWell Corporation, visit www.pennwell.com.

Contact:

Tim Carli, Sales Director - Strategies Unlimited
+1-650-946-3163
E-mail:

Web site:

Submit new products, case studies/projects, and other press releases at http://www.ledsmagazine.com/content/leds/en/addcontent.html.
More from Strategies Unlimited:
Strategies Unlimited reports global packaged LED market to reach $22B by 2019
Strategies Unlimited forecasts COB LED market to grow to $4.4B in 2020