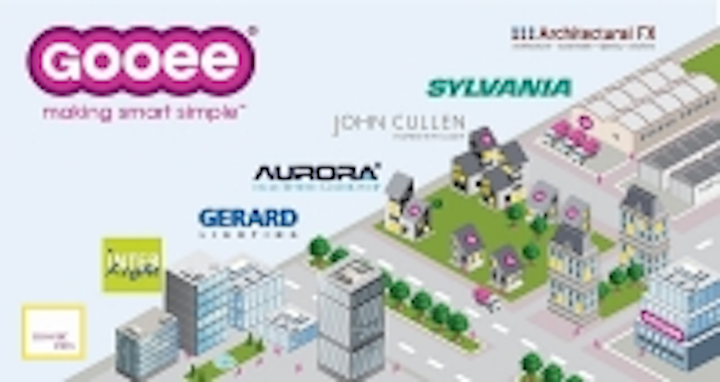 (LuxLive, Gooee 'IoT Experience Theatre', 18-19 Nov) Gooee has announced it is now working in association with five more Original Equipment Manufacturers (OEMs) ahead of LuxLive 2015, where it is launching its industry-leading 'Gooee Inside' technology.

Interested in more articles & announcements on networks & control?

It brings the total number of manufacturers up to seven who are now able to use the world's first 'Full-Stack' IoT platform, developed by Gooee, and 'connect' their products to the Internet of Things.

Gerard Lighting, Architectural FX, Mosaic Eins, Interlight and Havells Sylvania are the latest manufacturers to join John Cullen Lighting and Aurora Lighting in announcing their intention to use Gooee's technology – assessing the potential of 'Gooee's IoT ecosystem and its contribution to connected lighting.

The announcement will ensure an ever-increasing amount of lighting manufacturers, and subsequently consumers, can take advantage of a new trend towards intelligent, connected lighting solutions and integrate the latest smart IoT technology into their extensive ranges.

Jan Kemeling, Gooee's Chief Commercial Officer, hopes the rise of 'Gooee Inside' OEMs will ensure its technology is quickly available on the market: "We are the first truly independent, openly accessible, interoperable solution for lighting OEMs," he says. "At Gooee, we are dedicated to developing the latest technologies that exceed the market's expectations.

"That means creating high performance smart components and software solutions that present no surprises, no disappointments, and no compromises," he continues. "And we hope the launch of the 'Gooee Inside' at LuxLive will attract attendees, OEMs, the media and the general public, to see just how innovative our technology is."

Architectural FX is the intermediary partner between European manufacturers and UK Architects, lighting designers and specifiers. Chris Skelley, its Managing Director, says that Gooee's technology will enhance its premium product offering: "We market and sell premium brands to the UK's lighting specification market on national and international products," he explains. "Signing this agreement with Gooee ensures we can further this offering to attract an increasing number of high-profile contracts."

Gerard Lighting, whose range of leading lighting brands have captured 30 percent of the Australian market, is also excited about integrating Gooee into its product range, as its Group General Manager of Engineering, Jason Gerard explains: "We continually search for the latest smart-technology to increase the functionality and control of lighting, and feel that with 'Gooee Inside' products we can bring considerable benefits to consumers through it's advanced sensing and wireless networking technology, complementing our existing Rapix solutions."

Interlight is a fast-growing OEMs and Casper Vulling, its CEO and Owner, says the partnership will help the business to grow further: "We have become a launch partner with Gooee because it is the only company, which I know of, that has developed a platform where all of the different technologies needed for a proper IoT Ecosystem come together as a universal platform for the lighting industry."

Christian Schraft, CEO - Havells-Sylvania, says this is a unique opportunity to add value to its client relationships: "After the introduction of LEDs we now see the lighting industry facing the next major disruption: the Internet of Things. In a future where luminaires will be increasingly connected, there are endless possibilities to integrate sensors to not only monitor and control our luminaires, but also the wider environment. Technology featuring 'Gooee Inside' will give us the ability to rapidly develop and pilot new applications and services and together with our leading customers identify the most valuable propositions."

Michael Eiting, Founder & CEO of Mosaic Eins, the seventh OEM to announce its association with Gooee, says the revolutionary technology is able to make a worldwide impact: "We are looking forward to helping developing markets realise the potential of the Internet of Things," he explains. "As a leading lighting manufacturer to the Far East, particularly Thailand, for 25-years, the ability to work in association with Gooee, and develop technology with 'Gooee Inside', ensures we can deliver the needs of specific markets that may require a different focus."

Jan Kemeling concludes that once an OEMs integrates its product range with Gooee, consumers will be able to individually control each device: "Luminaires will also become 'conscious of the environment in which they are deployed," he adds. "This creates possibilities to locate and track customers or goods, to monitor product performance and energy usage, or to interact with other devices in (or outside of) the space such as air conditioners, heaters, shoppers' smart phones and more."

About Gooee
Gooee is the creator of the world's first 'Full-Stack' operating platform to connect lighting manufacturers to the IoT. Focused on design, engineering and supply of hardware, software and data management components across the LED lighting value chain, Gooee provides sensing, control and communication components that integrate with an enterprise scale cloud platform. This offers a service-driven, scalable framework for lighting OEMs.

Contact:

Jayne Clarke, Communications Manager - Gooee
+44-7881-105936
E-mail:

Web site:

www.gooee.com

Locate more driver & controls vendors in the LEDs Magazine Suppliers Directory

Submit new products, case studies/projects, and other press releases at http://www.ledsmagazine.com/content/leds/en/addcontent.html.

More from Gooee:
John Cullen Lighting partners with Gooee for integration of smart lighting technology