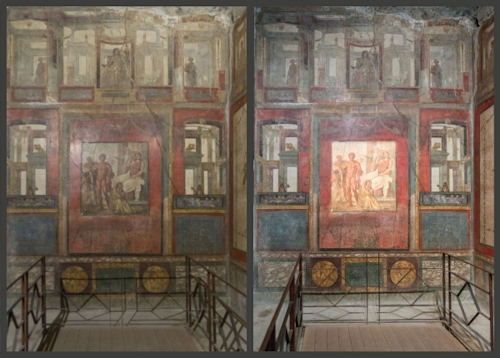 Uniform spectral power distribution enabled by a three-phosphor mix render ancient murals naturally, ensuring that visitors will fully experience the display's color and texture.
Seoul Semiconductor has announced that its SunLike series of packaged LEDs are being utilized in some custom solid-state lighting (SSL) products to light the restored murals of the Casa dei Vettii in Pompei, Italy. Lighting manufacturer Lumen Center Italia created the spotlights used in the project that will enable visitors to fully enjoy the colors and textures of the ancient murals.
Interested in articles & announcements on packaged LEDs?
The SunLike series of packaged LEDs is designed to deliver spectral power distribution (SPD) that mimics natural light from the sun and that is far more uniform than most phosphor-converted white LEDs. The company first announced the LED technology last June. The LEDs are based on a violet emitter and a three-phosphor mix called TRI-R that was developed by Toshiba Material Co.
Seoul said the custom SSL spotlights, based on 25W SunLike chip-on-board (COB) LEDs, reveal more color and depth at the murals in the ruins of Pompeii. As the name implies, the intention of the LED technology is to make objects appear as if they were being illuminated by natural sunlight.
Lumen Center Italia is a lighting company in Italy focused on premium light quality and has been an avid supporter of the Pompeii heritage lighting project. "Because SunLike has a level of blue light similar to that of sunlight and a superior color index rendering (CRI) and color quality scale (CQS), we believe it is ideal for artwork and museum lighting," said Augusto Grillo, president of Lumen Center Italia. "We are delighted with the amazing technology of SunLike LEDs and hope to adopt SunLike for more projects in the future."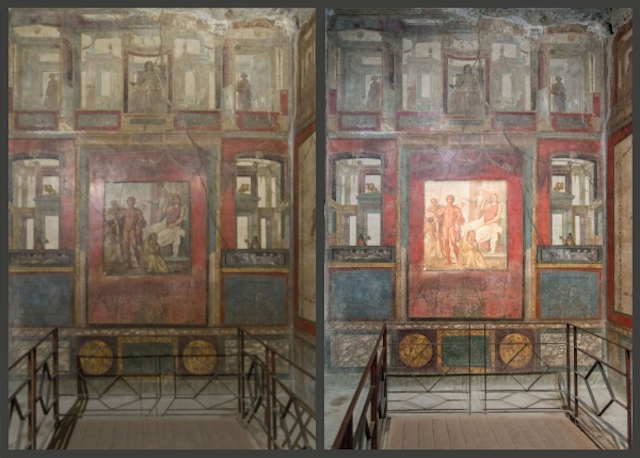 SunLike packaged LEDs reveal color and depth in Pompeii ruins' murals
Note the difference in color vibrancy and textural details in the Pompeii murals, newly lit on the right with SSL spotlights by Lumen Center Italia based on SunLike packaged LEDs from Seoul Semiconductor.
Note that CQS is a color metric developed originally by the US National Institute of Standards and Technology (NIST) that is clearly more accurate than CRI yet never gained a broad following in the lighting industry. In the case of the Pompeii project, Seoul noted that the SunLike LEDs deliver 95-plus rating for both CRI and CQS with the CQS scores implying that the human eye can perceive both bold saturated and subtle colors.
In the case of the Pompeii ruins, the SPD and superior color rendering of SunLike mean the visitors will see colors accurately. Moreover, the packaged LEDs result in a high contrast ratio that means viewers can better perceive depth — and therefore the texture — in the murals.
LED-based sources have found broad uses in lighting artwork, museums in general, and historic sites. Early on, the SSL draw was energy savings for lights that were regularly on for long hours. But case studies have also show that LEDs with no infrared (IR) or ultraviolet (UV) energy do less damage to historic works on display. For example, consider the Warsaw museum that we wrote about.
Of late, the choice of LEDs for lighting treasured works and natural settings often is rooted in the quality of the viewing experience. For example, we covered the lighting of the Saalfeld Fairy Grottoes with Soraa lighting products that use proprietary LEDs manufactured by Soraa. Those packaged LEDs also use a three-phosphor mix.
For Seoul Semiconductor, the Pompeii project is a clear vindication of the company's technology advancement that is still relatively new and just being adopted by lighting manufacturers. "We are pleased to have our SunLike Series LED technology chosen to illuminate the murals of Pompeii, a world heritage site," said Celeb Won, vice president of global marketing at Seoul.