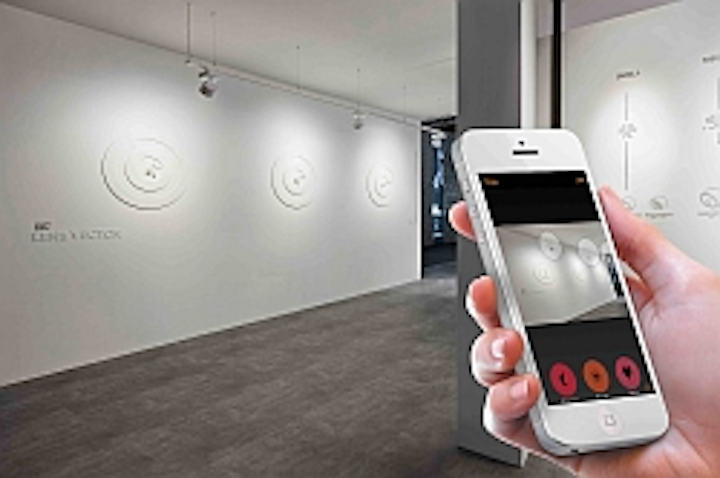 The lighting design and technology community heads to Chicago for the annual LightFair International conference and exhibition. Following is a selection of LightFair exhibitor announcements published through our online LED & Lighting Industry Guide.
This week, the lighting design and technology community descends upon McCormick Place in Chicago, IL for the annual LightFair International (LFI) conference and exhibition. The 2017 event wrap-up disclosed that 592 exhibitors descended upon the city of Philadelphia, and 27,939 attendees walked the floors to view new launches and familiarize themselves with a slate of newer application-specific and the new round of connected smart lighting technologies that was beginning to emerge at major lighting conferences. And we've noted again and again that those themes continue to pervade both exhibitor booths and conference educational highlights. Pre-conference LightFair Institute programming has been in session since yesterday, but what we're focused on here is a sampling of the exhibitors that you can meet and greet this week, learning about the newest leading-edge enabling technologies and solid-state lighting (SSL) end products that are available.
Interested in articles & announcements on LEDs and SSL design?
At Booth 3922, Altman Lighting will display the power and performance capabilities of its Gallery LED Series for museum, art gallery, hospitality, and retail lighting applications; Chalice LED downlights with multiple mounting and dimming options; and the Spectra Cyc wall-wash luminaires that deliver diverse color mixes.
LED component developer Bridgelux is addressing connectivity and the IoT with new products for dynamic lighting. The dual-channel driver enables control of CCT and luminous intensity for tunable lighting designs. In the Bill Brown Sales Booth 2019, the company is featuring its new IB Series linear LED product family designed to enable the use of fewer modules in a luminaire with improved optical fill. And Bridgelux has also announced its membership in the IoT-Ready Alliance that was launched last year to help move open standards and interoperability forward.
At Booth 4022, the Carclo Optics folks will feature the company's robust high-bay strip optics that are designed to optimize warehouse and rack/shelf lighting, as well as the Zhaga-compliant S1 silicone optics range that produces narrow beams of less than 10° and exhibit high temperature resistance for use with chip-on-board (COB) LEDs.
Wireless controls specialist Casambi has teamed up with LensVector to demonstrate Bluetooth-based control of the latter's Sapphire Award-winning beam-shaping optics. Casambi's Android and iOS app can now control beam shape alongside dimming and color temperature using LensVector's liquid-crystal lens technology. Luminaire manufacturers using LensVector's technology include Targetti and Forma, whose products will be on display at the Casambi Booth 131. Other exhibitors incorporating LensVector optics into their products include Eulum Design (Booth 4472), Elite Lighting (Booth 3502), Hevi Lite (Booth 353), Intense Lighting (Booth 2025), Ledra Brands (Booth 1648), LightHeaded (Booth 4809), OrigamX (Booth 5321), Rosco (Booth 4812), SLD (Booth 5640), and XAL (Booth 1267).
Deco has partnered with Molex to introduce flexible smart building technologies to the market. Deco Lighting and Molex will showcase their joint systems at booth 1657. The Molex NCS PoE Gateway is designed for fast, easy connectivity. Its low-voltage connection delivers reliable communication with lights, sensors, and other devices. With advanced data communication capabilities, the NCS-Ready Vector luminaire delivers connected illumination to offices where performance, control, and reliability are of high importance.
Eaton is showcasing its full lineup of connected lighting solutions to enable smart lighting applications in scenarios from smart homes to buildings to cities. Exhibiting in Booth 807, the company will feature its newest Halo Home residential system, as well as the auto-commissioning WaveLinx smart lighting system for building-level applications; the LumaWatt Pro wireless sensor platform for smart buildings, powered by Enlighted; the ConnectWorks wireless connected lighting system for controlling outdoor lighting networks, powered by CIMCON; and the Distributed Low-Voltage Power system.
In Booth 5541, Encentiv Energy will have live demonstrations of its new LED Payback Widget, which provides website visitors with return on investment (ROI) and payback calculations for products to be used while quoting a lighting project. The tool also incorporates utility rebates and can help show the customer how projects can be made more energy efficient while maximizing cost savings and also delivering more useful information to sales specialists.
LED driver supplier ERP Power has launched what it says are the world's smallest programmable drivers for indoor lighting applications — the PSB Series, available in a range of wattages. Bluetooth Mesh capability and Tri-Mode dimming offer advanced features. VGM Series drivers for signage achieve 90% efficiency from 50-100% of load with power factor greater than 0.9 and THD less than 20%. Products are available through distributors Arrow, DigiKey, Future, Mouser, and WPG in the Americas.
At Booth 1772, Konica Minolta Sensing will exhibit its high-performance light and display measurement products. The company's light meters can be used in labs to measure chemically reactive substances and the illumination of LEDs and CRTs for quality control, government testing, photography, and cinematography.
NH-based test and measurement equipment supplier Labsphere, a Halma company, will present its portfolio of SSL design and analysis capabilities at LightFair Booth 3379.
At Booth 3687, Litetronics will introduce its new LED Strip RetroFit family of adjustable 4-ft LED strips that can upgrade linear fluorescent fixtures ranging from 2.75 to 5 in. wide to long-lifetime energy-efficient LED technology in minutes. Utilizing the existing building wiring and fixture base frame, the fixtures offer a quick and simple way to convert floor, corridor, area, and aisle lighting within a range of retail, commercial, and institutional applications.
After its recent announcement stating its acquisition of healthy lighting specialist Ketra, Lutron also announced two new software control and data management platforms: Vive Vue, designed for smart lighting data management and for controlling lighting schemes; and Enterprise Vue, which is engineered to control Lutron systems across multiple connected buildings in a campus. At Booth 2431, learn more about the possibilities of understanding and optimizing smart buildings equipped with Quantum or Vive systems at an enterprise level.
McWong and its partners in Bluetooth connectivity, Casambi and Silvair, will be hosting a Bluetooth partner showcase on May 8, 2018 from 1-4 PM in Booth 3979. The event will feature live demonstrations of McWong products with each partner's Bluetooth technology. The company has also collaborated with Avi-on Labs to bring McWong's occupancy and motion sensors, dimming power packs, and fixture controllers to the Avi-on Bluetooth lighting controls platform. Avi-on will exhibit in Booth 419.
Silvair has recently expanded its partnerships in wireless lighting technology to include Demand Lighting, Murata, and McWong, as previously mentioned. Following great interest in Bluetooth Mesh by Danlers, Fulham, and McWong, some of the leading component manufacturers will be expanding their lines of products empowered by Silvair's technology. The devices will be presented at Silvair's booth #1027 in the Intelligent Lighting Pavilion as well as at Fulham booth #602 and McWong booth #3979.
At LFI, TE Connectivity is showcasing plug-and-play interconnect options for indoor smart lighting systems, as well as connectivity solutions for smart cities and street lighting controls, designed to withstand harsh outdoor conditions. New connectors, relays, filters, and power cabling have been developed to fulfill the unique needs of horticultural lighting systems. Visit Booth 2563 to see TE's easy-to use connectivity solutions.
UL helps companies across global markets, including SSL, achieve objectives for safety, energy efficiency, performance, security, marketing claim verification, and more. The company will be ready to offer guidance on photometric testing and other services to support commercialization of SSL designs in Booth 4857.
Vital Vio LEDs emit a truly white light that is both attractive and safe for humans. The VioSafe White Light Disinfection technology continuously protects environments from harmful bacteria. Visa Lighting has been providing specification-grade architectural lighting to commercial and institutional building projects for decades, particularly in the institutional and commercial markets. Now the companies have embarked upon a partnership that will see several new LED lighting fixtures powered by Vital Vio disinfection technology exhibited at LightFair in Booth 2061.
Check back for more updates on the latest news and announcements coming out during LFI 2018 here at ledsmagazine.com. Follow @ledsmagazine and @LED_Maury on Twitter for breaking news and viewpoints, join in the conversations on our LinkedIn group (search: LEDs & Lighting), follow our LinkedIn Showcase page updates, and find us on Facebook.
*Editor's note: All announcements that appear in this article were uploaded through company listings in LEDs Magazine's LED & Lighting Industry Guide.
*Updated May 9, 2018 at 11:00 AM for additional announcements.
TWITTER ACTIVITY FROM LFI 2018: