Canadian company demonstrates another innovation on the industry's slow road to flexible, transformative lighting materials.
The transformative promise of OLED lighting continues to remain elusive, but that's not stopping developers from pursuing novel applications, as a small Canadian company announced a flexible OLED material that lights up printed matter in newspapers and magazines.
Interested in articles & announcement on the application of OLED technology?
OTI Lumionics said that its "Aerelight for Print" technology draws on a new manufacturing process and a new material, both developed by the Toronto-based outfit.
The company provided no detail about its manufacturing innovation, or about the makeup of the material.
As a live demonstration, Aerelight is part of the cover of the latest annual edition of a magazine published by Toronto-based graphic design studio Frontier. OTI Lumionics, Frontier, and a Toronto print production company called Flash Reproductions worked together to embed a flexible OLED panel in one small rectangle that lights up in response to touch.
It is yet another example of how flexible OLEDs — organic light-emitting diodes — are intended to broaden lighting's reach well beyond traditional form factors. In another recent instance, Germany's Fraunhofer FEP showed a flexible OLED wristband and suggested it could be used for medical purposes.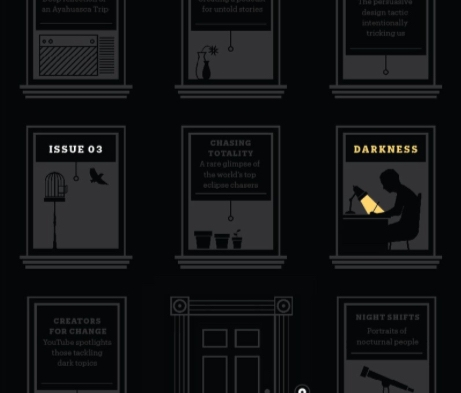 Read all about it: OLED now embedded in print material
The "darkness" panel on the cover of Frontier magazine lights up in response to touch, using OLED technology. (Photo credit: OTI Lumionics/Frontier.)
Unlike LEDs, which are single light points, OLEDs are patches of material that illuminate in response to a current. They come in both rigid and flexible forms. While they have made inroads in areas such as automotive and as television and smartphone screens, among others, they have yet to revolutionize the world of lighting the way some people have been predicting for years.
OLED enthusiasts say that pliable materials will enable designers to build artificial light literally into the fabric of things such as clothing, furniture, walls, bridges, and many other staples of life — now including printed matter. But OLEDs have been held back by manufacturing costs and by energy efficiency that lags behind their LED brethren. At the same time, LED developers continue to find ways to embed LEDs in materials and thus serve some of the same purpose as OLEDs.
MARK HALPER is a contributing editor for LEDs Magazine, and an energy, technology, and business journalist (markhalper@aol.com).