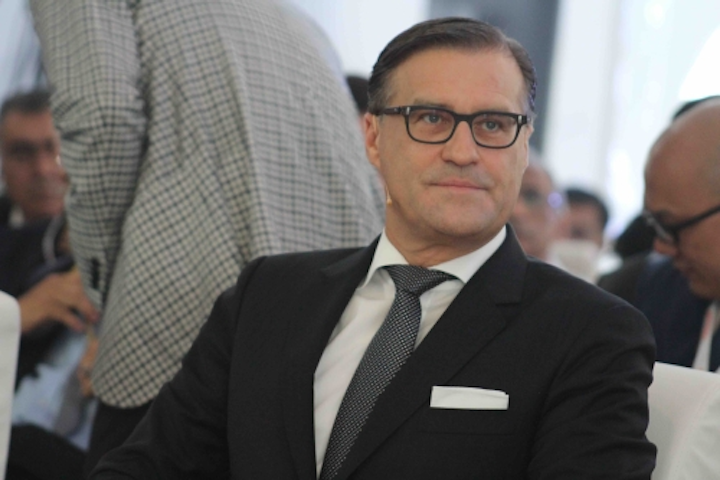 2018 won't be quite the year that Munich had planned. Layoffs coming, too. But the march into the IoT goes on.
The elephant came to the front of the IoT lighting room, as Osram warned that fiscal year 2018 revenue will grow only about half as much as previously forecast, hitting earnings and forcing layoffs that the company hopes to eventually reverse by recasting its workforce into a more high-tech gearing.
Interested in articles & announcements on LED and lighting business?
The world's second-largest lighting company said that revenue for the year that ends Sept. 30 will now increase by 3–5%, down from its earlier guidance of 5.5–7.5%, based on current exchange rates. It lowered its forecast for adjusted EBITDA by around 9%, to €640 million from €700 million (to about US$779.4 million from $852.4 million).
Munich-based Osram blamed the projected slide on a weakened dollar compared to the euro (the company receives about half of its revenue from dollar-denominated countries including the US), as well as on "the muted course of business in the first half of fiscal year 2018."
The downward adjustment was a reminder that the lighting industry's attempt to transform itself from an illumination provider into an industry that establishes the lighting infrastructure as the backbone to data communications networks — making lights indispensable "things" within the Internet of Things — will not come easy.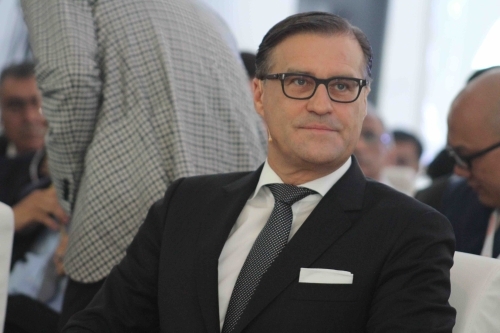 LED and lighting business update: Osram cuts earnings and sales forecast
Osram has hit a financial bump on the road to becoming what CEO Olaf Berlien (pictured) has proclaimed is a "high tech company." (Photo credit: Mark Halper.)
It marked at least the second time this year that a major lighting provider issued a financial warning. In January, Zumtobel slashed its earnings forecast by up to 70% for fiscal year 2018, a move that preceded the departures of CEO Ulrich Schumacher and CFO Karin Sonnemoser. And GE wants to exit the business altogether.
Lighting companies are trying to outfit the lighting infrastructure with chips and sensors that will help gather data and disseminate it to the cloud and elsewhere. Businesses, cities, and other entities would analyze the data to improve management of a wide scope of operations such as property, road traffic, public safety, air quality, and much more.
The new data-driven emphasis in the LED & lighting industry comes as it also moves more toward a service business model, following a century or more of basing revenue on the sale of hardware such as bulbs and luminaires. The hardware approach is less tenable in today's LED era when light sources last for purported decades.
Osram's warning demonstrates that the transition faces a multitude of challenges in the global economy. Currency exchange rates can certainly be one of them. Osram told LEDs that the dollar/euro rate slid from 1.18 when Osram first made its 2018 projections, to 1.24.
But the industry also faces the rough and tumble of competition, plus the costs and challenges of changing into a more high-tech template. As LEDs has observed often, the lighting industry will face stiff competition from traditional IT companies for IT-oriented jobs.
An Osram spokesperson told LEDs Magazine that the "muted" markets were "basically the US non-residential building industry," and that the automotive segment slumped in line with auto industry trends, while the company's tradition ballast business faced components shortages.
Osram has made a number of exemplary moves to try to embrace the new high-tech ethos, with CEO Olaf Berlien often declaring that Osram is a "high tech company." Those moves have ranged from the chip level up through lighting systems.
Recently, for example, it has enhanced the infrared capabilities of LED chips, in plays aimed at making more intelligent automotive lighting and at using LEDs increasingly for IT security, the company has also invested heavily in a €370 million ($450.6 million) state-of-the-art LED production facility in Kulim, Malaysia, a move that has contributed to negative free cash flow.
On the lighting system level, last month Osram unfurled its Lightelligence platform as its most recent thrust into the connected, smart lighting market.
With this week's forecast, the company said it will eliminate some jobs in the near term and create new ones that will be in more high-tech areas. "In total, we will expand our workforce in Germany over the coming years," the spokesperson told LEDs. "There will be some jobs vanishing as probably not everyone can be trained for a new role."
The company is negotiating the job changes and layoffs with labor groups including IG Metall, and expects to take an extraordinary charge before tax of €60 million to €70 million ($73 million to $85 million) to cover the costs, the spokesperson said.
Osram is due to release preliminary second-quarter earnings on May 3, and to issue a full first-half financial report on May 11.
MARK HALPERis a contributing editor for LEDs Magazine, and an energy, technology, and business journalist (markhalper@aol.com).
*Updated Apr. 25, 2018 11:44am for additional link detail.