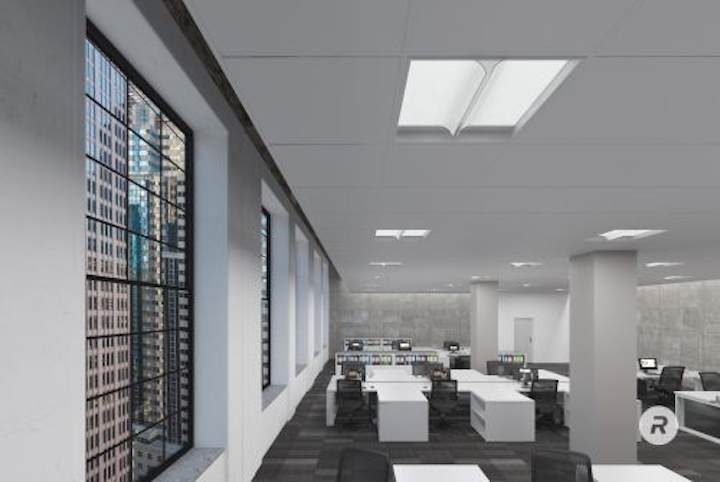 New planar light guides from Rambus will enable more LED luminaire makers to deliver planar fixtures, while Legrand is acquiring Finelite and Seoul Semiconductor released upbeat financial results.
This week's LED business news brings to light interesting technology and financial developments, as well as partnerships around the industry. Rambus, the intellectual property (IP)-centric company that licensed light-guide technology to GE and Eaton, is now offering off-the-shelf light guides on the open market to lighting manufacturers that want to deliver LED-edge-lit planar designs. Solid-state lighting (SSL) and building controls specialist Legrand is acquiring LED lighting manufacturer Finelite, with the latter apparently to continue to operate as an independent business unit. South Korea-based Seoul Semiconductor announced its first quarter results and said operating margins were up 223% year over year.
Interested in articles & announcements on LED business?
Rambus sells optics
Rambus has been involved in the lighting industry for almost a decade as we will detail in a moment, but the pre-LightFair announcement marks the first time that the company has offered optics on the commercial market as a building block product for luminaire makers. The company has announced the S, SD, and D series with specular, direct/indirect, and diffuse optical properties respectively. The company will provide the products in six standard sizes and potentially supply custom sizes on demand.
Rambus got its start in the general semiconductor industry designing high-speed memory systems for PCs, workstations, and server computers. Subsequently, the company transitioned into a business model where it developed high-speed memory interfaces and other computer-centric circuits, and made money patenting those developments and licensing them to computer makers. The company entered the LED lighting industry in 2009 when it acquired the rights to light-guide technology developed by Global Lighting Technologies (GLT).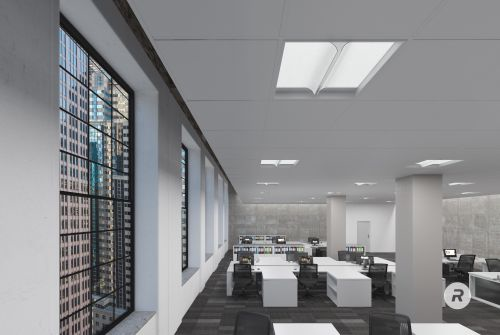 LED business news: Rambus light guides, Legrand and Finelite, Seoul financials
Light guides from Rambus will enable luminaire manufacturers to develop planar fixtures such as those shown in this commercial SSL project. (Photo credit: Rambus.)

GE Lighting (now Current, powered by GE) signed a license agreement with Rambus back in 2010 for use of what Rambus called MicroLens technology for edge-lit planar luminaires. And GE began selling fixtures based on what it branded Intrinsx technology in 2012.
Cooper Lighting (now Eaton) also licensed the Rambus technology in 2012. And Eaton has perhaps the largest portfolio in the industry of products based on light guides with the debut of WaveStream technology coming at LightFair in 2013. Most recently, the company introduced its first 3D-shaped light guides.
Now competitors to Current and Eaton can more easily get planar products to market. "Rambus has a strong history partnering with our customers to produce light guides that have been designed and built to custom specifications for optimal quality and control of light," said John Langevin, general manager of lighting for Rambus. "With the addition of standard products, we are able to leverage our expertise and technology to provide fixture designers access to our MicroLens technology without any custom tooling or non-recurring engineering. This reduces development time and cost, and accelerates time to market."
We asked Rambus if some legal element in its IP-centric licensing deals had prevented the company from selling off-the-shelf products to date and had perhaps expired, enabling the market entry. The company replied, "Our main customer had exclusive access to our technology in North and South America. The exclusivity was lifted in January, which opened up the door for us to sell to other luminaire companies in these regions, including the US. While many of these new customers will desire custom light guides, we expect that many will opt for our off-the-shelf light guides as well because of the lower cost (no tooling or NRE charges) and short lead times."
Legrand acquires Finelite
In another LED business development, which the companies have yet to make public, it appears that Legrand has struck a deal to acquire privately-held Finelite. The deal was first noted on the Edison Report website. We have also been able to confirm that a deal is in place, although details await the public announcement that will likely come from Legrand.
Legrand has primarily focused on SSL and building controls and we covered their launch of an Internet of Things (IoT) strategy late last year. Finelite has been a pioneer in quality layered lighting for commercial spaces and has also made its mark with a 10-working-day commitment to ship products that are highly customized on a project basis. Indications are that Finelite will continue to operate as an independent business unit within Legrand.
Seoul Semiconductor financials
Turing to financial results, Seoul Semiconductor had what it obviously believed to be a great quarter and said it will launch a KRW 10 billion ($ 8.8 million) share repurchase plan. The company announced first quarter revenues of KRW 257.5 billion ($226 million). Revenue guidance is in the same range for the upcoming quarter.
Meanwhile, the company issued a second press release indicting that it was accelerating recruiting of executives for both the main Seoul Semiconductor LED business and the Seoul Viosys ultraviolet (UV)-focused sector. The company said it was growing in LEDs for the automotive and IT sectors in addition to the general illumination sector. And Seoul Viosys has been among the sector leaders in UV LEDs. The company acquired US-based SETi just over a year back to boost its UV presence.
The company already made major executive moves in recent months in both the US and Europe. The company hired former Cree executive Mark McClear to run its US business. And it promoted Andreas Weisl to the CEO position for Seoul Semiconductor Europe.