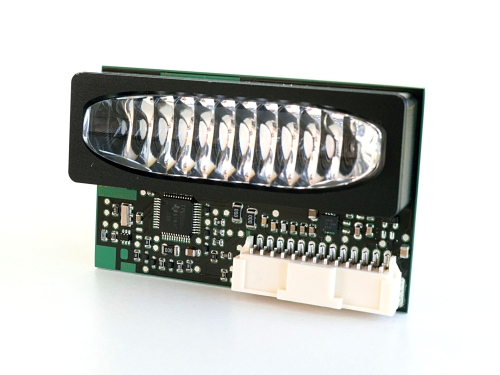 The Smartrix SSL and lens module will enable auto makers to more easily offer advanced LED headlamp features such as adaptive drive beams.
Osram has announced new Smartrix modules that integrate LEDs, driver electronics, and a custom silicone lens in a compact form factor that enables advanced solid-state lighting (SSL) headlamp systems for automobiles. Osram believes that the modular approach will enable auto makers to support features such as adaptive drive beams in more mainstream models, and the company said it is already working on even more capable Smartrix LED modules.
Interested in articles & announcements on LED modules in SSL design?
The conjured brand Smartrix, if you hadn't guessed, is a combination of the words smart and matrix. Indeed, the word matrix has been used generically and as a brand to describe the concept of adaptive headlamps that can react to other autos and to the road topography to selectively mask or illuminate segments of a headlamp systems. Rather than needing low beams, for instance, an adaptive drive beam cam simply ensure the LEDs that might blind the driver of an oncoming car are temporarily masked.
We first covered the concept of adaptive drive beams back in 2013 when Audi rolled out its Matrix branded system. We subsequent published feature articles on the topic including a Developer Forum piece on driver design for such a system.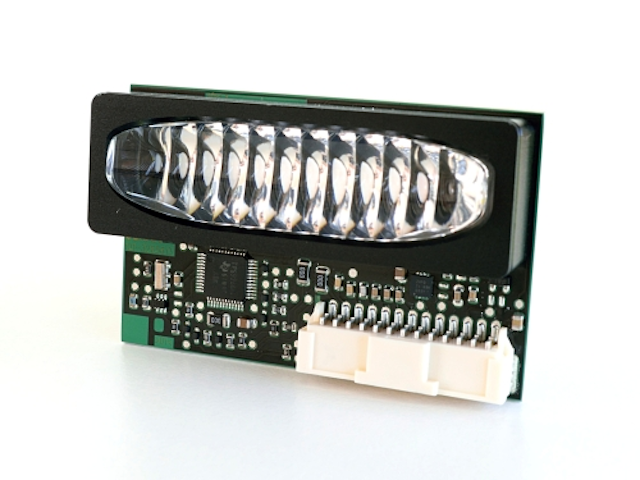 Osram develops LED modules with silicone lens for adaptable beam auto headlamp
New LED modules developed by Osram combine multiple emitters with silicone optics
and driver electronics that deliver adaptive drive beam technology for automotive headlamps.

For some time, it appeared that the US might not allow such headlamp systems to be sold, instead sticking with the low-beam requirement. The European market flourished, however, taking advantage of the unique properties of LED sources to improve on a decades-old approach to forward lighting for autos. Now the US has moved to develop standards that will pave the way for adaptive drive beam functionality.
All along, Osram has been near the forefront of matrix technology and was most likely involved in that original Audi design, although the company never said so publicly. For example, the company revealed a new packaged LED component late last year in the Oslon Black Flat family that integrates multiple individually-controllable emitter segments, with a five-segment model promised for early this year.
Now the Smartrix technology combines the company's work in LEDs with the optics required in a headlamp design. "By using new materials for the lens systems, we have been able to make the Smartrix modules even smaller and more durable, so our customers have even more freedom in designing their headlights," explained Hans-Joachim Schwabe, CEO of the Specialty Lighting business unit at Osram.
Osram said the plastic lenses commonly used in matrix-type systems could not meet the requisite of location much closer to the LED source. The silicone optics offer high resistance to heat and optical radiation, as well as long life; they can be mounted directly adjacent to the LEDs; and they are less expensive than glass. The placement of the lens near the LEDs enables the needed beam control in a smaller module, thereby enabling auto manufacturers to deliver on the evident trend of narrow, low-profile headlamps, according to the company.
Osram said headlamps based on the Smartrix LED modules will be on the road in commercial vehicles this fall. Moreover, the company said it will deliver a version with multiple lines of pixels or optical segments.
And, of course, Osram continue to work on even more advanced headlamp technology. As we have written before, the company is partnered on development with the Fraunhofer Institute for Reliability and Microintegration (IZM), semiconductor-manufacturer Infineon, auto third-party OEM Hella, and auto manufacturer Daimler with funding from the German Federal Ministry of Education and Research (BMBF). That group is focused on a module with more than 1000 individually controllable emitters.