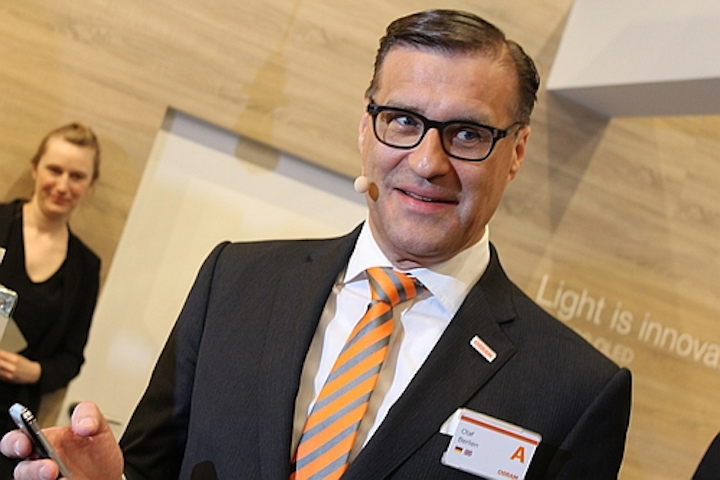 The Munich giant takes another big step out of the rough-and-tumble bulb business. Meanwhile, new co-owner MLS is expected to provide LEDvance with better chip pricing.
With regulatory concerns now cleared in three countries, Osram has completed the sale of its LEDvance lamps group to an investor-led Chinese consortium for around €500 million ($529 million), about 25% more than the amount widely reported last July. The new owners include LED components manufacturer MLS Co. Ltd., which will now give better pricing than it had been offering to LEDvance.
Interested in articles & announcements on LED & SSL business?
The sale to MLS and to investment firms IDG Capital — the consortium's lead member — and Yiwu State-Owned Assets Operation Center completes the process by which Osram has been distancing itself in stages from the profit-challenged bulb business, while focusing on LED chips, smart LED lighting and services, and specialty lighting products such as automotive.
As Osram moves away from lamps, CEO Olaf Berlien has taken to describing the company as a "high-tech" outfit, an assertion that as LEDs Magazine noted yesterday has manifested itself among other ways in the company's move into Bluetooth radio chips for indoor-positioning systems.
"The successful closing of the transaction is a milestone for Osram in its strategic realignment," said Berlien. "As a high-tech company, we will be able to participate in attractive future growth markets even stronger in the future."
Munich-based Osram established LEDvance as a separate entity last April, legally carved it out in July, then agreed to sell it to the IDG-led three-company consortium for around €400 million, or $423 million. (IDG Capital seems to have shortened its name in the meantime, from IDG Capital Partners).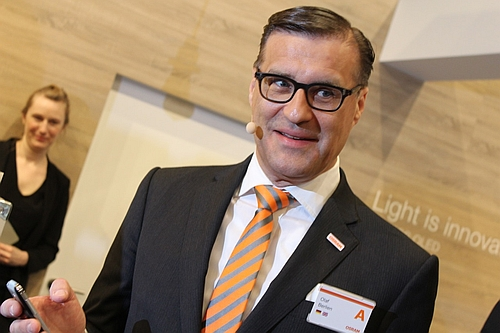 Osram completes LEDvance sale to Chinese consortium for €500 million
CEO Olaf Berlien has recast Osram as a high-tech company. He described the LEDvance sale as "a milestone for Osram in its strategic realignment." Berlien is pictured here at Osram's introduction last year of its Bluetooth-based indoor-positioning system called Einstone, an example of the company's move toward information technology and data markets. (Source: Mark Halper.)
But by late October, German regulators derailed the agreement, saying they wanted more information. In the US, the Committee on Foreign Investment in the United States (CFIUS) also voiced concerns. CFIUS is the same group that nixed Cree's sale of Wolfspeed to Germany's Infineon last month, Philips' sale of its Lumileds chip division to China's GO Scale Capital in January last year, and LED equipment maker Aixtron's sale to a unit of China's Fujian Grand Chip Investment Fund LP.
Earlier this week, a LEDvance spokesperson told LEDs Magazine that both CFIUS and Germany's Federal Ministry for Economic Affairs and Energy had over the last month approved the deal, which at the time awaited the consent of Chinese regulators. China's State Administration of Foreign Exchange has now cleared it.
"The sale of LEDvance to a Chinese consortium was successfully completed effective today," Osram said. "This follows the parties obtaining all necessary approvals from the relevant authorities. The final selling price is around €500 million."
An Osram spokesperson pointed out to LEDs that when Osram first announced the sale in July, it said that price "will be more than €400 million." Regulators did not request any changes to the deal, he said.
For LEDvance, the deal means that co-owner MLS will now give LEDvance better pricing than it had been, a LEDvance spokesperson told LEDs Magazine. MLS is one of China's largest LED and lighting companies. It owns US lighting company Forest Lighting.
"We are very pleased with this transaction, as MLS and LEDvance complement each other in an ideal way," said LEDvance CEO Jes Munk Hansen in a prepared statement. "Through MLS, we gain access to very cost-efficient and powerful LED components and will strengthen our market presence in Asia, especially in China. This supports the LEDvance strategy to expand our product portfolio, foremost in the areas of LED lamps, LED luminaires, and smart lighting. We look forward to pursuing the many new opportunities that the partnership with MLS brings."
While LEDvance "had access" to MLS components before, that access is now more "cost efficient" than it had been, a LEDvance spokesperson explained to LEDs Magazine. By joining forces, not only does LEDvance expand its presence in China — the world's largest lighting market — but MLS benefits from LEDvance's international presence, he said.
LEDvance will continue to use the Osram brand name, and the Sylvania name in the US and Canada.
Osram said it "expects license income of as much as €100 million over the coming years for the use of trademark rights." It also noted that "in connection with the transaction, Osram and MLS have also signed a letter of intent under which MLS may purchase LED chips from the new Osram plant in Kulim, Malaysia."
LEDvance said the acquisition closed today but that it took "economic effect" two days ago, March 1. The company will remain headquartered in Garching near Munich.

The LEDvance spokesperson described IDG as the majority owner with a "a slightly higher stake than the other owners." The three — IDG, MLS, and Yiwu — have "roughly a third each," he said.
By selling to a group that appears to be roughly two-thirds composed of investment firms, Osram echoes a trend. Philips sold its Lumileds chip operation to a New York-based investment firm, Apollo Global Management, after failing to close a sale with GO Scale last year.
New LEDvance majority owner IDG has a number of information technology companies in its portfolio. It is not yet known how it might attempt to leverage those with LEDvance.
MARK HALPERis a contributing editor for LEDs Magazine, and an energy, technology, and business journalist (markhalper@aol.com).
Read related articles about LEDvance:
LEDvance prepares for life independent from Osram and sale may loom
Navigating change will be critical to SSL success
*Updated March 3, 2017 at 5:55pm for location details.