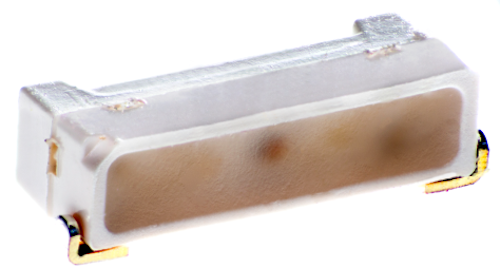 The newest Cree side-emitting RGB LEDs enable gaming machines to deliver greater visual impact while the company has also ramped efficacy in the XP-L2 LEDs for lighting applications by 15%.
Cree has announced two new side-emitting packaged LEDs that deliver increased brightness and red, green, and blue (RGB) capabilities for gaming applications such as slot machines and pachinko machines. Cree has also announced an increased in the efficacy by 15% of its highest-performing discrete XLamp XP-L LED family, via the new XP-L2, allowing SSL product developers a drop-in upgrade for existing products or the opportunity to reduce LED count or power consumption in new solid-state lighting (SSL) product developments.
Interested in articles & announcements on packaged LEDs?
The new QLS6A and QLS6B side-emitting LEDs deliver 2060 and 2493 mcd, respectively, with the primary difference in the products being a zener diode included in the former product for added ESD protection. Cree made the claim that the performance is 66% greater, in terms of luminous intensity, than other side-emitting LEDs on the market. Moreover, the company said the package design utilizes a shallow cavity that maximizes light extraction and improves color mixing of the three emitters.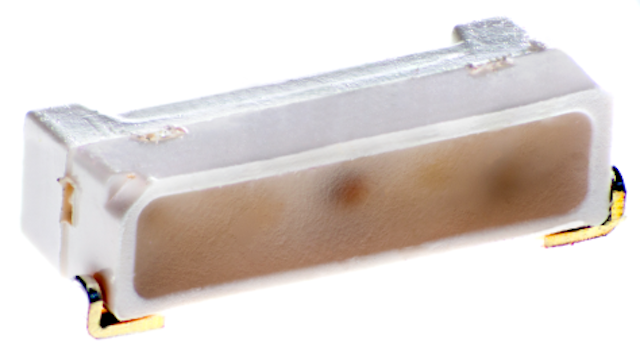 Shat-R-Shield® adds 30,500-lm LED high bay fixture to lineup
The QLS6A and QLS6B side-emitting LEDs from Cree are reported to improve luminous intensity by 66% over competitive devices.
Side-view or –emitting LEDs are used in a variety of applications. For instance, Osram has targeted backlight applications in mobile devices with white side-view LEDs. And Seoul Semiconductor has similar products.
The Cree side-view products, however, serve to directly produce color or white light as a complement to an LCD in a gaming application. The RGB LEDs can be used as indicators to accentuate the display and add to the enjoyment and experience for people using a game with the LEDs.
"Cree's new QLS6A and QLS6B LEDs allow us to deliver a superior gaming experience to our customers and also to simplify our design and manufacturing processes," said Motoaki Masaki, optoelectronic communication technology development division head for the Energy Business Office at NAGASE & Co., Ltd. "The LEDs deliver high brightness and excellent far-field pattern and color mixing in an innovative compact package that does not block the background image. Additionally, the pin configuration and size of the LEDs simplify design, providing greater control and simplifying the manufacturing process."
New XP-L2 LED
Meanwhile, Cree has increased the performance of the 3.5×3.5-mm XLamp XP-L LED family. In addition to the aforementioned efficacy boost in the XP-L2, the newest products deliver a 7% increase in lumen output for product developers. Efficacy is now 171 lm/W in warm white. By ramping performance in an existing product family, Cree enables SSL developers to drop in a performance upgrade for existing designs and achieve compliance with programs such as Energy Star immediately.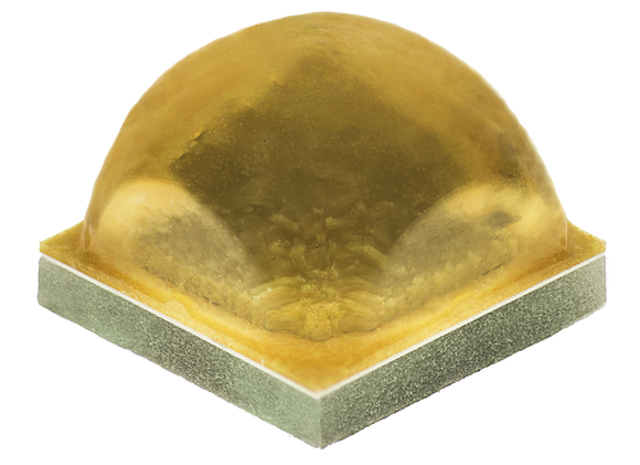 Cree's XP-L2 packaged LEDs deliver efficacy of 171 lm/W and enable drop-in upgrades to luminaire designs.
"We like the XP-L2 LED because it is Cree innovation that we can leverage immediately," said Nathan Heiking, product manager at Kenall Lighting. "The new XP-L2 LED improves upon the XP-L LED in the same footprint, allowing us to quickly achieve higher system efficacy in our existing XP designs without the burden of increased development time and cost."
The new LEDs have a long legacy within Cree. The original XP-L LED was announced back in 2014. Moreover, that product was considered a follow-on product to the XP-G/G2 LED family. Cree also announced the High Intensity XP-L HI member of the family last year.
"The new XP-L2 LED delivers twice the lumen output of other similar-size high-power LEDs, enabling lighting manufacturers to improve the performance of their lighting designs and reduce the size and cost of new designs for applications such as industrial and stadium lighting," said Dave Emerson, vice president and general manager for Cree LEDs. "Cree created a breakthrough performance class of high-power LEDs with the XLamp XP-L LED, and the new XP-L2 continues to strengthen our performance advantage."